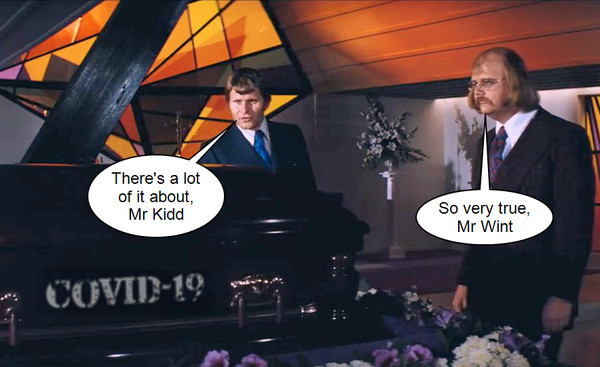 Early on in the pandemic, Dr No coined the phrase hot stiff bias to describe the habit of doctors of the covid tendency to attribute any death that might, however vaguely,  be due to covid, as being definitely due to covid. It is a covid specific form of the more general hot stuff bias, in which doctors tend to attribute illness and deaths to 'hot' diseases, the ones that are currently 'hot' topics. It is a practical expression of there's a lot of it about, the old medical standby for when one doesn't have a clue, but wants to sound as if one does. An easy concept to understand, hot stiff bias is typically hard to quantify, but the latest ONS data does gives us a clue. It seems that as the weather warms up, covid hot stiff bias cools off.
ONS's weekly mortality reports include the number of deaths with covid (covid anywhere on the death certificate) and, of those, the number of deaths from covid (covid is recorded as the underlying cause of death). We might reasonably assume, bar any notable changes, which we shall come to shortly, that if the virulence, or lethality, of covid remains constant over the medium term, then the proportion of those who die with covid, who also die from covid, will also remain reasonably constant over the same term. Note that this proportion is not the same thing at all as the case fatality ratio, which is the proportion of all known cases who die. In this post we are only concerned with fatal cases with a diagnosis of covid, and the proportion of those fatal cases where covid is recorded as the underlying cause (mathematically, those who died from covid, divided by those who died with covid: if there were 100 deaths with covid, and 50 of those were deaths from covid, then the proportion is 0.5, or 50%).
It turns out that the proportion of deaths with covid that are also deaths from covid is not constant. Figure 1 shows the proportion for each week in 2021. From a peak in mid January of around 90%, the proportion steadily fell over the following weeks to around 75%, before somewhat levelling off in recent weeks.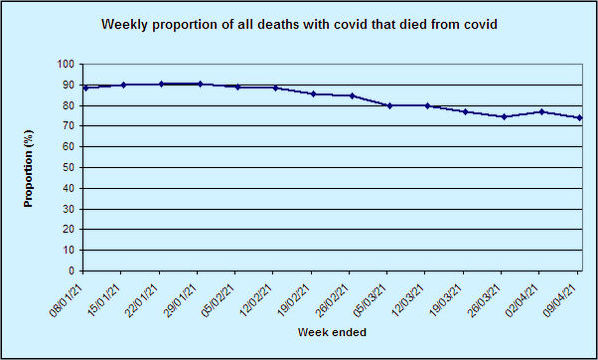 Figure 1: weekly proportion of all patients who died with covid who also died from covid, England and Wales, 2021 (source)
If the curve in Figure 1 looks familiar, it is. It is of course the peak and decline of a wave of covid deaths. This suggests that in each week, the proportion of deaths from covid might be correlated with the total number of deaths with covid. Figure 2 shows the scatter plot, with fitted trend line. The two clearly are correlated, and the high r value of 0.96 confirms this (r = 1, perfect correlation; r = 0, no correlation).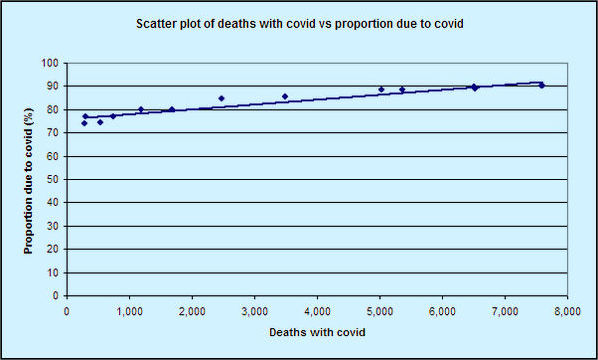 Figure 2: weekly scatter plot of all patients who died with covid against proportion of those deaths who died from covid England and Wales, 2021 (source)
There are three broad possibilities that might explain this decline in apparent virulence (lethality) in recent months: the virus got weaker (less virulent, highly unlikely over such a short time frame), patients got more resilient, either naturally, or through vaccination or treatment, or there is a bias at work, distorting the figures.
According to The Telegraph, who only yesterday soaked up a leaked report due to be presented to SAGE today, it's the vaccine wot done it. But this is implausible. Look at the peak in Figure 1, and so when the fall in the proportion dying from covid starts. The fall starts in mid to late January, long before any plausible vaccine effect could appear (on 17th January, only 60% of those aged 80 and over had received their first dose, rising to 80% on 24th January, and the vaccine takes around three weeks to become effective). Moreover, the decline in the proportion dying from covid has levelled off in recent weeks, just as more people get vaccinated. Perhaps most compellingly, the decline in apparent virulence also happened after the spring 2020 wave, when the vaccines were but a twinkle in the eye. Figure 3 shows the weekly proportion of all patients who died with covid who also died from covid for the entire pandemic. Although the correlation is weaker (r = 0.59) because of some outliers, the same pattern is visible throughout: the proportion goes up in peaks, and drops in troughs.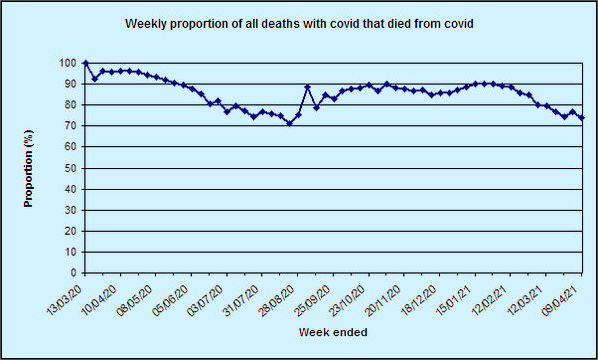 Figure 3: weekly proportion of all patients who died with covid who also died from covid, England and Wales, entire pandemic (source)
The data presented here does not prove that hot stiff bias applied during covid peaks. Correlation is not causation. But there is clearly something going on. In the absence of any other plausible explanations, Dr No suggests the most likely cause of these changes in apparent virulence are at least in part, if not entirely, due to hot stuff bias. When covid is 'hot' — there's a lot of it about — doctors subconsciously become more likely to record covid as the underlying cause of death, and in so doing artificially inflate the apparent number of deaths due to covid.