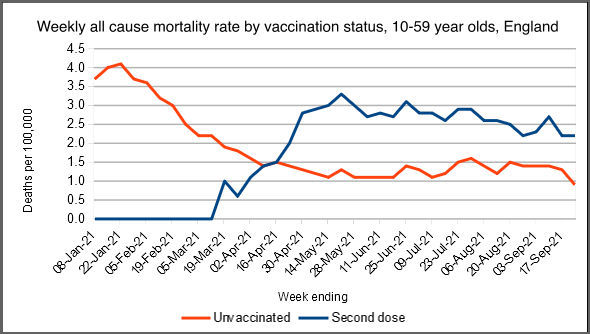 When the facts change, we're supposed to change our minds, but what do we do when the facts don't make any sense? If we followed the doctrine often attributed to John Maynard Keynes, we should probably stop making any sense, and go mad. Such thoughts occurred to Dr No as he contemplated another silent but deadly dataset released by ONS a couple of weeks ago. It extends the previous release of covid deaths by vaccination status, which ran from January this year to early July, to late September, and so covers a period of considerable interest. Just as before, the published report only covers covid deaths1, and needless to say, the vaccines are shown to be wonderfully effective. Tractor production continues to rise. But, again just as before, buried in the underlying dataset are the weekly numbers for all cause mortality. All cause mortality, as readers familiar with these things will know, is normally the most unadulterated mortality data there is, unfogged by distractions about diagnostic fudgery. A stiff is a stiff is a stiff, the whole stiff, and nothing but the stiff. What all cause mortality lacks in detail, it gains in robustness.
How curious then that plots of this data don't, on a number of points, make any sense. The chart at the top of this post shows the weekly mortality rate per 100,000 persons at risk for 10 to 59 year olds for England, for the unvaccinated and the fully vaccinated (marked 'Second dose'). The orange/red unvaccinated line sort of makes sense, winter excess mortality falls away as spring and the summer arrive, but what on earth is going with the fully vaccinated? The 10 to 59 year old band (ONS's choice) is a heterogeneous band, with older members being mostly fully vaccinated by late May, and younger members straggling along behind, to reach at least half fully vaccinated by late September. What happens to the mortality rate in this fully vaccinated group? It starts to rise in mid March, overtakes the unvaccinated rate in mid April, and then levels off at about double the unvaccinated rate in mid May, and then stays there.
This makes no sense, especially in the later stages. The early rise in mortality in the vaccinated could be explained by preferentially vaccinating those at higher risk, and so more likely to die, in the early stages, but once large numbers (getting on for tens of millions) of people at normal risk are vaccinated, any such effect will disappear. Bear in mind the rates are all cause mortality — no need to fuss about cause of death — and the numbers are charted as rates, so accounting for the changes in numbers in each group. According to this chart, based on ONS data, for 10 to 59 years olds, being fully vaccinated roughly doubles your chance of dying. No wonder this didn't make it into the published ONS report, let alone the mainstream media.
What happened in the older age bands, the 60 to 69 year olds, the 70 to 79 year olds and those aged 80 and over (again, these are ONS's choice of age bands)? The charts are shown below. Again, Dr No has only included the unvaccinated and the fully vaccinated, because the partially vaccinated are all over the place, and including them makes it look as though Montezuma is back in town. Note that sometimes stratified tables and charts are superior to summary statistics like ASMRs based on stratified data, because they allow us to see what is happening in each strata, a level of detail which gets lost in summary statistics.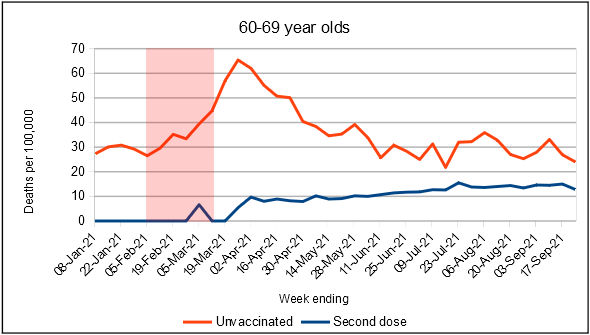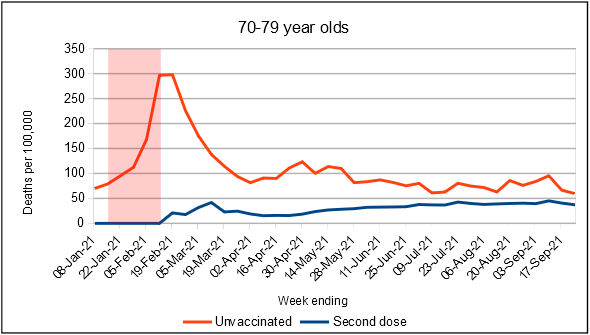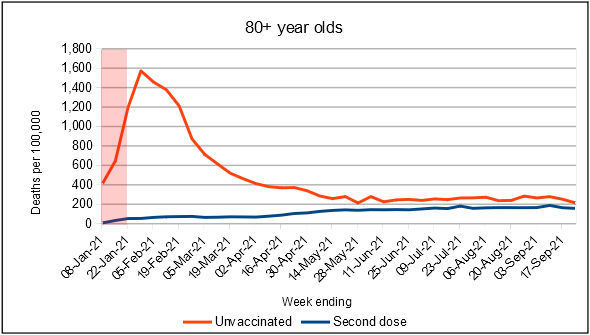 Figures 1-3: weekly all cause mortality in England by vaccination status for 60-69 years olds (top), 70-79 years olds (middle) and those aged 80 and over (bottom). The red shaded boxes cover the period when the age band received most of it's first dose of vaccine, rising from around 20% coverage to around 80% coverage, determined by eyeballing the vaccine coverage charts in these reports. Note the Y axes are not to the same scale, there being more deaths as age increases
The most striking thing, visible in all three age bands, is the very sharp rise in unvaccinated mortality shortly after the age band had most of its members receive their first dose of vaccine. The older the age band, the earlier the first dose, the earlier the peak. Dr No is baffled: there is no obvious explanation. Last winter's wave of excess mortality may have contributed to some of the over 80s deaths, but it peaked in early January, and had dissipated by late March/early April, when the 60 year olds were hardest hit. There is no obvious explanation. Perhaps the threat of imminent vaccination among those who have decided against vaccination sends a chill through the heart, and the poor dears keel over? A nocebo effect that somehow manages to operate at a distance?
The right hand halves of the charts are rather more stable, and perhaps credible. The broad pattern is the same in all three charts: a rise in mortality in the vaccinated, and a slight decline or levelling off of mortality in the unvaccinated. The overall effect is the all cause mortality rates in the vaccinated and unvaccinated are converging. Although past vaccine performance may not predict future performance, in appears at least plausible that before too long, being vaccinated, or not vaccinated, won't make a jot of difference in those aged 60 and over. Bear in mind these are ONS figures, un-doctored by Dr No; the charts are plots of unadulterated ONS data.
Un-doctored by Dr No, definitely, but what about by ONS, perhaps by omission rather than commission? As with the earlier deaths by vaccination status dataset, this dataset is far from complete. Various spot checks show reveal undercounts, both for death counts and population at risk (numbers vaccinated/not vaccinated). For example, this data records 4,080 deaths in those aged 80 and over for week 38 (week ending 24th Sepember), while ONS's weekly deaths report records 5,625 deaths for the same group in the same week, albeit for England and Wales, rather than just England. Likewise, for the same week, the number of 80 and over year olds shown as fully vaccinated in this data set is 2,439,328, compared to 2,675,031 in the daily vaccination reports. But these dropouts do not necessarily cause major distortions, given that both numerator and denominator are both low, meaning rates are perhaps relatively unaffected. That is surmise, but not beyond the realms of possibility.
What conclusions can be drawn? First, we should note with regret the incompleteness of ONS's deaths by vaccination status data, even if in practice it may not have caused major distortions in the rates. Second, we have to admit we have no idea what caused Apocalypse Now to march to the tune of the Ride of the Valkyries through the unvaccinated in the older age bands in the first few months of the year: it makes no sense. But perhaps we can salvage something from the second half of the data, a period of relative stability, despite what the MSM would have you believe, for both vaccination rates and all cause deaths.
Recall that we are looking at all cause mortality, data which is uncontaminated by distractions over whether this was or wasn't a covid — or cardiac, or neurological, or whatever — death, and on one level, whether you are dead or alive, rather than what caused your death, is all that matters. Viewed through this harsh but singular lens, ONS's own data tell us that, for working age people, being vaccinated appears to increase your overall risk of death. Sure, the numbers are small (in the hundreds), but that is of no comfort if you are one of the unlucky ones, and furthermore, it is hundreds week in week out, and they soon add up. For older age groups, being vaccinated may offer some protection, but that protection appears to wane over time, and decrease with increasing age. There is certainly nothing in this unique set of official data to suggest that vaccines do much good, and something to suggest they may well do harm, and to the extent that this is true, the entire Fourth Reich of mandatory vaccination and covid certification is an evil empire built on a falsehood.
1. (Added 11:40 17th Nov 2021) Dr No has noticed the ONS report does mention all cause mortality, but only in passing, and it is fair to say the title and thrust of the report focuses on covid mortality.