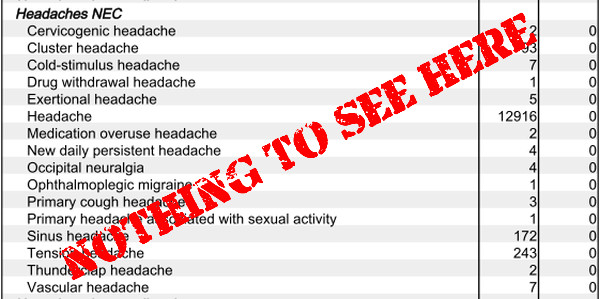 Has the novel vaccine for a novel coronavirus led to a novel case of hiding something bad in plain sight? We are constantly told by the authorities and mainstream media that the novel coronavirus vaccines are exceptionally effective and safe. Yet at the same time there is a constant drip feed, now running more like a torrent, of reports of numerous and sometimes serious side effects from the vaccines. Dan Astin-Gregory of the Pandemic Podcast recently received, but failed to publish, a "113 page report documenting the tragic accounts of people who had sadly died following the COVID-19 vaccination". Mr Astin-Gregory's heart is clearly in the right place, but the mind needs data. An anecdote of anecdotes? Without seeing the report, it is impossible to make any assessment of it.
Others have behaved more reprehensibly. Joel Smalley, a quantitative data analyst, member of HART and constant thorn in the side of the authorities, published a tweet, now unavailable on twitter but captured by the Wayback Machine, that claimed 0.2% of children vaccinated against covid in the US subsequently died. Dr No was able to verify, using VAERS, the US equivalent of the UK's yellow Card scheme, that there were nine reported deaths in children aged 17 and under who had been vaccinated, but the Smalley denominator of 4,000 vaccinated is ludicrously small. The real number, for those aged 17 and under, is 2,216,504, giving a rate of reported deaths following vaccination of 0.0004%. To put the nine deaths in context, there were 34,602 deaths in the US in 2019 in those aged 17 and under. The majority of those deaths (20,921) were in infants aged under one year of age, but even so, nine deaths set against tens of thousands is hardly a call to lock up your daughters. Sorry folks, nothing to see here.
Or perhaps there is. The real story here isn't how many deaths there have been in US children after covid vaccination, it is how few deaths have been reported. The 34,602 deaths work out as a crude rate of 474 death per million population, which means that of the 2.2 million vaccinated children, around 1,050 can be expected to die every year from non-covid related causes, or let's say 350 for the four months or so covered by the VAERS covid vaccine data. Yet only nine of the expected deaths got reported. Even allowing for the fact that many of the deaths are caused by prematurity, accidents and violence, there are still many deaths due to medical causes including diseases of heart, influenza and pneumonia, septicaemia and chronic lower respiratory diseases (1,654 of the 34,602 deaths), all of which might reasonably be in some shape or form possible adverse reactions to vaccination. Yet only nine deaths following covid vaccination got reported.
What this tells us is that the passive surveillance schemes, like VAERS in the US and the Yellow Card scheme in the UK, are hopelessly and woefully incapable of providing effective surveillance. Our Yellow Card scheme here in the UK is even more inadequate than the VAERS scheme. No demographic data at all is reported, because the electronic reporting system does not require this data: the key fields are marked 'optional'. All we have is crude numbers of adverse events, and even these are derisory. The three commonest side effects for adults after pain at the injection site reported in clinical trials for the Pfizer/Biontech vaccine were fatigue (> 60%), headache (> 50%) and myalgia (> 30%); for the Oxford/AstraZeneca vaccine the figures are headache (52.6%), fatigue (53.1%) and myalgia (44.0%). According to the latest Yellow Card scheme data, to 28th April 2021, reported rates of these side effects for the Pfizer/Biontech vaccine are fatigue (0.05%), headache (0.08%) and myalgia (0.03%). For the Oxford/AstraZeneca vaccine, the Yellow Card rates are headache (0.25%), fatigue (0.13%) and myalgia (0.08%). Some of these rates are several orders of magnitude less than the expected rates.
These figures confirm that the Yellow Card scheme is hopelessly and woefully incapable of providing effective surveillance. To be fair to the scheme, it was never really intended to provide true surveillance; instead, it is an alert system, intended to provide a signal that something might be amiss. But being a voluntary scheme greatly compromises its capabilities, and the failure to collect demographic data is little short of wilful neglect. Most importantly, the Yellow Card scheme can only ever be an alert system that might, with a following wind, generate a signal of potential concern meriting further investigation. It can never, of itself, prove, or indeed disprove, causation. It is a necessary scheme, but nowhere near a sufficient scheme.  
Vaccinating an entire adult population in less than a year with a novel vaccine for a novel disease is a colossal undertaking of huge public health importance. The medium to long term side effects of the vaccine are not, and cannot be known, unless and until we have an adequate post marketing surveillance scheme in place. Instead of relying on a quaint but demonstrably inadequate voluntary scheme, we need the same effort put into post rollout surveillance as has been put into the vaccination programme itself. The current government/PHE COVID-19 Post-implementation vaccine surveillance strategy remains vaguely weak and largely aspirational on vaccine safety: "Safety surveillance will be undertaken in collaboration with the MHRA, further details on the MHRA proactive vigilance of COVID19 vaccines are available here" — only they are not, there is no link. The nearest document online appears to be here, and again it is also vaguely weak and largely aspirational. Were Dr No a cynic rather than a sceptic, he might be sorely tempted to opine that the whole Yellow Card scheme and the post-implementation vaccine safety surveillance strategy look rather like duds hiding in plain sight, all set up fail. Just the ticket to keep vaccinations on track. With such low reported rates of adverse events, there is nothing to see here, nothing at all.