The Needle and the Damage Done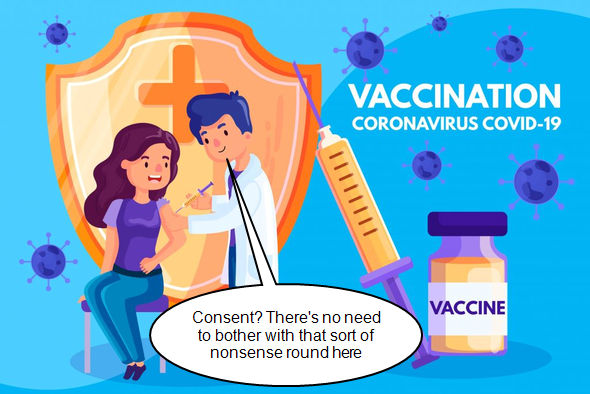 "Even the perpetrators had to go one step at a time, completing each step before the realised that the next one was possible." Clive James, Review of Holocaust (BBC1), 1978 Whither Covid Vaccines? Yesterday, Secretary of State for Health Sajid Jabbit confirmed in the Commons that Covid vaccination will be compulsory for all frontline NHS staff in England by next April. Rumour has it that J-Day will be set for the 1st April, an unfortunate choice, raising the question of whether Jabbit is a joker, or a fool, or perhaps even both. Certainly the Royal Colleges and Unions are up in arms, pointing out that banning qualified healthcare workers from working — a sure fire way to make enemies and alienate people — at a time of NHS crisis is foolish in the extreme. Many, including Dr No, have questioned the ethics of mandatory healthcare worker vaccination, but this is a tricky one, because of vaccine precedents in healthcare, even if those precedents were, and remain, a condition of employment, rather than a legal requirement. And then, last but by no means least, there is the prickly question of the medical evidence: do covid vaccines reduce the risk of covid transmission?
The medical evidence is crucial, because the whole edifice of mandatory covid vaccination for healthcare workers rests on the premise that the vaccines reduce secondary transmission. If they do, then a case can be made that perhaps covid vaccination should indeed be made a condition of employment for front line staff. If they can't be shown to reduce the risk of transmission, then the whole edifice comes tumbling down, and Jabbit's gambit stands revealed as gratuitous authoritarianism, without even the slightest medical, let alone ethical, justification.
There are two ways a vaccine can reduce transmission. The first is by reducing infections in vaccinated people — less cases means less transmission. The second is by reducing infectiousness in breakthrough infections: those who get infected despite being vaccinated are less infectious, because they have been vaccinated. The two ways are not mutually exclusive, a vaccine might reduce the number of infections, and make the breakthrough infections less infectious. Equally, the vaccine might fail on one or both counts. We need to look at both to determine whether or not a medical basis exists for mandating covid vaccination for healthcare workers.
The first question, does vaccination reduce cases, is the easy one to answer, and the answer is they don't. For the last several weeks, the UK Health Security Agency's weekly covid vaccination surveillance reports have consistently shown that covid infection rates are higher in those that have been jabbed than those that have not, across all ages in those aged 30 and over. For those aged 18 to 29, which will include a lot of healthcare workers, infection rates are marginally higher in the unvaccinated, but, as with other age groups, the trend over time has been more infections in the jabbed, and less in the un-jabbed. Under 18 year olds are a striking, and unexplained, exception. The latest data are shown in Figure 1. These are based on large numbers from national surveillance, and are unlikely to be wildly inaccurate, despite heroic attempts by UKHSA claiming that we really shouldn't worry our silly little heads about these data, on account of 'underlying statistical biases in the data'.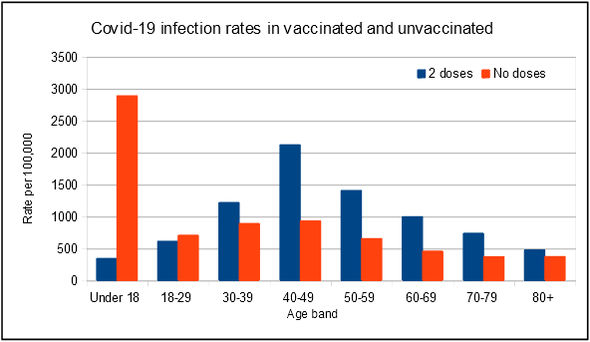 Figure 1: covid infection rates (strictly speaking, PCR positives) in England by age band for double vaccinated and unvaccinated individuals, for weeks 40 to 43 in 2021. Source: UKHSA
Data on the effectiveness of vaccines against transmission in breakthrough cases are far more sparse. This is perhaps not surprising, because what we are looking for here is not how well the vaccines protect the person vaccinated, but how well the vaccines protect others from those who are infected; in other words, in the language of the mask wars, we are interested in source control. Specifically, we need a classic cohort study that identifies a cohort, in this case index cases, classifies them by exposure to the factor of interest, in this case vaccination, and then follows up the cohort over time to determine how many events, in this case onward transmission, occur in each group. Modern epidemiologists can't resist muddying the waters by doing fancy analyses using stochastic Rubik cube transformed inverse Bayesian models based on impenetrable formulas incomprehensible to man before presenting their results, but at the heart of any cohort study lies a very simple two by two table. The two rows are exposed and not exposed, and the two columns are had, and didn't have, the outcome of interest. For a cohort study on smoking and lung cancer, the rows are smokers and non-smokers, the columns are those who got lung cancer, and those who didn't. The results compare the attack rate (lung cancer rate) in smokers and non-smokers.
These rates are the crude, unadjusted rates, but they remain at the core of any cohort study. Often there is a need to adjust the figures: for example, let us imagine that all smokers were aged 60 and over, and all the non-smokers were aged 16 and under, then we would need to adjust for age, which we can do mathematically, or more transparently by stratifying (grouping) by age. But the principle of a cohort study remains the same: we compare the event/outcome (infection) rates in an exposed (vaccinated) group to the rates in the unexposed (unvaccinated) group.
Cohort studies by their nature are labour-intensive, expensive, and time consuming, and don't often get done, as the underwhelming result sets from searches for 'covid secondary attack rate in vaccinated' and 'covid vaccine effectiveness transmission' on Google Scholar reveal. Furthermore, the studies need to be relatively recent, to cover delta covid, and to ensure adequate numbers of fully vaccinated individuals in the population. Some of the papers display an alarming lack of understanding of basic statistical principles — misuse of standard deviation is a classic, as in 'The average age of the study population was 33 years (standard deviation 19.4)' which means a significant minority of the study population had yet to be born (mean 33, SD 19.4, 95% of the ages fell in the range –5 to 71) — and these papers can be confidently spiked without further ado. A number of others had woefully inadequate follow-up. Two linked Dutch studies, for example, had subjects who were 'encouraged to get tested' and 'urged to get tested', which don't quite cut it as rigorous follow-up. Others fell to the spike because the data collection ended before delta covid predominated, and vaccination became commonplace. Several studies have appalling attrition rates, with hundreds of thousands of potential subjects yielding actual subjects in the single thousands, if that, raising major questions of selection bias. And finally, far too many papers fail to report the raw numbers; and to put it bluntly, Dr No is always sceptical if all you can see is the results after they have been through the modelling kaleidoscope.
One often quoted letter — it is not even a full paper, but it does include some raw numbers — reports SARs (secondary attack rates) of 10.1% for unvaccinated index cases, and 5.7–6.2% for vaccinated index cases, but, crucially, fails to describe how contacts were followed up, and so we have no idea how biased (or not) the reported rates are. Furthermore, the study ran in England from 4th January to 28th February 2021, when only highly selected groups, the over 80s and clinically vulnerable, had vaccinated, and delta covid had not yet arrived, and so cannot be extrapolated to today's circumstances. Thwack! Another report hits the spike!
Dr No had high hopes for this paper, but yet again it falls foul, by failing to provide adequate follow up. In a commendably clear and open discussion, the authors say 'We considered only contacts who underwent PCR testing… Therefore, we cannot estimate secondary attack rates by case and contact vaccination status'. The crucial point, and the reason why so many papers end up spiked, is that if you do not achieve comprehensive follow-up contacts — that is, all tested, and all results recorded — then you have no way of knowing the true secondary attack rates. It is the age old eight out of ten cats, or in this case, three or four out of ten contacts problem: the full statement should read three or four contacts, of those who got tested, tested positive.
Instead of spiking yet more inadequate papers — by now, it should be clear most studies do not include sufficient data to allow true secondary attack rates to be estimated — let us now turn to the only two studies Dr No has found that do have sufficient raw data and clear confirmation of adequate follow-up. Neither are perfect, and numbers are small, sometimes painfully so, but they the best we have got, and most interestingly, they produce almost identical results, despite being done in very different settings, at opposite ends of the earth. The results replicate each other, a key test of scientific validity. Without further ado, let's cut the crap, and go to the two by two tables that lie at the heart of these cohort studies.
The first study was done in Singapore, which accounts for the thoroughness of follow-up. Date collection ended at the end of May 2021, but they still managed to include 753 delta cases, and Table 3 reports the raw numbers of secondary cases in close contacts by index case vaccination status. The second study, which appears to be an epic attempt at obfuscation on account of the primary findings being not quite what the doctor ordered, was done in England, and the second (ATACCC2) arm, which we are interested in, ran from May to September 2021 in London and Bolton, where delta covid was common. The authors are to be commended for the rigour of their follow-up, and Table 2 reports the raw numbers of secondary cases in close contacts by index case vaccination status. The results from both papers are presented in Table 1 below. To keep things simple, only the unvaccinated, and the fully vaccinated, are shown.
Table 1: crude (unadjusted) secondary attack rates among contacts in Singapore and England by vaccination status of the index case. PCR+/PCR- is the number of PCR positives/negatives among contacts of the index case, SAR is the secondary attack rate (percentage of contacts who get infected for that row)
The numbers, particularly in the English study, are painfully small, meaning wide open confidence intervals and low statistical power (the ability to determine a difference, if it really exists), and they are crude rates, but nonetheless, the secondary attack rates are all remarkably similar. Unless and until better data emerges — and readers are cordially invited to submit anything they have found in the comments below — Dr No suggests that this is the best indication we have so far of the ability of vaccines to control onward transmission of delta covid, and the answer, with the caveats noted above, is that it appears they don't limit transmission. Vaccinated or unvaccinated, it makes no difference, the SAR stays the same.
This means, on the basis of current evidence, there is no scientific basis for mandating covid vaccination for frontline healthcare workers. It also means, of course, that covid vaccine passports are meaningless. Individuals remain free to chose vaccination to protect themselves, if that is what they wish to do, but the idea that vaccination and vaccine passports can provide source control is for the time being dead in the water. Jabbit's diktats aren't the caring actions of a Secretary of State hoping to protect vulnerable patients, they are another step among the deplorable consequences of gratuitous authoritarianism. Come to think about it, if staff on the wards need vaccine passports, how long before visitors on the wards also need vaccine passports? My, oh my, the needle and the damage done.