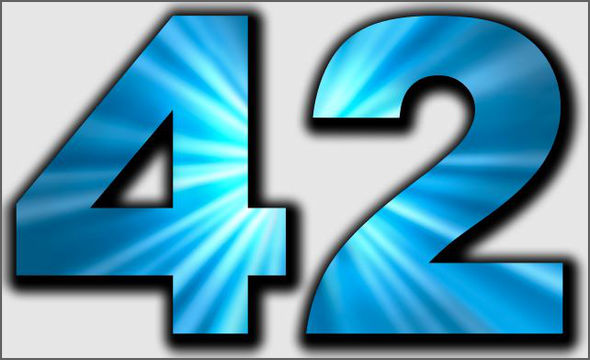 Those familiar with the Hitch-Hiker's Guide to the Galaxy will know that the number 42 is the 'Answer to the Ultimate Question of Life, the Universe, and Everything'; it necessarily follows that it must also be the answer to today's ultimate question, how to end the covid pandemic. Dr No has spent the New Year break trying to get to the bottom of this cryptic answer. Perhaps it means the pandemic will end once BoJo has done his 42nd presser? Or the Milk Curdler posts a twitter thread that is exactly 42 tweets long? The problem is that no one knows what question Deep Thought, the supercomputer in the Hitch-Hiker's Guide, was programmed to answer, and without knowing the question, how can one hope to make sense of the answer? Let's see what we can come up with.
Writing in the BMJ last month, David Robertson and Peter Doshi came up with a paper with a title very much to Dr No's liking: The end of the pandemic will not be televised. This captures the idea that the pandemic won't end with a bang, or even a whimper; rather, one day we will wake up, and it will be gone. There will be no grand declaration, because there is no firm scientific definition of when a pandemic officially ends. This tells us something important: the end of a pandemic is not a scientific event, but a societal event. Society decides that enough is enough, and languor, even ennui, sets in. Society reaches saturation point: the pandemic no longer shocks and stupefies; instead, it becomes an unwelcome but essentially normal part of life, in effect, just another flu like illness, dreadful, even fatal, to some, but for the vast majority, no more than a tiresome nuisance. It reaches not so much biological endemicity, as social endemicity.
This in turn tells us something else important about how pandemics end: the decision-making process is not rational, let alone scientific, but emotional. Just as fear and loathing fuel pandemics, so too does recognition and pragmatic acceptance dampen pandemics. We have to make the emotional decision that, however much we may dislike, even detest, the pandemic, we cannot allow it to destroy so many good things in life. Friendship, togetherness in all its forms, education, the arts and even sports have taken a never before seen battering in the face not of the virus, but of our reaction to the virus. We need the emotional intelligence to be able to weigh the cost of the pandemic against the cost of our counter-measures, and so to know when enough is enough, when the self-inflicted wounds caused by the counter-measures are too high a price to pay. We must avoid at all costs that most awful of medical outcomes: the operation — all the counter-measures — was a great success, but unfortunately the patient — society — died.
This brings Dr No to his final, and perhaps most important point, in this first post of 2022. No official commercial or establishment body is going to end the pandemic. It is not in the slightest in their interests to do so. The pandemic fast-tracked New Year's honours for a whole host of previously unknown public health goons lackeys and stooges. Big Pharma's laugh as it heads to the bank is so loud it can be heard from space. Those in government who want to foist a despotic digital dystopia on the rest of us are not going to give up hard gotten gains, oh no. If none of these bodies has any interest in ending the pandemic, than that can only mean one thing: it is up to us, each and every one of us, to show some emotional guts, and end this collective madness. It is not too late, Dr No suggests, to make that your 42nd New Year resolution for 2022.