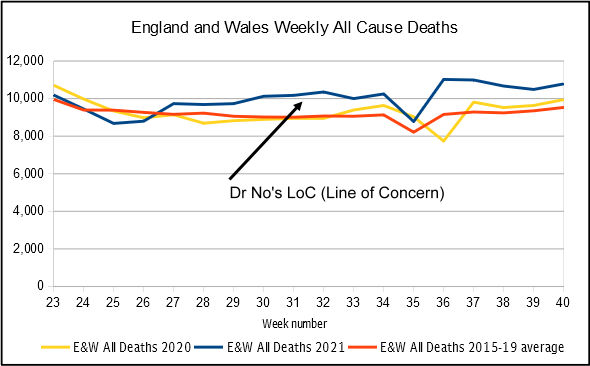 With the barrage of political and mainstream media talk of rising covid cases, new scariants and the urgency of vaccinating all, and then some — soon there will be talk of syringe drivers, pumping in covid vaccine in 24/7 — and not to mention Tuesday's nodding through, not so much on a song and a prayer as on a laugh and a wink, by the blind horses in Westminter, of another six month extension of the Coronavirus Act, there can be little doubt that government is limbering up to implement Plan B. No doubt there is already a Plan C in draft, and so on, to pile Pelion on Ossa, forever and ever, world without end. But how are we really faring with covid these days?
Positive PCR tests are on the up, but then so too are the leaves in the sky, because it is autumn. Just because you find an oak leaf in your gutter, it doesn't mean you have a forest of dying oaks at the bottom of your garden. The NHS — now entering its autumnal forecasts of doom phase — isn't overrun with covid patients, which have remained pretty constant over the last two months. There's even been a decline in covid admissions over the last few weeks, even if there is a more recent uptick — just as we expect in autumn. Alleged covid deaths — the ones that had a 28 day old oak leaf stapled to their chest — have also declined over the last few weeks, perhaps a less marked a decline than admissions, but still a decline. The current bout of covysteria is based solely on a swirling cloud of autumn leaves, and the MSM have become Hitchcock's birds, swooping in the sky as they chase the swirling autumn leaves.
Where things are a little less encouraging can be seen in the chart at the top of this post, which shows weekly all cause mortality for England and Wales starting the week after ONS stopped reporting deaths by vaccination status. The three lines are 2021, and the corresponding weeks in 2020, and an average for the same weeks over the preceding five years, as a crude benchmark. 2020 — the first year of covid — was unremarkable. The weekly numbers of deaths hovered above and below the five year average. In contrast, 2021 shows a clear excess, starting in week 27, and persisting, and perhaps even increasing by a small amount, for every week except the bank holiday week. If we visually average the bank holiday trough and the following peak, the trend is clear. The data comes from ONS's weekly figures, and while there might be minor revisions, these charts are pretty much based on what will go down in posterity. Nor are the numbers of excess deaths trivial, at an average of over 1,000 excess deaths per week since week 27, when the rise started. 1,000 a week is 4,000 a month, and so on. If the trend continues, the numbers soon add up.
What is causing these excess deaths? The short answer is we don't know yet, as we will have to wait for more detailed cause of death statistics. What we do know, however, is that covid is not the sole culprit. In fact, it almost certainly isn't even the main culprit. Figure 1 is an update of a previous chart, with deaths broken down into (a) non-excess expected deaths, being those non-covid deaths up to the five year average, or all non-covid deaths in the rare weeks when all deaths did not reach the five year average, (b) covid deaths and (c) non-covid excess deaths. This approach, and it is the only one possible given limitations in the data, makes two unlikely assumptions: firstly, that all deaths 'involving covid' were 'from covid', and secondly, that all covid deaths were necessarily excess deaths. Both of these assumptions will exaggerate the apparent impact of covid, making covid appear more of a problem than it is, which in turn will decrease the apparent number of non-covid deaths, making them appear less of a problem than, in reality, they are.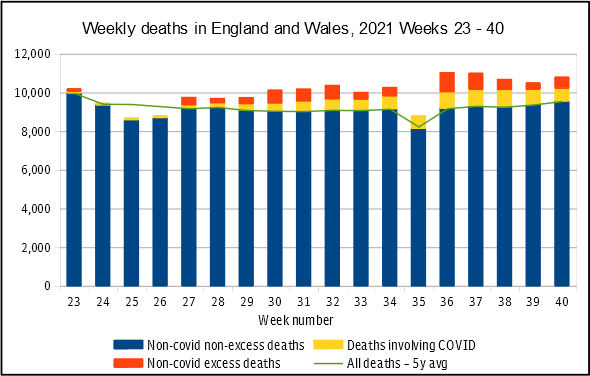 Figure 1: weekly deaths in England and Wales for weeks 23-40. Source: data downloads from this ONS page
In the first case — assuming all deaths 'involving covid' are deaths 'from covid' — means the yellow bar contains deaths that in truth were not 'from covid' deaths, the 28 day old oak leaf deaths. The yellow band should be smaller, and the non-covid excess deaths red band larger, by the extent that covid was over-represented as the cause of death. Dr No's guesstimate of the extent of this misattribution of cause of death? Let's say 50 %, or half of the alleged covid deaths were not in fact covid deaths. In the second case — assuming that all covid deaths were necessarily excess death — ignores the fact that some of these deaths were expected deaths, in that they were going to die anyway, and just happened to die from covid, rather than one of the other well known likely terminal illnesses. To correct this assumption, that all covid deaths are excess death, we need to move the yellow band downwards, so that some of the covid deaths show as expected deaths, and the consequence is the red, non-covid excess band gets larger. How much of the yellow band should be moved into the expected deaths zone? Nobody knows, so let's hazard a guess: 50%, of half of the apparent covid excess deaths were in fact expected deaths. Figure 2 is Figure 1 plotted with these adjustments applied. It is clear that, with these adjustments, non-covid deaths, rather than covid deaths, are the predominate problem.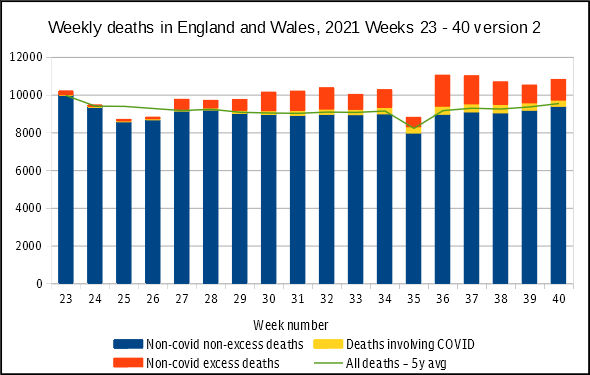 Figure 2: weekly deaths in England and Wales for weeks 23-40, with presumptive corrections applied. Source: data downloads from this ONS page, plus some data diddling by Dr No
Let us be clear, the 50% adjustments are no more than guesses. There are estimates of the extent of over attribution of covid as the cause of death, but they vary hugely, and frankly, none are yet conclusive. The how many alleged covid deaths were not excess, but expected, deaths question is even trickier, because it requires knowledge of when someone would have died regardless of when they actually died, in effect, another instance of Dr No's infamous Schrödinger's dilemma applied to prognosis: we cannot know the length of a piece of string until it is cut. But we can make estimates, as long as we make it clear that is what we are doing, because, as Dr No is wont to say, better an approximate answer to the right question, than an exact answer to the wrong question. With that in mind, Figure 2 tells us that, over recent months, it is non-covid excess deaths that should trouble us. Covid has become a distraction, a red herring, a wild goose chase, because covid is not the problem.