The Summer of Excess Death
Byzantine formulas unfathomable by man, stretching out beyond five miles of fetid ground, and down to a sunless sea — all very well, but sometimes the simpler analysis better does our pleasure guarantee. The human brain is smarter at spotting a trend in a chart than in a table, and the chart at the top of this post tracks the weekly all cause mortality over the summer, expressed as a percentage difference compared to the average mortality over 2015 to 2019 for the same week, with an added trend line, using ONS data. Anything above the 0% line is excess mortality, and we can see at a glance things are not going well. In fact, we shall all likely be dead pretty soon, if the trend in recent weeks continues. What on earth is going on?
The first thing is that Dr No has used a type of gee-whizz plot to make things appear worse than they are. Instead of reporting and plotting absolute numbers, he has used the marketing man and main stream media's best friend, relative numbers, to underline once again the importance of not trusting relative numbers presented on their own. The value for week 37 (week ending 17th September) is 18.3%, but 18.3% of what? To add gee to the whizz, the Y axis expands magically, while at the same time remaining unanchored to any real number, as if floating in space. There is no way of knowing where zero is, no way to get our bearings. To do that, we need to plot absolute numbers, and anchor the Y axis to zero, as shown in Figure 1.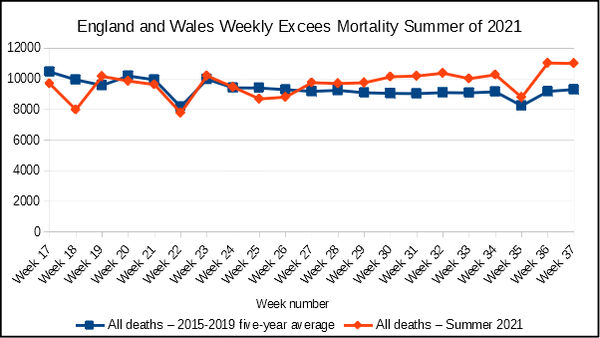 Figure 1: numbers of weekly deaths for England and Wales over (1) the summer of 2021, and (2) the 2015-19 five year average. The deep dips are caused by Bank Holiday registration delays. Source: ONS
Figure 1 is much less dramatic, but there is still something untoward going on. Starting in week 27 (week ending 9th July), weekly mortality rises steadily above the five year average, and stays that way, with the lines continuing to diverge. By week 37, there were 1,703 (the 18.3%) excess deaths over the five year average. The trend has been consistent, and is not trivial. Is this the Nth wave (where N is a random number between 3 and infinity) of covid lapping at the foothills of Mount Britannia? Probably not: deaths 'involving covid' may have contributed to the excess mortality, but they are by no means the whole story. Dr No says may have contributed, because we have no way of knowing whether they were expected deaths, in keeping with the five year average, who just happened to die a death 'involving covid', instead of some other cause of death, or whether they are true excess deaths.
The ONS data used to produce the previous two plots divides the deaths into those involving covid, and those not involving covid, and so we can get a feel for the extent to which deaths involving covid contribute to weekly excess mortality. Figure 2 shows the 2021 deaths as a stacked bar chart, colour coded to show non-covid deaths, covid deaths, and, in weeks where there were excess deaths, the contribution to excess deaths made by non-covid deaths, along with a line plot for the five year averages. We can see that in most recent weeks when there were excess deaths, the larger contributor, albeit by a small margin, was non-covid excess deaths.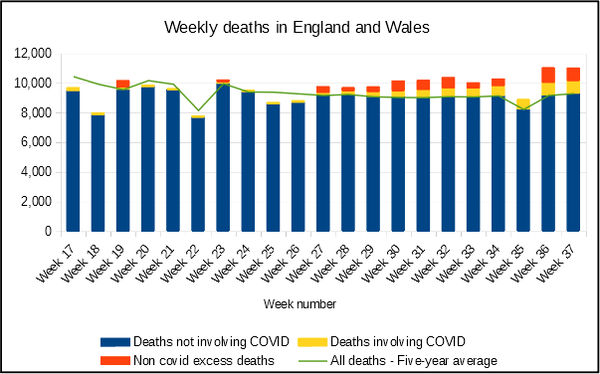 Figure 2: numbers of weekly deaths for England and Wales over the summer of 2021, colour coded to show non-excess non-covid deaths, covid deaths and excess non-covid deaths, along with weekly 2015-2019 averages. Source: ONS
Figure 2 assumes, as noted above, that whenever there are excess deaths, covid always only ever contributes excess deaths. It is entirely conceivable that some of the the covid deaths might instead lie among the lower, non-excess deaths part of each bar, perhaps because they were going to die anyway, and just happened to die of covid, rather than a more conventional diagnosis. To the extent that that is true, the yellow covid parts of the bars get displaced down below the green five year average line, and the non-covid red part of the bar gets enlarged, up to and including the point where all the covid deaths occurred among non-excess deaths, and all the excess deaths are non-covid deaths. We have no way of knowing the extent to which this applies, but we can be sure that any extent to which it applies will mean that Figure 2 under-represents the true number on non-covid excess deaths.
What might cause those excess non-covid deaths seen in recent weeks? There are two candidates that will spring easily to mind for most: the NHS backlog, and, inevitably, the covid vaccines. As it happens, the deaths by vaccination status data recently published by ONS, and analysed by Do No in this post, stops in week 26, just before the rise in excess all cause mortality gets interesting. For the time being — we must hope this will change before too long — we cannot look at mortality by vaccination status for this period. There are however two things we can look at.
The first is deaths by age group, to see if that throws up any leads. Figure 3 shows weekly deaths counts over the summer of 2021 by ten year age bands. Apart from a gentle upwards trend in older age bands from around week 26, consistent with the rise in excess mortality over the same period, there is nothing exceptional here. Figure 4 shows the same plot zoomed into the younger age bands. Again, there is nothing exceptional that stands out.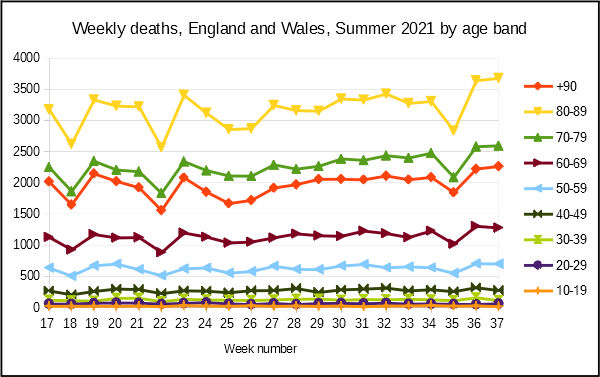 Figure 3: weekly deaths by ten year age band, all ages over 10 years of age. Source: ONS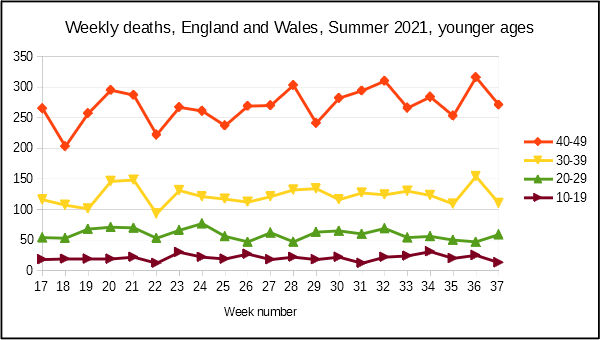 Figure 4: weekly deaths in younger age bands. Source: ONS
The other thing we can look at is vaccination uptake over time. As always, there is the caveat that correlation is not causation, should we feel inclined to jump to conclusions. Nonetheless, timings are interesting: the start of the period of sustained weekly excess deaths coincides with the period when the majority of the population had received at least one dose of covid vaccine, as can bee seen from Figure 5.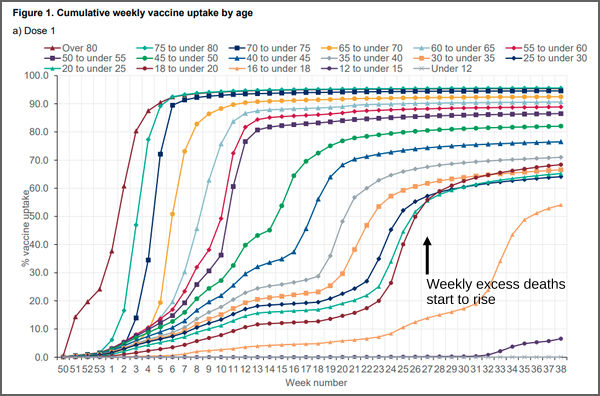 Figure 5: cumulative weekly vaccine uptake by age (England only). Source: UK Health Security Agency (page 10)
Figure 5 does not prove anything, but it does raise important questions. We have an established, sustained rise in excess mortality that appears shortly after a period intense vaccination activity. At the same time, crucial data becomes unavailable. There is a pressing, urgent need for ONS to release full and up to date data for deaths by vaccination status so that an assessment of vaccine related mortality can be made. Unless and until it does release this data, it can only have itself to blame for the inevitable rise in speculation that covid vaccines not only lack effectiveness, they are also downright dangerous.