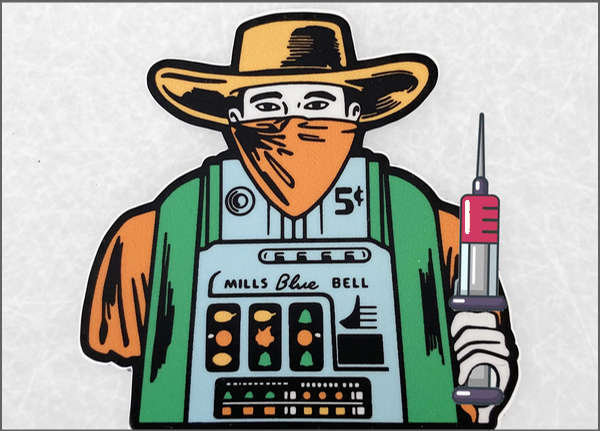 Dr No had high hopes that, given recent data published by ONS, PHE and NHS England, on deaths by covid vaccination status and vaccination rates, he would be able to get something of an answer to the vexed question of whether the covid vaccines increase or decrease overall mortality. Fat chance. He quickly found himself wandering on a tundra of statistical quicksand. Key data was missing, and the numbers that were available simply didn't add up. He spent far more time than he should have done peering up ONS drainpipes and down PHE rabbit holes getting nowhere. It was yet another landscape of cavernous numbers meaningless to man. Nearing desperation, he was about to give up, when it occurred to him that he could make a simple adjustment, and get an answer. This post describes the calculations, including the adjustment — which is not without it problems — and comes to two important conclusions: firstly that covid vaccines may well increase mortality in the short term, and secondly, being unvaccinated does not appear to carry increased mortality risk.
In contrast, recent ONS and PHE reports have continued on their jolly tractor production is up and vaccinee covid deaths are down drum roll. Using opaque calculations, ONS tells us — complete with irritating animated chart — that "age standardised mortality rates for those fully vaccinated are consistently lower". PHE's latest vaccine surveillance report  is equally bullish, telling us that the "rate of death within 28 days or within 60 days of a positive COVID-19 test…is substantially greater in unvaccinated individuals compared to fully vaccinated individuals". Tractor production is indeed up, and all tractors are pulling their weight, it seems. Or are they? There are at least two major problems here. The first is that both ONS and PHE report only covid deaths, and covid deaths in turn rely chiefly on what Dr No calls the sewing machine test, the PCR test that finds broken needles in haystacks, and then declares the haystack to be a working sewing machine. The second is that, by focusing on only covid deaths, you have no idea of what is happening to non-covid deaths, and so will miss, for instance, any vaccine related cardiac deaths. Tractor production may be up, but here and there, wheels are starting to fall off.
There is a simple, easy fix to both of these problems: instead of counting just covid deaths, count all deaths. The importance of, and benefits from, counting all cause deaths has been discussed many times on this blog: the robustness of the data: a death is a death is a death. All fuss about is it, or isn't it, a covid deaths is at a stroke removed. But where to find all cause mortality data by vaccination status? It turns out that, although the published ONS "Deaths involving COVID-19 by vaccination status" report only, and unsurprisingly, covers covid deaths, the underlying data also includes non-covid deaths by vaccination status. Bingo! By adding the two together, we have all cause mortality, by vaccination status. The wheels might have come off PHE's and ONS's tractors, but Dr No's tractor now has all four wheels firmly in place, and ready to spin. With NHS England data on vaccination status by age band, ONS data on deaths by vaccination status, and a reference dataset of mortality by age, everything needed to calculate standardised mortality ratios (SMRs) by vaccination status is now in place.
Only it turns out it isn't. The SMR is a simple enough concept: you take the mortality by age band from a reference population — Dr No used all cause mortality for England in 2019, as the most recent pre-pandemic data, downloaded from here, recalculated to match NHS England's age bands — and apply those rates to the same age bands in your population of interest — in this case, the unvaccinated, the partially vaccinated, having one dose, and so perhaps at most risk of vaccine related harm, and the fully vaccinated, to derive an expected number of deaths, had the population of interest experienced the same mortality as the reference population. By comparing the expected number with the observed number, we get the standardised mortality ratio, or SMR, as the observed number of deaths divided by the expected number, multiplied conventionally by 100, so that an SMR greater than 100 means more deaths than expected, and an SMR less than 100 means less deaths than expected. The problem is the ONS deaths by vaccination data is seriously incomplete. There aren't just a few missing deaths, there are hundreds. The observed numbers are absurdly low, and so the SMRs — O/E x 100 — are all absurdly low.
Taking week 26, the week ending 2 July 2021, which is the most recent week for which data is available, ONS's deaths by vaccination status reports a total of 6,956 deaths for all categories: covid and non-covid deaths, across all categories of vaccination status. This is 1,271 less deaths than 8,227 recorded for week 26 2021 in ONS's own weekly death reports, and 1,739 less than the 2015-2019 five year average of 8,695 deaths. This means we need to adjust the deaths by vaccine status observed number to bring it in line with the actual number of recorded deaths. Although it involves a large and possibly unwarranted assumption — that all categories of vaccination status are equally affected — the simplest way to do this is to increase each count by the same factor so that the total number of observed deaths used to calculate the SMRs matches the total number of deaths in the weekly reports, multiplying each category by a factor of 1.18272 (6,956 x 1.18272 = 8,227). We can now recalculate the SMRs, using these adjusted observed numbers. The results are shown in Table 1.
Table 1: SMRs by vaccination status. See text for data sources and assumptions. Data for all one dose categories aggregated into one category to match vaccination uptake data categories (unvaccinated, one dose, two doses). Unvaccinated by age band numbers were calculated by subtracting any dose numbers from the total population numbers for each age band. Note that the confidence intervals are tight, and far away from 100, the value which indicates no difference in mortality. Full spreadsheet used by Dr No to calculate the SMRs can be downloaded here.
These results do not give much comfort — unless you happen to be unvaccinated, and plan to remain that way. Being fully vaccinated does appear to reduce mortality, some comfort maybe if you are already fully vaccinated, but the two stand out SMRs are for the unvaccinated, who have the lowest mortality by a long shot (no pun intended…), and the partially vaccinated, who have a strikingly high mortality. Perhaps Dr No's friend, aged in his seventies and admitted to hospital in the spring with a confirmed heart attack three weeks after receiving his first jab did have a vaccine adverse reaction after all. Happily Dr No's friend survived, but what these SMRs tell us is that he might not have been so lucky.
Dr No has to end this post with three important caveats, as he has presented SMRs which appear to show significantly raised mortality after a first dose of covid vaccine, a period when, it might be supposed, any acute adverse effects are likely to appear, a finding which is far from trivial, and greatly at odds with the official narrative. He has also reported an SMR which suggests remaining unvaccinated is not associated with higher mortality, again at odds with the official narrative. First and foremost, on pain of repetition, he applied the observed uplift adjustment equally to each vaccination status category, assuming equal effect across the board, an assumption that may or may not be justified; but for the present time unavoidable, as there is no way of testing the assumption, or other way of making the adjustment.
Secondly, strictly speaking, SMRs should not be used to compare different populations (unvaccinated, partially vaccinated and fully vaccinated) because the populations may differ in their degree of underlying risk — perhaps the recently vaccinated are somehow at an inherent non-vaccine related higher risk of dying — even if it is hard to see why this might apply in the summer of 2021, or how this could bring about such huge differences in the SMRs. Thirdly, we must ask the Mark One Eyeball question: do the results look plausible? On the face of it, perhaps not, but against that there is always the epidemiological version of Sherlock Holmes's dictum: when you have eliminated the fluff, whatever remains, however improbable, must be the truth. Dr No has checked and rechecked the data, logic and the calculations, and while he may have made a mistake, he cannot see one. Readers are encouraged to inspect the worksheet used to calculate the SMRs, available here, and post any observations in the comments below.
With these caveats in mind, the SMRs presented in this post still don't prove anything, but they do call into question the official narrative on vaccine safety, a narrative which can at best be said to be based on opaque calculation smoke and missing data mirrors. In contrast, the SMRs presented in this post are based on open data sources and transparent calculations, and appear to be valid, at least in general extent. But the real truth lies in ONS publishing, in full, the underlying age stratified all cause mortality by vaccine status data, which it has so far declined to do. Dr No fears that the nearer this data gets to confirming Dr No's SMRs are indeed close to the truth, the less likely we are to see it published.