Ode to the Death Certificate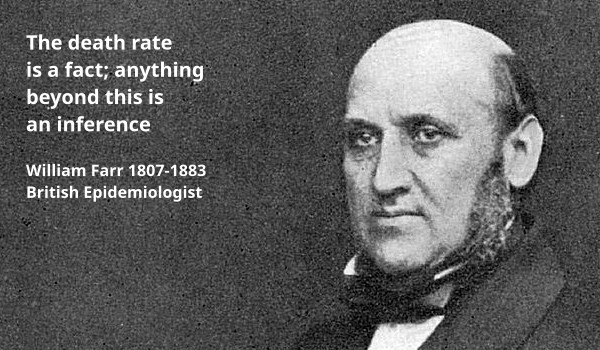 Covid! The very word is like a bell, to toll me back from my sole self to thee! Dr No continues to wonder about covid entries on death certificates, and how and why these entries do or don't end up in ONS's weekly counts of covid deaths. Unlike the pin-ball wizardry of counting every single death within twenty eight days of a positive covid PCR test as a covid death — an indiscriminate and robotic definition — one hopes, rather forlornly, that a modicum of medical effort on the part of the doctor completing the medical certificate of cause of death, or MCCD, followed by sensible coding of underlying cause of death by ONS, might give confidence that when we sidestep Donne and send to know for whom the bell tolls, then at least the count of tolls for covid are reasonably accurate. But are they?
The principles of death certification, and recording the cause of death, are simple enough. The MCCD has on it two boxes, one for recording the cause of death, and another for recording contributing conditions. In the cause of death box, there are three lines, and the general idea is that the top line records the immediate cause of death, and subsequent lines any conditions that lead to the condition in the line immediately above, with the lowest entry being the underlying cause of death. The aim is to record the chain of events that led to death, rather than just the immediate cause of death. For instance, a diabetic individual might die from a myocardial infarction (a heart attack), which was caused by ischaemic heart disease. Myocardial infarction would be entered on the first line, as the immediate cause of death, and ischaemic heart disease on the second line, as the underlying cause of death, and it is this underlying cause, the condition that initiated the train of events that ended with death, that will show up in ONS cause of death statistics. Diabetes would go in the second box as a contributing factor, rather than taking a place in the chain of events that lead to death.
The general idea is to record the most meaningful cause of death. A person might die from internal bleeding (the immediate cause of death), but the information becomes more meaningful when we know that the bleed happened from a ruptured major arterial blood vessel, with the rupture caused by a road traffic accident. In this case, road traffic accident would be recorded as the underlying cause of death, which in turn led to arterial damage, which in turn led to the patient bleeding to death.
ONS regularly report that, give or take a few percentage points, of all deaths that involve covid, where covid appears anywhere on the death certificate, around 90% are found to have covid as the underlying cause of death. This means these deaths will be counted as a covid death. This strikes Dr No as a little counter-intuitive, given that the vast majority of covid deaths happen in the elderly and very elderly, and that, unsurprisingly, many of these poor folk also have many other non-trivial medical conditions. How reasonable is it to say that someone knocking on heaven's door who is pushed over the threshold by covid, as the final straw that breaks the camel's back, is truly a covid death? On one level it is true: covid did push them over the threshold. But it is also true that covid could only do that because of the pre-existing underlying conditions, and the general principle in coding causes of deaths is that the underlying cause be recorded as the cause of death. If a patient dies from bronchopneumonia, caused by immobility and wasting, themselves caused by Alzheimer's disease, then the underlying cause, and the one that will be coded as the cause of death by ONS, is not bronchopneumonia, but Alzheimer's disease.
There is an element of semantics going on here. Strictly speaking, to be in box 1, a condition must be part of a chain of events where one leads to another, implying a causal relationship. In the Alzheimer's disease example, which by the way comes from longstanding official guidance, Alzheimer's disease led to immobility which then led to bronchopneumonia. On the other hand, a patient made frail by a long term condition, and so vulnerable to severe (and then fatal) covid–19 infection appears to fail to meet the strictly causal chain of events requirement that would make the long term condition the patient's underlying cause of death. Or does it? What if we re-word the events: the patient had a long term condition that led to frailty and vulnerability that allowed, enabled, or even led to covid–19 infection, and subsequent death? This wording, which closely echoes the Alzheimer's disease example, does provide a sequence that appears to satisfy the chain of events requirement, such that the underlying long term condition, and not covid–19, was the true underlying cause of death.   
To understand what is going on, Dr No first reviewed once again the post covid arrival revised government guidance on completing death certificates. Immediately something appears to be at odds with normal practice. Putting aside the word salad in box 1 (c), and the messy layout, the guidance gives this example of a correctly filled in MCCD with COVID-19 as the underlying cause of death: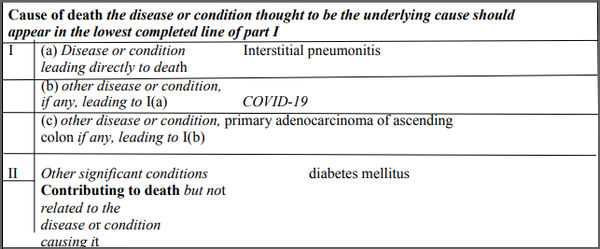 Recall that normally the lowest entry in box 1 (in this case, primary adenocarcinoma of ascending colon) will be the underlying cause of death. In this case, a higher entry, covid–19 on the line above, has trumped, as underlying cause of death, a clearly potentially lethal condition, colon cancer, that has been entered by the certifying doctor in the place normally reserved for the underlying cause of death. How can this be?
ONS is somewhat opaque on how it actually codes deaths. It uses 'automatic cause coding software' with names like IRIS and MUSE, which it updates from time to time. Nonetheless, the general gist of its coding operation appears to be in line with WHO guidance, and is based in ICD-10, the current version of the widely used International statistical classification of diseases and related health problems. As well as listing the classification of diseases, ICD-10 also has Volume 2, an Instruction Manual which, among other things, contains 'practical instructions for mortality and morbidity coders'. Here, if anywhere, we will find the general principles and rules governing the coding of deaths, including, presumably, those used in ONS's coding software.
Volume 2 was published before the arrival of covid–19. Soon after the appearance of the new virus, WHO issued additional guidance on the certification and coding of covid–19 as cause of death, and this is where things start to get interesting. The guidance defines deaths due to covid–19 rather vaguely — basically, in the absence of an obvious alternative cause, if it looks like covid–19, then it is covid–19 — and then states (emphasis added): 'A death due to COVID-19 may not be attributed to another disease (e.g. cancer) and should be counted independently of pre-existing conditions that are suspected of triggering a severe course of COVID-19′.
This bit of the guidance is crucial. It basically says that once covid–19 has been identified as the cause of death, using the rather slack 'if it looks like covid, then it is covid' criteria, then it trumps any other cause of death, and the death gets counted as a covid–19 death, even when there are pre-existing conditions that may have triggered severe covid–19. This flies in the face of the general principles for identifying the underlying cause of death, which should be the lowest entry in the cause of death box on the MCCD. Covid–19, should it appear higher up in the list, takes over, and becomes the underlying cause of death — just as happened in the example given above from the UK guidance, and, we have to presume, given the example given in the image above is official government advice, happens as ONS codes covid–19 deaths.
This can only have one effect: to inflate covid–19 deaths. An individual dying of lung cancer, or any other cancer, or chronic non-communicable respiratory disease, or renal disease, or whatever, who gets pushed over the edge by covid, gets counted as a covid–19 death. The pre-existing conditions, however serious and significant, are instead to be demoted to box (Part) 2. The guidance is clear: 'If the decedent had existing chronic conditions, such as these, they should be reported in Part 2 of the medical certificate of cause of death', leaving King Covid reigning supreme as the underlying cause of death. Even a full house of long-standing and nasty co-morbidities can conveniently be disposed of, as this example from the guidance shows: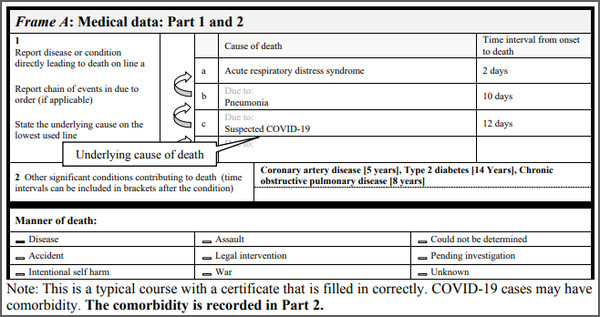 Reluctantly, and almost as an afterthought, the guidance does concede that people 'may die of other diseases or accidents', even when they had coincidental covid–19, providing the other cause is overwhelmingly obviously not covid–19. Examples given include myocardial infarction (heart attacks) and road traffic accidents: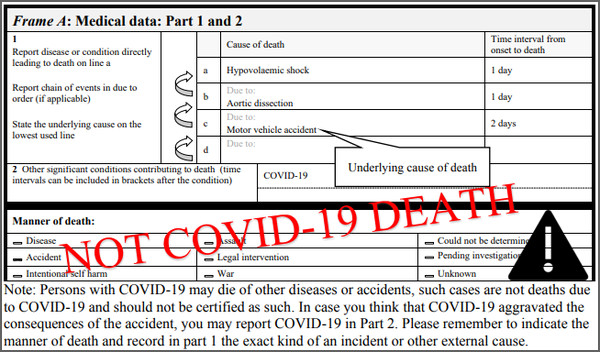 The rational for this guidance — that most of the time, unless there is a barn door alternative non-covid–19 cause, covid–19, once present on a death certificate, will trump all other causes and get counted as the underlying cause of death — is the 'intense public health requirements for data' and the need to 'produce the most useful cause of death statistics possible [reflecting] interests of importance for public health rather than what is acceptable from a purely medical point of view'. Indeed, so intense is the requirement that coders are ordered to 'always apply these instructions, whether they can be considered medically correct or not' [emphasis added].
Put simply, this part of the guidance justifies cooking the books in the interests of public health. A case can be made, which Dr No might even tolerate, though not support, along the lines that desperate times call for desperate measures, if the rules used for coding were made widely and freely available, and were presented alongside the data they had shaped. But they are not. Instead, the data have become the 'most useful' statistics that reflect public health and political interests, rather than 'medically correct' data. This stinks of propaganda, and the weaponisation of statistics. Wordsworth's nightingale of truth has just flown away, and the dark and lamentable shadow of deception has darkened our doors.