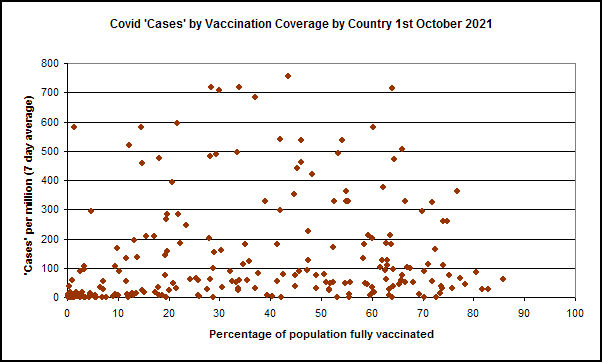 A recent paper, published at the end of last month, did the obvious, a scatter plot of covid vaccination rates against recent cases for 68 countries, and got the sort of plot that looks like a loo pan after it has been used by a person with a particularly bad case of gas powered Montezuma's revenge. Dots everywhere, but very little focus. Such a scatter plot suggests there is no connection between the variables, or in the case of covid vaccination, it has no discernable effect on case numbers, despite the fact the authors fitted a trend line that suggests a slight increase in case numbers in countries with higher vaccination rates. As ever, we have to remember that cases is a misnomer: they are merely positive PCR tests, that may or may not also be cases, and of course, just as correlation is not proof of causation, so too is the opposite true: lack of correlation is not necessarily proof of no connection. This applies particularly in a cross sectional study such as this, where the epidemiologist's sword has cut a slice through a single moment in time.
The chart at the top of this post is Dr No's version of the scatter plot, based on ourworldindata.org1 data for 1st October 2021, for all countries and areas, except those with missing values, or absurd values. Gibraltar, for example, has managed to vaccinate 117.8% of its population. Perhaps the monkeys are in charge. If we inverted the colours, we might imagine we are looking at the sky at night. Perhaps there are constellations out there? Is Orion in there somewhere, trying to escape? However we look at these charts, the only real information they contain is that there is no information, except that there is no apparent connection between vaccination rates and 'case' rates.
Ha, you cry! It's not about cases, it's about deaths. In that ghastly phrase that seems forever jammed like a rotting log in a weir gate, 'So, we know that vaccines have broken the link between cases and deaths'. If that is the case, countries with higher levels of vaccine coverage should have lower death rates. What do we find? Figure 1 shows the scatter plot for covid vaccine rates against covid deaths per million population, again with countries with missing and absurd values removed.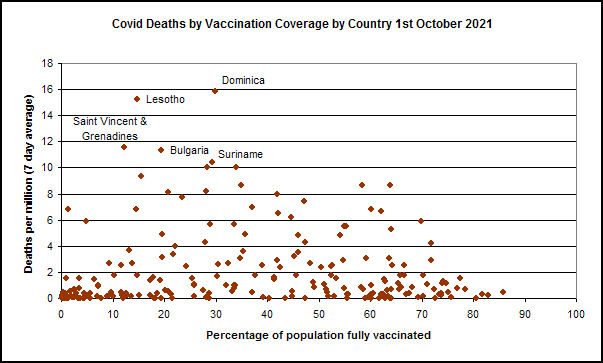 Figure 1: covid vaccination and covid deaths rates. Data source: ourworldindata.org
There are four apparent outliers top left, labelled in the chart with their country's name. If, in our mind's eye we remove those four apparent outliers, we are left with what looks like, well, a shapeless pile of… There is no discernable connection between covid vaccine coverage and covid death rates.
Ha, you cry! Not all countries are the same! Some are richer, with higher vaccine coverage and better health care, others are poorer, with less vaccine coverage and health care, and probably rather wobbly death registrations systems. Apples and oranges! Indeed, so let's plot Figure 1 again, this time adding some GDP data. Using UN 2019 per capita GDP estimates, Dr No added a column with this data for each country. He then sorted on this column, and divided them into five bands, from highest to lowest GDP, and then colour coded the plots for each band. Figure 2 shows the result, with the named outliers in Figure 1 excluded.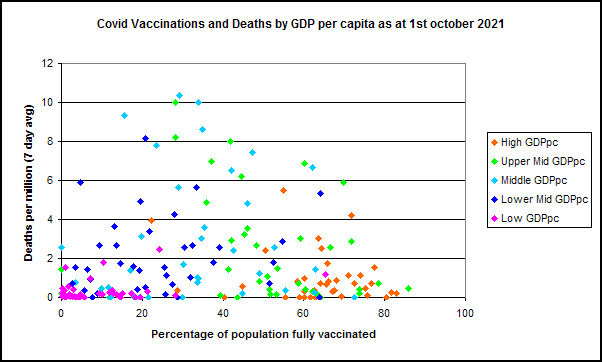 Figure 2: covid vaccination and covid deaths rates, grouped by GDP per capita. Data source: ourworldindata.org (covid deaths) and wikipedia (GDP per capita)
Overall, we have the same amorphous spread of dots. Embarrassingly, we can see that the richer countries have far outstripped poorer countries in vaccination rates — so much for 'we are all in this together'. Dr No rather suspects we would find similar intra-country effects too, with the more deprived showing lower vaccine coverage. But what do we see when we look at each GDP band? The short answer is not a lot. For the high GDP high vaccination group, if we ignore the outliers — a reasonable thing to do, because they are outliers, and so distort the picture unduly, because they are outliers — the dots are all over the place. For the upper middle GDP group, the spread is far greater, and so on, for all the groups. A country's wealth, and so by implication the capabilities of its health care system, appear to make no difference to the lack of correlation between covid vaccination rates and death rates. When Dr No added trend lines — and got a horribly busy chart, which is why it is not reproduced here — the two groups with the highest GDPs had slight downward trends, markedly influenced by the outliers, and the three lower GDP groups all had slight upward trends, with the lowest group again markedly influenced by an outlier. By and large, there is no correlation between covid vaccination rates and death rates.
That is our finding. If what it implies (but hasn't proven) is also true — that there is no connection between covid vaccination rates and death rates — then the entire pro-vaccination edifice falls. There can be no scientific or moral justification for compulsory vaccination, no scientific or moral justification for covid passports, and no scientific of moral justification for forcing vaccination on school children. All of these projects fail, because they have no scientific or moral underpinning. If, Heaven forbid, not only does vaccination not bring about any net benefit, but at the same time, it causes harm to some, then the balance in favour of vaccination is radically altered. If that is the case, then perhaps it is time for Montezuma to turn his revenge from the hapless harmless tourist, to the conquistadores who would invade his bodily integrity, and prick him to the quick, all under a creed of cod science.
Dr No's considered pragmatic position today remains the same. The vaccines may indeed benefit some people, just as, at the same time, they may harm some people. We simply do not have definitive answers, because the vaccines are still so new. A million combined person-years of routine exposure does not yet even amount to one year of linear individual exposure. Under such a cloud of uncertainty, there is no place for directives from on high, no place for malevolent self-appointed deities firing indiscriminate thunderbolts through those clouds of uncertainty. It is instead up to the individual to make his or her choice, based on what matters to him or her. The whole apparatus of coercive vaccination should be dismantled, and individuals should be given the freedom to make their own decisions.
1. Methodology: to get data for a particular date, go to the relevant chart eg daily deaths per million (doesn't matter what countries are/aren't selected, but make sure confirmed deaths, 7 day rolling average and relative to population are all selected at the top), and set the two date sliders so they are both on the date of interest (slide one over the other and then drag to combined slider). The top of the chart will confirm the date, and the chart itself will change into a horizontal bar chart. Then click on the Table tab, where you will find the data for all countries, which can be copied and pasted, or downloaded using a browser extension.
A final musing: correlation does not prove causation, but is the fully opposite true? Does no correlation prove there is no causation? On the face of it, the answer appears to be yes: if there is no correlation, how can there be any connection? But what if Simpson's Paradox is at work: the global picture obscures sub-group effects, even to the extent that all sub-groups show an effect, yet the global picture for some reason does not, or even shows an opposite effect? Simpson's Paradox tells this is possible, so once and again, the charts in this post prove nothing, but at the same time, they are striking, and the curious will naturally want to know more, and so it is that, at the very least, these charts pique Dr No's curiosity.