All Cause Mortality, Again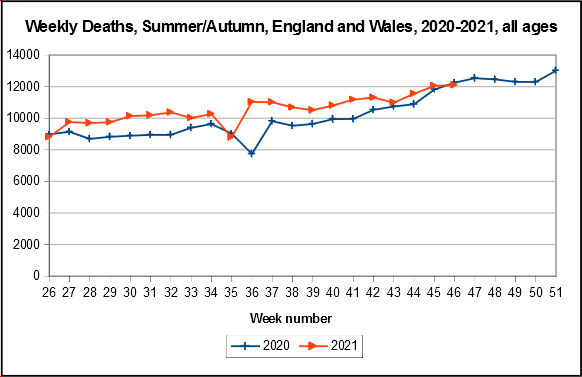 ***Correction 0848 02/12/21: The 45-64 age band chart lost the 2020 line – Dr No apologises. Now corrected, and with marginally better colours. This styling will also be applied to other charts in due course. One phrase, 'unlike the all ages and older ages charts', removed from chart commentary*** ONS's weekly mortality reports have rather gone off the rails for the last two weeks. A week ago, the familiar high profile double humped weekly deaths chart got disappeared, perhaps because the 2021 line was misbehaving. Earlier today, this week's day late report opened with an estimate of homeless deaths in 2020. The reference has since disappeared, but while it was there, one naturally felt great pity for the homeless deaths, who even now must be wandering across the great plains, looking for somewhere to call home. Dr No suspects ONS might have meant deaths in homeless people. Perhaps next week it will be deaths in parachutists, which ONS will refer to as registered parachute deaths. Sooner or later it will no doubt be alcohol deaths, or rather alcohol related deaths, because in public health, one is never more than a short step away from the demon drink and its deadly toll. But Dr No's attention is being led astray by ONS's diversionary tactics. Once again, it is time to look at all cause mortality.
A number of Dr No's recent posts have tried to pick fruit from the branches of various reports on deaths and other significant medical events by vaccination status. On the whole, this exercise has been as fruitful as trying to extract overcooked spaghetti from a pan using a knitting needle. Just as it seems a strand is emerging, it slithers away again. The way to get round this slippery data problem, as regular readers of this blog will know only too well, is to look at all cause mortality. Instead of poking around with a knitting needle, we upend the pan into a sieve, and that way catch all the strands, or in the case of mortality, all the deaths, in one fell swoop. The chart at the top of this post does just that, for summer and autumn 2020 and 2021, based on ONS weekly deaths data. Dr No has deliberately limited the period to summer and autumn, to exclude the distorting humps of the first and second waves, which are historical distractions to the focus of this post.
What we see is rather curious, because it is the opposite of what we might expect. Apart from delta taking over as the dominant variant in 2021, the big difference between 2020 and 2021 is covid vaccination. In the 2020 weeks (blue line), the vaccine was but a blip on the horizon; in the 2021 weeks (red line), the vaccine — which we are repeatedly told, protects against serious covid illness and death — had very much arrived. By week 27 2021, most 18 year olds and over had received their first dose (see page 14), with the same point for second dose reached in week 38 (see page 15). In broad brush terms, most adults had had their first dose, and many their second dose, during the summer and autumn of 2021. Given the vaccine — as we are repeatedly told — reduces serious covid illness and death, we should see fewer weekly deaths in 2021, compared to 2020. What we see is the opposite: for a sustained period over the summer and autumn, each week in 2021 had more, rather than fewer deaths, compared to 2020, despite widespread rollout of the covid vaccines.
Go figure, as they say. Well, Dr No did try a bit of figuring, by looking at all cause deaths by age band in recent years, downloaded from this page. This is a legitimate stratification for all cause mortality — it still includes all causes in each age band — but is somewhat hampered by ONS's way with shifting age bands. Nonetheless, by summing the narrow bands used in 2020 and 2021 to the broader bands used in previous years, we can get comparable weekly data going back to 2015, and could even go back further, but Dr No needs to get out more often. This data is richer than the 2015 to 2019 average commonly used by ONS, in that it reveals year on year as well as week on week variation. At the expense of putting up a lot of white space, here are the charts for all ages (repeated from the top of the post, with the other earlier years added), and the various age bands, from week 26 to the end of each year, less week 52/3 to remove the distracting downtick caused by Christmas week registration delays.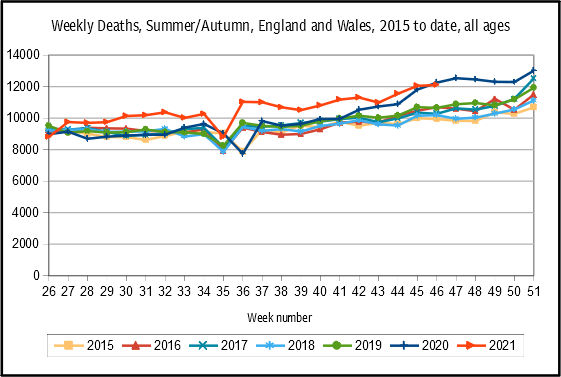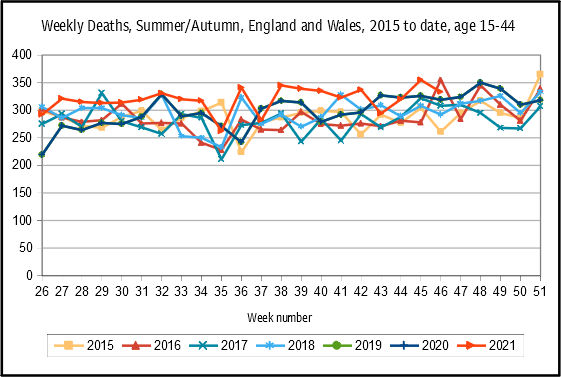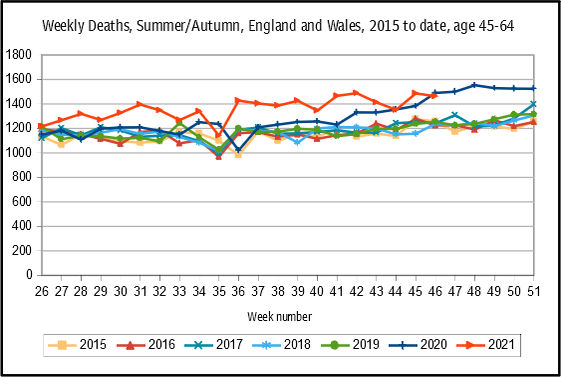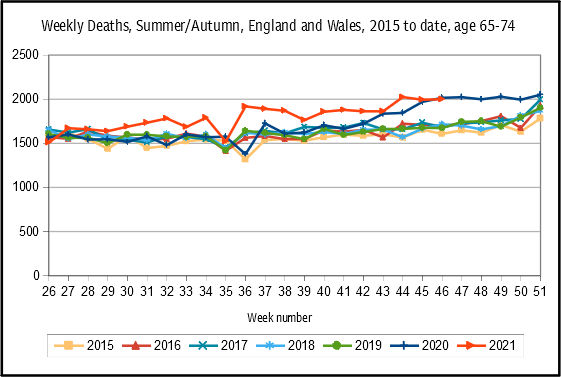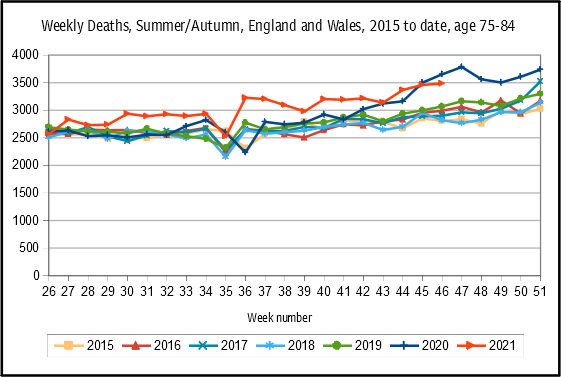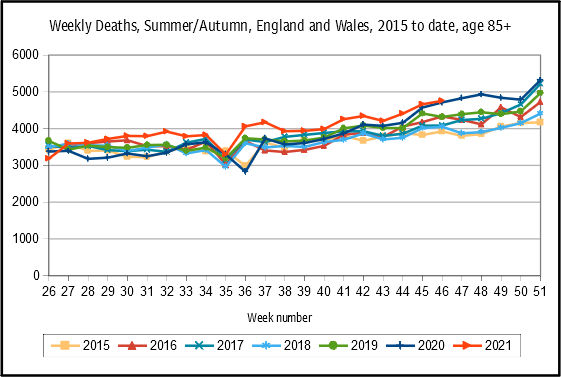 Figures 1 to 6: weekly deaths over summer and autumn from 2015 to date, all ages and by age band. Sources: ONS, see text
These charts are counts, and that's OK, because we are comparing week on week and year on year over a relatively short time period, when the age structure of the population will not have changed greatly. Counts also have the virtue of simplicity, and avoid the need to choose age band denominators, which may themselves be significantly inaccurate. The counts are WYSIWYG – what you see is what you got.
The all ages chart confirms that 2021 was an exceptional year over the summer and autumn period: weekly death numbers between week 27 and 45 (with one Bank Holiday related exception) were consistently higher than in all previous years. Recall these are all cause deaths, so we do not need to fuss about whether they are covid deaths, though in passing we might note that the excess weekly mortality over the period is only partly explained by deaths 'involving covid'. Towards the end of the period, the 2021 line does appear to moving back towards the 2020 line (though it is still well above earlier years): we shall have to wait and see what happens in the coming weeks. If the excess mortality disappears, we can breath a sigh of relief, but it does not alter the fact something untoward happened during mid to late 2021.
The 15-44 year olds present the sort of melee we might expect, given relatively small numbers (so more week on week variation). There is no discernable myocarditis/dead athlete effect. That does not mean such deaths have not happened, but it does suggest they haven't happened in large enough numbers to stand out, though it is fair to say the 2021 line generally sits at the higher end of the range for most weeks. In due course, once we have cause of death data, we should be able to tease out more detail, and see whether or not individual causes of deaths showed unexpected high numbers in 2021.
The 45-64 year olds, on the other hand, show a sustained excess mortality. This is not trivial, up to about 200, or 15%, more deaths, week on week, over the summer/autumn 2021, in working age adults, many of whom, especially the younger ones, will still have children at home. Furthermore, this excess shows no recent decline. This is counter to expectations — widespread vaccination was meant to reduce mortality — and cannot easily be explained. Possible candidates include deaths due to delayed diagnosis and treatment — but why should they appear only in 2021? — or 'something to do with the vaccines'. The 65-74 year olds and 75-84 year olds show similar, but less marked periods of excess mortality, and for the 85+ year olds the excess has all but disappeared, though like the 15-44 year olds, the 2021 line is generally at the top end of the weekly ranges.
What are we left with? We have clear evidence of excess mortality over the summer and autumn of 2021, particularly among the middle aged, despite widespread covid vaccination. The only possible tentative reasonable vaccine related conclusion is that, over summer/autumn 2021, the vaccines have not lived up to the promises made for them by their manufacturers, the government, and the mainstream media. Yet, even as Dr No writes this, the UK is throwing itself into Operation Warpshot, the hysterical rush at reduced dosing intervals to get all adults boosted and ready to fly by the end of January. Where will this all end? Daily do it yourself covid booster jabs with our breakfast cornflakes?
All cause mortality is the epidemiologist's iron plank across the chasms of epidemiological uncertainty. It rarely, if ever, misleads. Something very untoward happened during the summer/autumn of 2021, especially among the middle aged adults. Instead of rushing headlong towards boosters for breakfast, we should take an urgent forensic look at all the data, and only then decide what to do next.