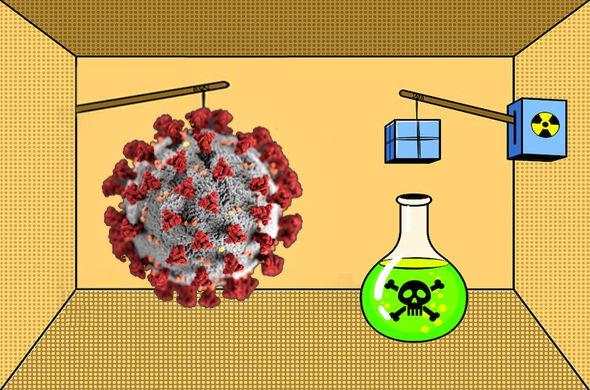 Dr No was going to call this post Habeas Virus, a stab at applying the legal principle of Habeus Corpus — roughly, bring me the body, or the accused must be brought before the court, though that is not a literal translation — to say that we need to see SARS-CoV-2, the virus accused of causing covid–19, before the court of scientific enquiry, if we are to determine its guilt. The trouble is, Google translate has habeus virus mean 'have virus', which conjures up Have Virus — Will Replicate, which won't do at all. Other translations suggest 'you have the stench', which might work on some levels, but not on others. It is all too ambiguous. Instead, Dr No went with Schrödinger's Virus, aiming to suggest an experiment in which you have a box said to contain pure, isolated SARS-CoV-2, but until you open the box, there is no way of telling not so much whether the virus is dead or alive, as whether it even exists. When you do open the box, you find Macavity's not there!
That is where Dr No found himself, at the end of his last post, and the many excellent comments since added to the post. No one has isolated the SARS-CoV-2 virus, let alone got a mug shot. Non habeas virus. For a while, it looked like no one has ever got a mug shot of any pure isolated virus, ever, but persistent online searches came up with convincing scanning election microscope images of the polio virus, so it can be done, but polio is very much the exception to the rule. The dengue virus might be another. Try the same search with other viruses — SARS, MERS, rabies, HIV, HPV, hepatitis B, measles, mumps, rubella, whatever — and you will find you are out of luck. Try the same search for pathogenic bacteria — Mycobacterium (tuberculosis), Salmonella, Treponema (syphillis), Vibrio (cholera), Staphylococcus, whatever — and you will be inundated with images of pure isolated bacteria. To qualify, the image needs to show the pathogen on its own, on a surface of some sort, and not in culture, or emerging, Alien the Movie style, from cells that it has infected. Generally that means a scanning electron micrograph. Such images are always greyscale (B&W), with a 3D appearance, typically flat in perspective and limited in depth of field. Any variations to these characteristics — as in the image at the top of this post — means that Professor Photoshop has been called in to play.
The paucity of images of pure isolated virus is intriguing of itself — why so few images, when polio, and perhaps a few others, show that it can be done — but more to the point for today's concern: how is it possible to determine the whole genome sequence for a virus, when the viral RNA is suspended in a vile cocktail of cellular entrails that make the sweepings from the abattoir floor used to make certain brands of sausages seem positively wholesome? This objection, the lack of purity of the sample, often forms part of the backbone of there is no proof this virus causes that disease arguments. It is as if you took a real cocktail containing gin and vodka, sequenced a botanical, and claimed you had identified the essence of pure gin. The problem is, how do you know the botanical came from the gin rather than the vodka?
Recall that the hell broth produced by the cell culture contains, inter alia, debris from monkey kidney cells, fetal bovine serum, other mediums and an abundance of antimicrobials, and very possibly other cellular contaminants that piggy-backed on the swab from the patient, all in addition to the fragile RNA molecules said to come from SARS-CoV-2. Perhaps we should also factor in the weirdness of endogenous retroviruses, genomic remnants from ancestral retroviral infections that have become incorporated into mammalian genomes, and now play an essential part in placental biology. And what do we have in the hell broth? Fetal bovine serum. There has to be a purification step, one that isolates, in the true sense of the word, only alleged SARS-CoV-2 viral RNA from the lysate (from lysis, the disintegration of a cell by rupture of the cell wall or membrane), before the sequencing process can begin.
The CDC paper is rather coy on the matter, skimming over the crucial step in six words: 'We extracted nucleic acid from isolates…'. Isolates here means the lysed supernatant hell broth, and we have to assume nucleic acid means viral RNA, but there is not even a clue as to how this essential step was done. The McMaster paper (Dr No is sticking with the same two papers used in the last post) does better. 'RNA was extracted…using the QIAamp Viral RNA Mini kit (QIAGEN)…' and this Mini Kit is indeed intended to achieve '[r]apid isolation of high-quality, ready-to-use RNA' by '[c]omplete removal of contaminants and inhibitors'. It does this, we are told, by altering the chemistry in such a way that viral RNA, and only viral RNA, binds to a retaining membrane, and all contaminants can be washed away.
This is satisfactory, to a degree. The QIAamp Mini Kit uses established technology, so this isn't one company black box chemistry. But it is not entirely satisfactory. Although the technology has been used to isolate RNA from DNA and other contaminants (and, by altering the conditions, DNA from RNA and other contaminants), the QIAamp Mini Kit specific handbook tells us that 'is not designed to separate viral RNA from cellular DNA, and both will be purified in parallel if present in the sample'. To achieve that separation, additional steps, not detailed in the McMaster paper, are required. Furthermore, the QIAamp handbook tells us, the technology 'isolates all RNA molecules larger than 200 nucleotides', in other words, most RNA molecules, which typically have thousands rather than hundreds of nucleotides. Flu RNA, for example, has around 13,500 nucleotides. The fundamental problem remains: there is no guarantee that the RNA that goes on to be sequenced is exclusively from SARS-CoV-2. And that is before we even start on the algorithmic abracadabra involved in the sequencing itself.   
All this comes back to the fundamental problem, that the majority of modern virology is based on Schrödinger's virus. The virologists tell us the virus exists in pure isolated form, but when we open the box, we find the virus isn't there. When we cry Habeas Virus — Bring us the virus! — we are answered with a deafening silence. Instead, we are asked to suppose that the alleged whole viral genome must have come from the presumed viral particles seen in transmission electron micrographs. This may or may not, depending on your point of view, meet the lower requirements for a test of 'on the balance of probabilities', and so you may, or may not, consider the case proven. But on the higher test of 'beyond reasonable doubt', be in no doubt, modern virology is on quicksand. That is not to say certain viruses don't cause disease, rather, it is to say that the evidence is far from concrete, and far far from complete.