Zero Progress to Net Zero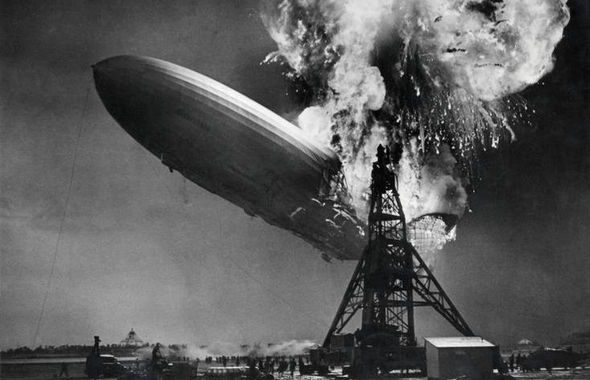 COP26 — what a load of old baloney and hot air! The world's largest collective public relations jamboree, where world leaders arrived at a climate conference in private jets. Our glorious leader, the prime minister, rose to the occasion, as a Yorkshire pudding rises in the oven. Other leaders followed suit, each one rising to the occasion, until there was enough hot air to launch an airship. Which brings us conveniently to the first climate change fallacy: that hydrogen will solve our green house gas woes. Domestic gas boilers, we are told, are already hydrogen ready, or will only need minor tweaks to burn hydrogen. Perhaps those promoting hydrogen as the solution might care to reflect on what happened to a hydrogen ready airship in the 1930s, the Hindenburg. It didn't end well. But even if modern technology can prevent your neighbour's new loft conversion — hydrogen, like hot air, rises — from doing a Hindenburg, and we punters can be persuaded to use rocket fuel to heat our homes, the fact remains we are a long way from being able to use hydrogen to heat our homes.
In the UK, heating buildings account for a third of all energy consumption, and residential heating accounts for a quarter of all carbon dioxide emissions. The percentages vary, depending on how you do the accounting — for example, does residential heating include emissions from national grid non-green electricity generation — but these figures are good enough for our purposes. This alone makes burning any non-carbon fuel in domestic boilers an attractive proposition, but in reality, there is only one candidate, hydrogen, but there is a major problem: there is no way yet of making cheap clean hydrogen. Well over 90% of today's commercial hydrogen production comes from dirty processes that extract hydrogen from fossil fuels, and churn out carbon green house gas by-products, a non-starter.
The only green way to produce clean hydrogen is to use green electricity to split water into hydrogen and oxygen. On paper, it's perfect — not a waste carbon molecule in sight — but in practice it is doomed, for two reasons. The first is that in the short to medium term, the green process is ruinously expensive, costing about (as ever, estimates vary greatly, depending on assumptions about the cost of the green electricity used) four times as much as both hydrogen from fossil fuels and natural gas, ruling it out as a viable means of producing energy. But even if the price comes down, which it will — our numerology friends at Imperial College have come up with a figure of 5.2–8.6p/kWh, compared to around 5p/kWh for natural gas — there is a second fundamental problem: the whole idea is inherently inefficient, because it adds an unnecessary intermediary step, the production of hydrogen. Rather than use green electricity to generate hydrogen, which is in turn used to heat homes, it will always be more efficient — some suggest by a factor of five — to use the original green energy to heat homes directly.
Hydrogen has other problems, notably in distribution. Not all homes are on the gas grid, and those that are often have decades old iron supply pipes, which may be vulnerable to hydrogen attack, and subsequent Hindenburg disasters, if the pipes are not replaced. There are also unknown unknowns in the transfer of hydrogen use from tightly controlled industrial process to the chaos of everyday living in domestic homes. The bottom line is that while hydrogen may have potential, as things stand today, and into the near to medium future, there is no way the UK can be considered hydrogen ready in any meaningful sense.
Domestic heating matters. It is one of the essential building blocks of a habitable home. Though not as immediately essential to life as air, food and water, domestic heating is essential to avoid the health consequences of living in cold damp homes. Cold damp homes cause and aggravate respiratory illnesses, as well as increasing the risk of high blood pressure, heart attacks and strokes. And yet, in short order — perhaps by 2025 for new builds and those of the mains gas grid, and perhaps 2035, perhaps sooner, for all homes — all new and replacement domestic fossil fuel boilers will be banned. These targets get widely quoted and misquoted. The former, new and off gas grid homes, is clearly visible here as phasing out 'the installation of high carbon fossil fuel heating in new and existing homes currently off the gas grid during the 2020s', the latter is harder to pin down, though it is worth noting that the OECD based International Energy Agency said in July of this year that 'In buildings, bans
on new fossil fuel boilers need to start being introduced globally in 2025′, clearly setting the tone for likely future developments. Dr No's hunch is the new/off gas grid homes ban will start to bite in 2025, and the all homes ban in 2030, possibly earlier.
Let's put this in some perspective. At present, over 90% of UK residents use a fossil fuel to heat their homes. Within a decade or so, none of these heating system will be able to replace like with like when the current boiler needs replacement. Hydrogen we have already seen is not a currently viable option; nor are the fitful supplies from domestic solar panels and wind turbines. For the vast majority of home, that only leaves one option: the erstwhile ephemeral ASHP, or air source heat pump. These work like air conditioning units running in reverse: instead of taking heat from inside, and dumping it outside, they take heat from the outside, and pump it back inside. They use very well established technology, that used not just in air conditioning units, but in domestic fridges and freezers, but at the same time they have their own raft of problems, but they will still remain, for the vast majority of homes, the least bad option.
The main problem with ASHPs is that, while they can be very efficient — you will see 'impossible' efficiency figures like 300% or 400%, but all this means is that for each electrical energy unit put in, you get three or four units back, with the added units drawn from the outside air — they are not very effective. Fossil fuel boilers typically pump out heating water at 70 or even 80 degrees C, but ASHPs are usually set to produce flow temperatures at getting on for half a fossil fuel boiler's output, typically at around 40 degrees C. In simple terms they pump out less heat, and this has two important consequences. The first is they work best in energy efficient homes, with low heat losses, and secondly, they need bigger radiators, to deliver more heat to the rooms. They are also expensive to install, with costs typically in the £10,000 to £15,000 range for a three bedroom house.
Immediately we hit problems. Having established that, for many homes, ASHPs are really the only viable option, we now find there are plenty of reasons not to install them: lack of effectiveness, especially in energy inefficient homes (EPC Grade D or less, and many of them with not much that can be done about it), which make up about two thirds of the UK's housing stock, disruptive installations, and huge costs. No wonder the UK's ASHP installation performance to date has been abysmal. The UK has 29 million homes. In 2019, 27,000 heat pumps were installed, a rate of one in a thousand homes, or 0.1%. At that rate, it will take the best part of 1,000 years to convert the UK to heat pumps. Boris Johnson's Thousand Year Reich of a Thousand Heat Pumps Not Being Installed. By comparison, as tens of thousands of heat pumps were not installed in 2019, 100,000 additional homes were connected to the gas network, and 1.7 million replacement boilers were installed, a rate of over 60 fossil fuel boilers for every heat pump installed. Provisional figures for 2020 indicate around 37,000 heat pumps were installed, with around 45 fossil fuel boilers for every one heat pump installed. 
At the same time that the government achieved derisory numbers of heat pump installations, it announced, without even a hint of the absurd, plans to install '600,000 heat pump installations per year by 2028'. In parallel, it has mal-administered a baffling array green home grant schemes, each one moreabsurd than the last. Dr No happens to believe that domestic heat pumps are the least bad option if we are to wean ourselves off fossil fuels. If the UK government is likewise serious — sometimes Dr No has his doubts — about moving the UK's domestic heating onto a greener footing, it needs to stop throwing tens of billions of pounds at Dildo Harding's disastrous test and trace farce, and divert the money into brute force bureaucracy free grant funding to get heat pumps into homes at a sensible rate. Without that commitment, we face the prospect of homes freezing over as we wait for the dawn of Boris Johnson's Thousand Year Reich of a Thousand Heat Pumps Not Being Installed.