Macavity The Mystery Virus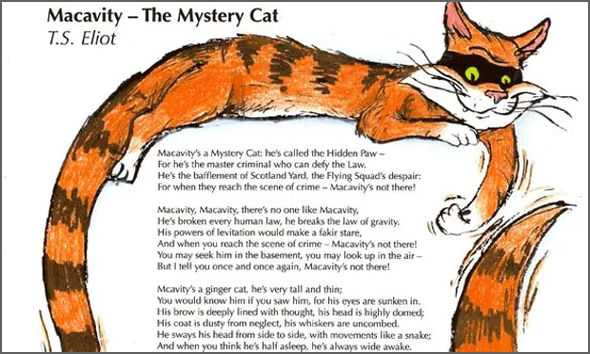 "And when you reach the scene of crime — Macavity's not there!
You may seek him in the basement, you may look up in the air —
But I tell you once and once again, Macavity's not there!"— T. S. Eliot, "Macavity: The Mystery Cat", Old Possum's Book of Practical CatsPerhaps the greatest problem facing modern science isn't the corrupting influence of power and money, but an even deeper one of incomprehensibility. Dr No has touched before on how increasing super-specialisation means that increasingly scientists from one discipline are unable to make sense of another discipline, because the language and theory in each discipline have become so dense as to be impenetrable to all but initiates in that discipline. It is as if science has become a broad church spreading its wings over a vast array of cults and sects, each one swearing allegiance to the Greater God of Science, but each with its own rules and creeds, an impenetrable vista of numberless caverns of knowledge meaningless to man.
Take virology, for example. Not by a long shot the medical student's favourite subject, the average doctor will qualify with vague notions of tiny obligate intracellular parasites — see, the language is already dense — some of which infect humans and cause a host of diseases, some mild, some middling, and some truly terrible. In time, it will dawn on the doctor that almost all viral diseases cannot be cured by medical science, and with that dawning, the need to understand the basic medical science of virology recedes still further. Instead, the doctor has to take it on trust that the white coats in the virology labs know what they are talking about. And therein lies the problem: take it on trust is anathema to science. One could even go further, and say it is the Anti-Science.
This impenetrability of super-specialised basic medical science has been rudely brought to the fore by the arrival — or not — of SARS-CoV-2. Because the vast majority of practicing doctors haven't a clue about modern virology, they have to take it on trust that the virus exists, and causes covid–19. Next time you see a doctor, ask him or her this: how do we know that SARS-CoV-2 exists, and causes covid–19? You will get as many different answers as doctors you ask, but all will share a common theme: that we have to take it on trust that all those papers reporting the isolation, culture and genomic description of the virus stack up. Push the average doctor further, and it will rapidly become all too clear that he or she has not the slightest clue about the science behind that stack of papers; instead, he or she has had to take it on trust that the science is sound. But this is the opposite of science. If a scientific claim cannot be understood and verified, then it is not science. Take it on trust based medicine isn't evidence based medicine, it is cult based medicine, wherein the acolytes of the cult believe without question the creed of their cult.
In the beginning was the virus, and the word was with the virus… It is all too easy to see how this sort of nonsense will very quickly lead to claims that the virus is no more than the apple in Dildo Harding's eye that will become Bramleys in her bank account. Indeed, Dr No has been asked many times about the evidence for the existence of SARS-CoV-2, and its role in causing covid–19. His response was to collect some of the key papers that claim to have demonstrated isolation of SARS-CoV-2 — for example, this one from CDC, and this one from McMaster, with a 'lay' version here — and see what sense he could make of them. The result is a long post, but by the end you should have a better understanding of where we really are with SARS-CoV-2 and covid–19.
Pretty soon, he came up against the concrete wall of super-specialisation. Not long after, he suspected that, as Doctor Who once said, he had reached the point where his brain tissue was 'so massively hybridised that the next metabolic change could be the final one'. How else to respond to CDC's 'We then trypsinized and resuspended Vero cells in DMEM containing 10% fetal bovine serum, 2× penicillin/streptomycin, 2× antibiotics/antimycotics, and 2× amphotericin B at a concentration of 2.5 × 105 cells/mL', or McMaster's 'We maintained Vero E6 cells (African green monkey cells; American Type Culture Collection) in Dulbecco's modified Eagle medium (DMEM) supplemented with 10% fetal bovine serum (FBS) and 1× l-glutamine and penicillin/streptomycin'? Eye of newt, and toe of dog…like a hell-broth boil and bubble. Eye of cow and toe of monkey — virology, it turns out, is a modern form of ancient witchcraft! A hell-broth of animal remains, fetal extracts and modified mediums, laced with a potent cocktail of antimicrobials! Double, double toil and trouble!
Still massively hybridised, but narrowly managing to avoid the next metabolic change 'that could be the final one', Dr No at last deciphered some of the witchcraft. It took one hell of a while, but it can be done — at least, Dr No thinks it can. Although both papers talk of isolating the virus, it is not isolation as we normally understand it. The methods described do not lead to a vial of pure SARS-CoV-2. Instead they produce a hell-broth culture that, through the logic of modern virology, is said to be infected with SARS-CoV-2. Viruses, recall, are obligate intracellular parasites, meaning they have to infect cells to be able to grow. You can't just cut and paste some SARS-CoV-2 onto a Petri dish, and hope to come back the next day and find lots of little SARS-CoV-2 jobbies swimming around in the agar. Until they become inside jobs, they remain elusive — Macavity viruses.
Even today, we might note in passing, the freely available vials of 'isolate' contain not pure ('isolated') virus, but rather 'cell lysate and supernatant from [insert cell line of choice here: human lung cancer cells, monkey kidney cells, eye of newt or toe of dog] infected with SARS-CoV-2′. Cell lysate is the result of, for want of a better description, the chemical liquidation of cells, by breaking down the cell outer membrane. The 'isolate' may well contain some SARS-CoV-2, but it also contains a lot of other material, so much so that the term 'isolate' is a misnomer.
The next two steps in 'isolating' the virus are critical to understanding the process. The first is to establish that the virus is pathogenic, that is, it causes cell damage. The cell lines used in viral culture are already on life support — that's why all the mediums and antimicrobials are present — because they have to be immunodeficient, to allow the virus to grow unchecked. To test for pathogenic effects, the virologists run two cell cultures, one inoculated with the suspected virus, and the other with a mock inoculation, and then observe the cultures over time. If so-called CPEs, or cytopathic effects, are seen in the suspected virus culture, but not the mock inoculation culture, then the virologists conclude that there was something in the suspected virus sample that caused the cell damage, and presume that it was the virus. But they don't know. Maybe the cells is the suspected viral culture started checking out for some other reason.
At this point, it is worth viewing the key figure in each paper that shows the cytopathic effects. Note the inclusion of the mock inoculation — in effect a control — because a common criticism of SARS-CoV-2 viral culture studies is they don't include controls. Anything could have cause the cytopathic effects, all the more so given the hell-broths used in the cultures. The truth is that at least these two studies did use controls. The cells only started checking out in large numbers when the suspected virus was present.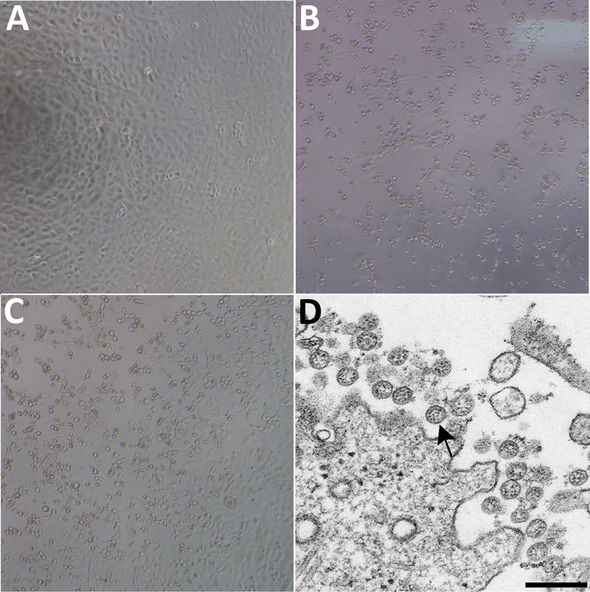 Figure 1 (CDC): Figure 1. Cytopathic effect caused by severe acute respiratory syndrome coronavirus 2 from patient with coronavirus disease, United States, 2020. A–C) Phase-contrast microscopy of Vero cell monolayers at 3 days postinoculation: A) Mock, B) nasopharyngeal specimen, C) oropharyngeal specimen. Original magnifications ×10). D) Electron microscopy of virus isolate showing extracellular spherical particles with cross-sections through the nucleocapsids (black dots). Arrow indicates a coronavirus virion budding from a cell. Scale bar indicates 200 nm. Click here for original, larger version.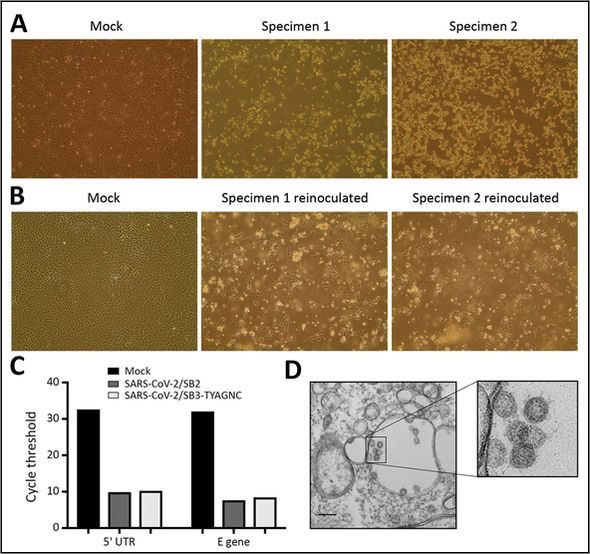 Figure 2 (McMaster): Figure 2. Isolating severe acute respiratory syndrome coronavirus 2 (SARS-CoV-2) from patients with coronavirus disease (COVID-19). A) Vero E6 cells were mock inoculated or inoculated with midturbinate clinical specimens from COVID-19 patients. Cells were incubated for 72 h and observed for cytopathic effect (CPE) under a light microscope. Original magnification ×10… Click here for full caption and original, larger version.
The two figures also include electron micrographs claiming to show cross-section through 'extracellular spherical particles' (CDC) and 'coronavirus-like particles' (McMaster). CDC go a big step further and use an arrow to indicate 'a coronavirus virion budding from a cell'. Nonetheless, Dr No has to conclude that, so far, the studies are satisfactory. Not only have we managed to penetrate the concrete wall of super-specialisation, we have also found on the other side of that wall what appears to be reasonable experiments. There is a rationale for using the hell-broths, and the experimenters did run controls, and perhaps most important of all, each study appears independently to replicate the other. Although published in the same journal, the studies were independent: the CDC one based on a 35 year old male from Washington in January 2020, and the McMaster one on two rather less well defined Canadian samples from early 2020.
The second step in 'isolating' SARS-CoV-2 is much murkier. So far, we have 'a coronavirus virion' and a 'coronavirus-like particle' visible in cultures taken from patients with respiratory illnesses from early 2020. So far so good, were it not for the fact that common cold coronaviruses are endemic in the winter months in the Northern hemisphere. Perhaps Macavity is a common or garden moggy. Perhaps Macavity's not there!
To solve this conundrum, both studies used PCR tests, the test known locally in this parish as the sewing machine test, on account of its uncanny ability to detect a local working sewing machine based on a fragment of a broken needle discovered in a remote haystack. We can confidently step over that hokum, because it is meaningless, and move on to whole genome sequencing, noting that, in passing, CDC, but not McMaster, ran rapid assays (sewing machine tests) for 33 other respiratory viruses, and found none were present. No needles found, so that's alright then.
If PCR testing is like trying to zip up a dress when one half of the zip is missing most of its teeth, then at least whole genome sequencing improves your chances, because the entire two halves of the zip are present. But are they from the same zip? This is by far the murkiest area in both studies. The relevant text in both studies is so massively hybridised one more word change 'could be the final one'. Rather than try to penetrate the impenetrable, which nonetheless emits a faint odour designer genomes ('we designed'; 'we generated'; genome sequences were assembled'), let us instead consider the timelines. Both studies appear to rely on the now somewhat infamous early SARS-CoV-2 genome sequences released by the Chinese during the late 2019/early 2020 Wuhan outbreak as their reference genome, CDC's study on NC045512, and McMaster's on MN908947.3. Scroll down to see the actual sequence in full — the blocks of attaaaggtt sequences. Then check the submission details near the top. In both, it says: "Direct Submission… Submitted (05-JAN-2020) Shanghai Public Health Clinical Center & School of Public Health, Fudan University, Shanghai, China". Note the date: 5th January 2020.
When did the Chinese first discover the cause of the previously unexplained Wuhan outbreak was a coronavirus? Reports are murky, but WHO said back in 2020 (the page has since been liquidated) that the Chinese first isolated a coronavirus as the cause on 7th January 2020. Chinese news reports at the time appear to confirm this, saying that 'as of 21:00 on January 7, 2020, the laboratory has detected a new type of coronavirus and obtained the…whole genome sequence of the virus' and that the 'virus was isolated from a sample of a positive patient.' Yet the same news report also says further down the page that the discovery of 'pathogenic nucleic acid, genome and antibody evidence from patients can be completed in a short period of time. The isolation of pathogens and the identification of pathogenicity and other scientific research can take several weeks'.
In an eggshell, this is a chicken and the nut problem. Everything is mixed up, as in Dr No's last sentence. If the isolation of the virus takes several weeks, how did the Chinese manage to have the whole shebang wrapped up by 21:00 on the 7th January 2020, one week after declaring an outbreak (31st December 2019), and only four weeks after the first patient developed symptoms (8th December 2019)? What is the proper sequence of events? How is it possible to sequence a genome before you have isolated the pathogen, and identified its pathogenicity? How can you submit the 'complete genome' two days before you have detected the novel virus? Dr No may be being painfully naïve, but it seems to him the first step is to identify the pathogen, using cell culture, and only then sequence its genome. For SARS-CoV-2, both appear to have happened in parallel, or even the wrong way round: sequence then 'isolate' and identify. And all of that at an indecent warp speed fast enough to cause Dr Spock's ears to penetrate the ceiling.
None of this makes sense. Dr No has looked in the basement, and up in the air, slept on the conundrum and pondered in a chair, and nothing has even remotely come to light. He can and does accept the reports that 'coronavirus-like particles' have been cultured from patients with respiratory illnesses, but that is as far as it goes. SARS-Cov-2 may well be real, and may well cause covid–19, but unequivocal evidence is either lacking, or so massively hybridised, that it is as if it doesn't exist. Nothing in the accounts of the PCR testing and whole genome sequencing in the studies even approaches sufficient weight to persuade Dr No that he could, were he called to do so, stand up in a court of law, and hold out a vial to the judge and declare, "that, your Honour, is SARS-CoV-2, and that is what causes covid–19″. If someone who spends most of their time on the opposite side of the concrete wall of impenetrability can enlighten Dr No and his readers, then please, for the love of God, do so. In the meantime, we may have seen a whisker, but in all other respects, Macavity's not there!