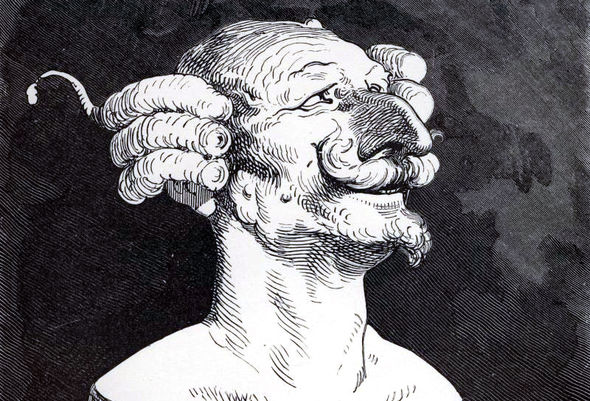 Munchausen's syndrome is the popular name for the ICD (International Classification of Diseases) 10 diagnosis F68.1: Intentional production or feigning of symptoms or disabilities, either physical or psychological [factitious disorder]…with the aim of adopting the sick role. In rather less leaden language, a patient with Munchausen's syndrome pretends to be ill to gain medical attention, which distinguishes the condition from malingering, in which an individual pretends to be ill to gain practical benefit, for example being excused from work. It takes it's name from the protagonist in the 1785 novel Baron Munchausen's Narrative of his Marvellous Travels and Campaigns in Russia, in which the fictional Baron narrates a series of impossibly tall stories, based on exaggerated exploits of one Hieronymus Karl Friedrich Freiherr von Münchhausen, a real life German baron known more recently for a habit of adding extra lard to his porkies, though in life he appears to have had ridicule of the credulous more in mind.
There is, in addition to Munchausen's syndrome, a more sinister version known as Munchausen's syndrome by proxy, in which a carer, often a mother with a child, fabricates illness in the person cared for, again to gain medical attention. It is a difficult condition to contemplate, let alone understand, and is mired in medico-legal ambiguity — is the deranged carer mad, bad, or both? — and there is no effective treatment, short of the obvious step of separating the carer from the person cared for. We are left instead with the central notion of a person who should be a carer doing the complete opposite of caring, by fabricating illness in another, so that the carer might gain some ill-gotten psychological gain. Painting the picture of a person with Munchausen's syndrome by proxy using such a broad brush set Dr No thinking: could there be other carers who fabricate illness in those they care for, to gain psychological benefit? It is but a short step to answer: of course there are, and furthermore, they are likely to be found in the caring professions.
Dr Munchausen! The doctor who imagines, fabricates and exaggerates illness in patients not for financial gain — though that can be rife in privatised healthcare systems — but for psychological gain. At one end of the scale, we have those doctors who care and share so much it hurts: needy doctors who on the whole need their patients a whole lot more than their patients need them. Most of these doctors are sad, rather than mad or bad, and spend their professional life propping up a constantly collapsing self-esteem. Apart from an unfortunate tendency to over-diagnose and over prescribe, these doctors are unlikely to cause widespread and significant harm, and since many of their patients will be consensual co-dependents, we should probably just let them get on with their folies à deux.
At the other end of the scale, we find very different, far more malevolent Dr Munchausens. These doctors feign illness in others on an industrial scale. Some may have ties to the pharmaceutical industry, and so stand to gain financially, but some do not, meaning the only gain they can possibly get is psychological. Here we find the Guardian's mystery NHS respiratory consultant who 'works across a number of hospitals' — sounds more like a contract cleaner than a consultant, but there you go — who has had the Guardian publish at least nine anonymous articles, each one an epic of covysteria, with the latest railing against the unvaccinated, for triggering a pandemic of the unvaccinated. This is classic Munchausen by proxy behaviour: the 'carer' points to a feigned illness — Dr No will shortly demonstrate why this is almost certainly the case — so that the proxy gets subjected to medical treatment they neither want nor need. The only difference from classical Munchausen by proxy behaviour is that during the pandemic, the behaviour is conducted on an industrial scale.
Here too we find the doctors at ICNARC, the Intensive Care National Audit & Research Centre, who combined almost four to six month old data, questionable definitions and dodgy denominators — classic Lies Damned Lies and Denominators stuff — to promote the pandemic of the unvaccinated narrative: almost three out of four covid patients in ICU are unvaccinated, and the unvaccinated are dozens of times more likely to end up in ICU than the vaccinated, prompting the Sunday Times to publish two days ago another Munchausen screamer (emphasis added): 'I suppress a howl of disbelief. She would rather die than get a Covid vaccine[.] Some 75 per cent of those suffocating in intensive care with the coronavirus are unvaccinated' (Figure 1).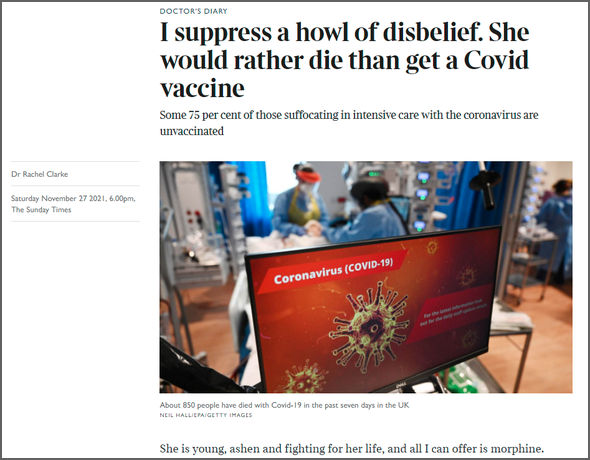 Figure 1: The Sunday Thunderer doing its thing…
By contrast, the ICNARC data on which all this is based looks dully actuarial, with a stark table of results (Figure 2 top), even if the accompanying rates chart (Figure 2 middle), and subsequently downgraded (Figure 2 bottom) once the dodgy denominators had been spotted, does look somewhat alarming in it's first version. The ICNARC report was published twice, once on 19th November (link still works, though not listed on ICNARC website), using only ONS denominators, and again on the 26th November, using both ONS and NIMS denominators.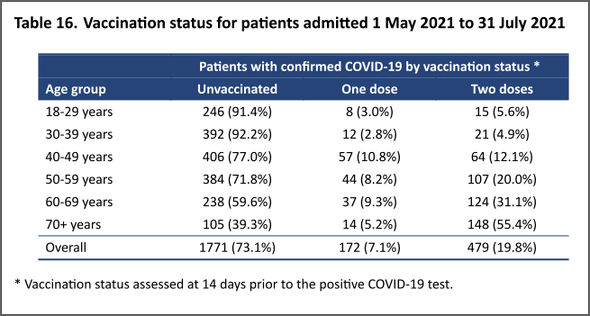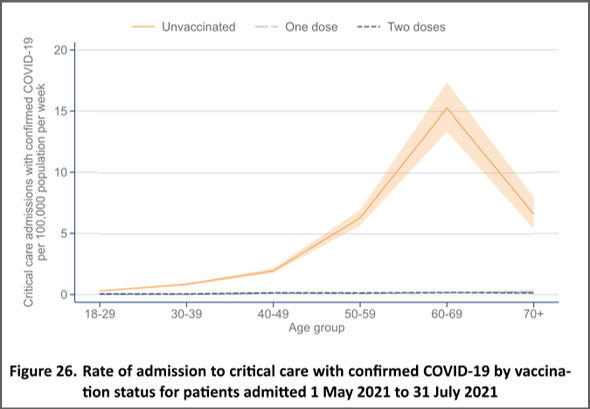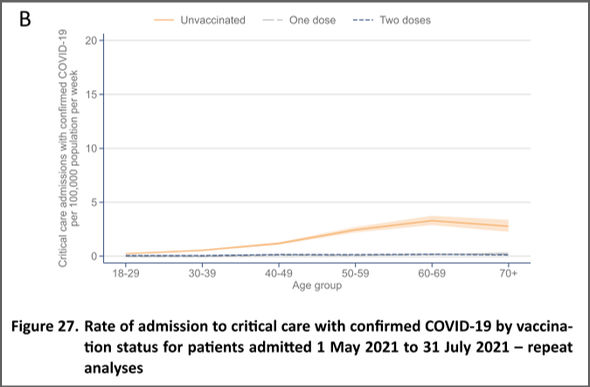 Figure 2: ICU admissions (counts) by age and vaccination status (top), rates by vaccination status by age using ONS denominators (middle) and rates by vaccination status by age using NIMS denominators (bottom). What a difference a denominator makes… Source: see text
Let us be clear: ICNARC has not hidden anything. It was explicit in its 19th November version of the report about the date range for the data, and the definitions and denominators used. But it was disingenuous: presenting this selection of data, in the way it did, allows the Dr Munchausens of this world to use the 'latest statistics available' — which they are, even if they are significantly out of date — to howl about the pandemic of the unvaccinated. It could also rely on the MSM swallowing the first version of the feigned epidemic lock stock and barrel, though we should give credit where credit is due: the second version of the report does expand the analysis.
How do we know the data is misleading for today's situation? The short answer is we don't, and won't, until ICNARC release more up to date data. But we can get a very good idea of what the data, when it is published, will show, from the most recent UKHSA reports on covid admissions and deaths. These reports do not include ICU admissions, but they do report covid admissions and deaths by vaccination status, and we might reasonably suppose that the unreported ICU admissions might at least lie on the same continuum. The latest report (weeks 43 to 46, events within 28 days of a positive PCR test, vaccinated = one or more doses) shows there were 6,023 vaccinated admissions, compared to 3071 unvaccinated admissions (66% vaccinated, 34% unvaccinated). For deaths, the numbers were 2,992 vaccinated, compared to 708 unvaccinated (81% vaccinated, 19% unvaccinated).
These numbers are pretty much the reverse of the ICNARC figures: the majority of those admitted (66%), and even more of those who died (81%), were vaccinated, in contrast to the ICNARC data which has 73% of ICU admissions unvaccinated. These differences need not surprise us: the number of people vaccinated has been growing all the time, to the extent that it is inevitable that most admissions and deaths will happen in the vaccinated, and there is no reason to suppose that the same pattern will be seen for recent ICU admissions once the data is released.
The Guardian's Dr Munchausen's latest article is headlined 'ICU is full of the unvaccinated – my patience with them is wearing thin' and opens with 'In hospital, Covid-19 has largely become a disease of the unvaccinated'. The latest, and recent, UKHSA data strongly suggest otherwise: most admissions (66% ) and deaths (81%) happen in the vaccinated, and it is extremely likely that patients in hospital, and patients admitted to ICU will have broadly similar rates. The Dr Munchausens out there are feigning a pandemic of the unvaccinated, to force unwanted and unnecessary vaccinations on the unvaccinated — classic Munchausen by proxy behaviour. Dr No could utter a howl of disbelief that anyone should believe such twaddle, let alone publish it in once reputable broadsheets, but instead, for now, he will note that the Guardian's Dr Munchausen isn't the only doctor whose patience is wearing thin.