Early Assessment of 2020 Mortality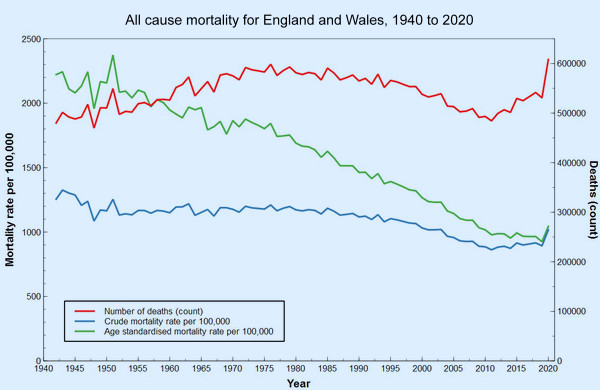 If there is one thing guaranteed to make Dr No's breakfast porridge go down the wrong way, it is the sound of Martha Kearney on the Today programme playing her voice as if it was an electric slide guitar. That, and the little pauses after the interviewee stops speaking, and Ms K asks her next question, as she waits for her controller to finish telling her what non-sequitur of a question to ask next. Mercifully, we were spared Ms K's slide guitar treatment of the 2020 excess deaths data released yesterday, but elsewhere there was plenty of wailing to be had. "More deaths in England and Wales in 2020 'than any year since 1918'" wailed yahoo, while Sky News went with "an almost unparalleled loss of life" above some rather lurid blood red background charts of eye-popping variety. In a related twitter thread, Mr Conway sagely pronounced that "there is no definitive measure for the scale of this pandemic. There are other prisms beyond even these…". Indeed there are. The prism glaringly obvious by its absence is age standardised mortality rates.
Dr No thought he was going to have to updated his quarterly SMR chart, and he may yet still do so, because it uses quarterly intervals which provide a finer grained picture, but for now it turns out that ONS have very helpfully, and curiously discretely, published a long series of annual age standardised mortality rates going back to 1942, provisionally updated to include 2020. Before we consider the chart and what it tells us, a little background on age standardisation might go a long way towards explaining what age standardised mortality rates, or ASMRs, do, and so why they matter. Throughout, we will be considering all deaths, so there are no 'was it/wasn't it' covid conundrums to manage.
If we consider just total number of deaths, we ignore the size of the population. Today, the population of England and Wales is getting on for twice what it was in 1918, and so we would, all things being equal, expect getting on for twice as many deaths. We can fix this by working out the crude death rate, the number of deaths per 100,000 people, but that still leaves another problem, that of a changing age structure in the population. The higher the proportion of older people, the more deaths we would expect. Imagine two islands each with a population of 100,000. The first island has recently been colonised by young people in their twenties, while the other is exclusively a retirement island for people aged 70 and over. Barring the unforeseen, the second island will have many more deaths, even if the actual age band specific mortality rates are identical.
Age standardisation fixes this, and enable us to compare like with like. You can skip this and the next paragraph without coming to any harm, but it is as well to understand methodology. There are two ways of doing age standardisation, and both have their merits and pitfalls. The first, which ONS used, is called direct age standardisation. This uses a fixed standard population, and applies the age specific rates from previous years (or different countries, or whatever is being compared) to this standard population. It is many different rates applied to one fixed standard population, and it allows us to compare the different year (or countries or whatever) as if they all had the same population age structure. The actual rates derived are, it must be appreciated, entirely fictional, but they are nonetheless directly comparable, because the age structure that the rates are based on are identical for each year, country or whatever.
The other method of standardisation, indirect standardisation, does a sort of opposite. Instead of applying many age specific mortality rates to one standard population, it applies one set of age specific mortality rates to all of the many different populations, be they from different years, or countries, or whatever, and determines how many deaths would be expected if the year, or country, or whatever, had the same age specific mortality rates as the reference population. So we end up with a number, of expected deaths, and conventionally we compare this to the observed number, and end up with not a rate, but a ratio, the standardised mortality ratio, or observed divided by expected number of deaths. This SMR is conventionally multiplied by 100, so an SMR of 100 means no difference, while an SMR of say 200 would mean twice as many deaths observed than were expected, signalling a significantly worse mortality.
Dr No used indirect standardisation, and SMRs, in his quarterly interval charts, because we don't have a long time series of quarterly age-specific mortality rates, which are needed for direct standardisation. ONS on the other hand has used an annual interval, and has found annual age band specific mortality rates going back to 1942, and the chart at the top of this post charts numbers of deaths, crude mortality rates and age standardised mortality rates for the period from 1942 to 2020. What do the lines on the chart tell us? Here's the chart again, for ease of reference.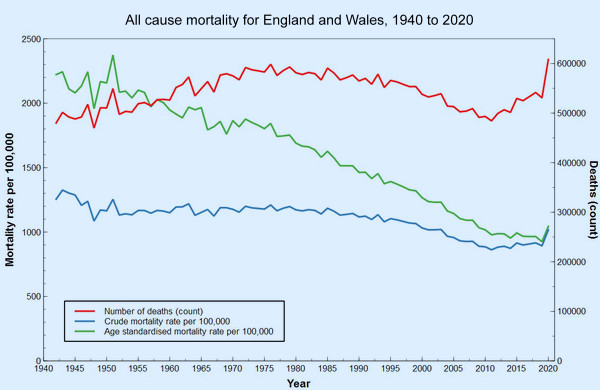 The number (count, red line) of deaths clearly shows a striking up-tick for 2020, the 75,000 or so excess deaths, compared to recent years, seen in 2020, and attributed either directly or indirectly to covid. It looks pretty grim. Small wonder Mr Conway used blood red on his charts. But if we look at the rates, things appear very different. An up-tick for 2020 is still there, but it is much less striking. For the blue line, crude mortality per 100,000, we see that we have gone back to where we were something just under about twenty years ago. If we then add in age standardisation, as in the green line, we are only back where we were only ten years ago. Covid has had a clear effect, but in the longer term view, it has only moved us backwards a decade or so. Dr No doesn't remember us getting all worked up about mortality back in 2010; in fact he recalls rather the opposite, as we were on a long trajectory of declining mortality and at the time didn't know the last ten years, from 2010 onwards, would see a slackening in the rate of that decline.
Put in that long term historical perspective, covid has very visibly reversed recent improvements in mortality, but it isn't a huge reversal. The steepness and size of the 2020 up-tick is exaggerated by 2019, the previous year, having an exceptionally low ASMR; if we draw a mental trend line through the last ten years' ASMRs, the up-tick seems smaller. Covid in 2020 was exceptional, but how exceptional is a matter for individual judgement; and in Dr No's judgment — and you are entitled to your judgement — it is not wildly exceptional. This long time series shows the fallacy of using only short — typically five or ten year — time frames. If the chart, as so many do, only ran from 2010 to or 2015 to 2020, a very different, and misleading, picture emerges.  
What about the often considered bad flu year benchmarks? Interestingly, unlike the quarter based indirect standardisation used by Dr No in past charts, direct age standardisation has all but flattened most of them out of existence. Small up-ticks can be seen for 1957-8 (Asian flu), 1968-9 (Hong Kong flu) and 1976 (another bad flu year), but it is only 1951 — not widely recognised as a bad flu year, despite the fact in parts of the country it was worse than the 1957, 1968 and 1918 pandemics — that stands out as a definite spike. Indeed, this apparent flattening out of known epidemics has Dr No intrigued. WWII has also been 'disappeared', and there is no mention Dr No can see that the data is limited to civilian deaths. Might there be something about annual direct standardisation that irons the wrinkles that other methods leave behind? At some point, Dr No hopes to update his quarterly SMR chart, but there are some methodological questions that need to be resolved before he does so, so it will have to wait for another day.