Another Day, Another Perspective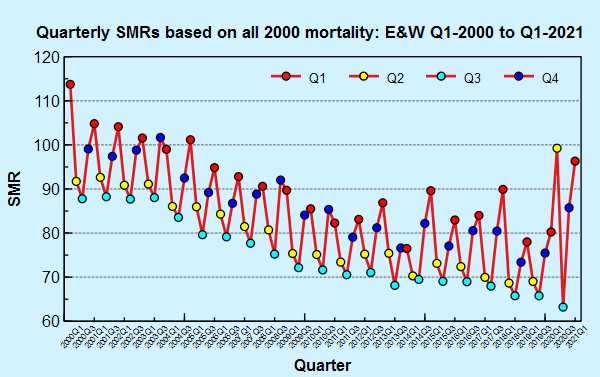 What's in a baseline? We now have all cause mortality data for the first quarter of 2021 for England and Wales, and so it is time to add this data to one of the many charts Dr No has squirreled away in his covid dossiers. This chart shows quarterly standardised mortality ratios (SMRs) from Q1 2000 to Q1 2021, the last two decades. They are calculated using the indirect method, using all 2000 mortality data as the standard. Each point represents that quarter's SMR compared to all 2000 all cause mortality, adjusted for population size and age distribution, with values above 100 meaning observed mortality was higher than expected using the 2000 baseline, and values below 100 meaning it was less than expected. Quarters 1 to 4 are identified by the colours shown in the key. What do we see?
As expected, the winter quarters (Q1 red and Q4 blue) generally have higher mortalities, and the summer quarters (Q2 yellow and Q3 cyan) have lower mortalities. The four year 2000 quarters are scattered around 100, as we would expect, since all year 2000 mortality is the baseline. Not a lot happens in the early Noughties, but by the late Noughties mortality has started to decline. As we move into the Teenies, the decline continues, but at a slower pace. We also see greater volatility, with notable peaks in the winters of 2014/15 and 2017/18, coinciding with recent 'bad flu winters'.
And then we come to 2020 and 2021. Q2 2020 (the right-most yellow point) was bad. That was last spring's covid wave. In the summer (Q3, July to September), the SMR fell sharply, and then rose again over the winter quarters, during the second covid wave. Strictly speaking, because these are indirect SMRs — indirect because of the limitations of the available data — they are all 'relative to 2000 mortality', and so very strictly speaking we should not make comparisons between other years, but given we are looking at the same nations (England and Wales) over a short time frame (20 years) it is not entirely unreasonable to do so. What we see is that winter 2020/21 was 'about as bad' as the mid to late Noughties, a period when social distancing was something Penelope Keith last practised in The Good Life, bubbles were something babies blew in the bath, and lockdowns were something that rarely happened outside  rioting prisons.
What's in a baseline? The chart yet again shows the myopic fallacy, that of using too short a time frame. ONS, PHE and the dreaded EuroGAGA charts all usually, and sometimes exclusively, use a recent five to ten year time period as the baseline. As the chart above shows, this is a period of relatively low mortality, that cannot but make 2020/21 look bad. But if we pull back just a few more years, we see 2020/21 in a rather different light: about where we were fifteen or so years ago. Disappointing, perhaps, but a trigger for the biggest ever self-inflicted social medical and economic wound in peacetime? What have we done?