Medically Accelerated Epidemics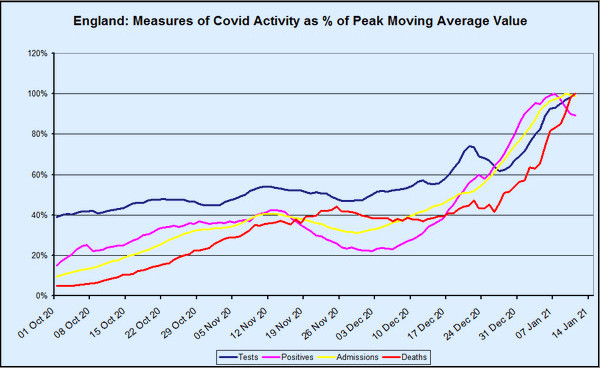 One of the features of this winter's covid–19 wave that has perplexed Dr No, and indeed many others, is the lack of the normal lag between rises in positive tests, admissions and deaths. In the normal course of events — and as we are so often told by political and media experts — admissions lag behind cases, and deaths lag behind admissions. Yet when we look at the chart above, which presents various measures for England — the methodology will be explained shortly — the lags are rather conspicuous by their absence. From around about Christmas Day onwards, tests, positives and admissions have been in lockstep, while deaths have shown a lag, but only a short one, of about seven days. The peaks in both positives and admissions — both are currently in decline — are only two days apart. None of this makes any sense at all.
Or can we make some sense of it? Dr No started by over-laying the coronavirus dashboard charts, one on top the other, and scaling each layer to match the others. The result was an unholy mess, not fit for publication. So Dr No did the mathematical equivalent, and converted the data so that each point became a point expressed as a percentage of the measure peak values, with the later smoothed by using a seven day centred moving average, with dates based on reported date. The result is the chart you see at the top of this post, with reporting delays, and the use of a moving average resulting in the last date on the chart being the 11th January.
Biologically, this chart makes little sense, unless we factor in something else, and that something else is medical activity, specifically testing activity. Notice the dark blue line, the number of tests done, which has gone from around 60% of current peak activity to 100% of peak activity in just two weeks. In absolute terms, that is from around 350,000 tests every day, to what is currently just shy of 600,000 tests per day. Dr No suggests you might take a moment to let the scale of that increase, both in relative and absolute terms sinks in.
The scale of testing has now reached the point where just about anything that moves gets tested. They probably even test things that aren't moving from time to time, by mistake. People with pets tests their pets, just to be on the safe side, after reading about domestic animals contracting covid. More importantly, anyone who gets with 100 yards of a hospital gets tested, and re-tested if the first test is negative, with the vast majority of these tests being the ultra-sensitive PCR tests.
Now, the crucial thing to look at in the chart is the gradient of the lines, particularly during the rise since Christmas. What we see is they are all the same, each one rising in lockstep with the others. What does this mean? Consider a situation in which the actual epidemic is in a steady state — cases are not really going anywhere — and yet you double the number of tests. What happens is you will get twice as many cases, but it isn't because cases have themselves increased, it is because testing has increased. What you have is a testdemic, and apparent epidemic caused not by rising case numbers, but by rising test numbers. The key point is the gradients being all but identical, which explains the lockstep. If true cases had been growing faster than the growth in tests, the lines would diverge, but they don't. The increased testing drives the increase in cases and admissions in real time, and that is what accounts for the loss of the normal lags between successive events.
What happens next is far from clear. Cases, or rather positives, and admissions have both started to decline in recent days, despite ever more frantic testing. This is an indication, and only an indication at this stage, that this recent winter wave is in decline. Nonetheless, this wave, which has caused so much anxiety and alarm, was largely fuelled by testing, and testing is a medical activity. It appears that covid–19 has given us yet another new entity, to sit alongside support bubbles, national lockdowns and covid secure workplaces, the medically accelerated epidemic. Let us all hope it disappears as quickly as it arrived.