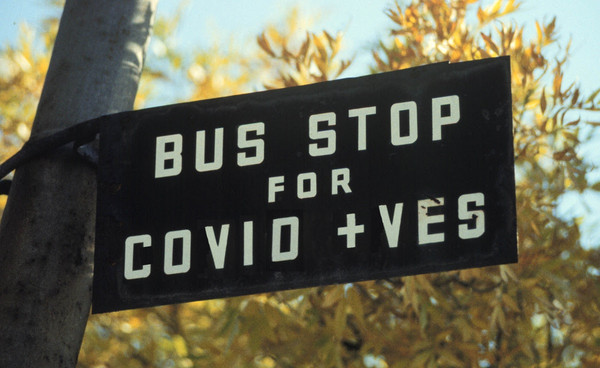 Let's get the definitions out of the way. Unqualified, apartheid means the repugnant South African system of segregation by race. It comes "from Afrikaans, literally 'separateness', from Dutch apart 'separate' + -heid (equivalent of -hood)": apart-hood. The word itself doesn't make any reference to race, it just happened it arose in South Africa, and by its use there, unqualified, it came to mean racial apartheid. But the word — apartheid/apart-hood, or apartness, or separateness — can apply to any form of segregation. The phrase sexual apartheid makes perfect sense, segregation of the basis of sex. So to does the phrase religious apartheid, segregation on the basis of religion. And so too does the phrase covid apartheid, segregation on the basis of covid status. The repugnant state of racial apartheid can very meaningfully be found mirrored in the repugnant state of covid apartheid. Once you have separateness, or segregation, on the basis of this or that, you have apartheid; all that is necessary is to specify the basis of segregation, and then you have a fully formed phrase of clear meaning.
With the definition made clear, we can now turn to ask the question, do we have covid apartheid here in Britain? The answer is a clear yes. It may only be at the pilot stage, but that makes it even more alarming, because the whole point of a pilot is to test something at selected sites, and if it passes the test, then roll it out on a larger scale. The chief purpose of the pilots is to assess feasibility (can covid status certification work on the ground?) and acceptability (how many covidiots will buy into covid status certification). Dr No should perhaps add that in this parish, a covidiot is someone who wears a mask and socially distances when there is no need, does the hand sanitizer hand wringing ritual at each and every opportunity, and generally accepts the official/MSM covid narrative hook line and sinker, without batting an eyelid.
In health service research, we divide studies into those that look at structure (how many beds in the hospital), those that look at process (how many admissions to those beds) and those that look at outcomes (how many of the admissions died). The pilots are primarily structure (how many tests) and process (who gets the test, and how do we process the results) studies rather than outcome studies (effect on transmission), despite The Times printing a jump the gun report last month suggesting they were outcome studies. They can't be, because the numbers, particularly of cases, are too small, and furthermore there aren't any meaningful control groups. Last Friday, the government quietly admitted the was no need to bother with all that sample size nonsense ("The analyses are mainly descriptive in nature, and no formal power size calculation is presented. The main focus is on the feasibility of testing…") and the samples are too small to provide any meaningful outcome results ("The initial events within the Events Research Programme (ERP) are currently insufficient in scale, scope and study designs to generate any direct evidence based on transmission data…"). Make no mistake, these studies are not outcome studies, but feasibility and acceptability studies. Can covid status certification be made to work on the ground? How many covidiots will buy into covid status certification?
To understand how covid apartheid works in practice, we only have to look at how the pilots are run. Most of the pilots are at large sporting or entertainment events, and involve pre-attendance lateral flow tests. The Crucible ran just such a pilot recently. Without a negative covid lateral flow test, you were snookered. You didn't even get to be in the frame. And right now, and for the next few days, covid apartheid will be in operation at Edgbaston, for the cricket. Without a negative covid lateral flow test, you will be dismissed, out for a duck, no innings, and the only ashes you'll see are the smouldering remains of the stash cash you burnt buying your ticket. The whole thing is run using a hideous smartphone widget called the Edgbaston App, which means if you don't have a smartphone, you'll find yourself up Queer street, [popup_anything id="1083″] rather than watching the bowling from the pavilion end.
Once the pilots have been run, and found to pass muster, as they will, then covid status certification, and so covid apartheid, will become the norm at large sporting venues. The pilots will show that covid apartheid is both feasible on the ground, and acceptable to the masses. Never mind (see footnote) that the science is non-existent, and that the pilots didn't look at outcomes (is covid spread reduced by using draconian test-and-ticket regime?); instead, focus on the control! The government will have succeeded in its objective, to segregate us into those who have clean covid status certification, and those who don't. Covid apartheid will become normalised, and we will find ourselves not so much a gentle but slippery slope, as poised at the top of rushing roaring rapids that descends into a dark hell of universal covid apartheid. Because if covid apartheid works for large venues, then why the hell not use it at medium size venues? If it works for medium size venues, why not use it for small venues? Why not use it everywhere?
Footnote: In passing, it is worth noting that this use of lateral flow tests, to green light entry and participation, is not only an unauthorised use, it also makes no sense, which is of course precisely why it they are unauthorised for such use. DIY (and self reported, to add another opportunistic layer of creative screening) lateral flow tests have a sensitivity of at best 49% (see Table 2, but note gold standard is a PCR positive test, and that the Birmingham students study found the overall sensitivity to be a derisory 3.32%), meaning that at least half, and possibly as many as 96%, of covid positive individuals, by PCR test, will test negative on a lateral flow test. But they will still be given a green light, despite being PCR positive. Dr No of course has his doubts about the veracity of PCR tests, but be that as it may, if the government chooses to say a positive PCR test defines a covid case, then using lateral flow tests to filter spectators into haves and have-nots is to use a sieve that has holes in it the size of gob-stoppers, or, if you are in Birmingham, or Edgbaston, the size of cricket balls.