The Coronavirus and the Crocodile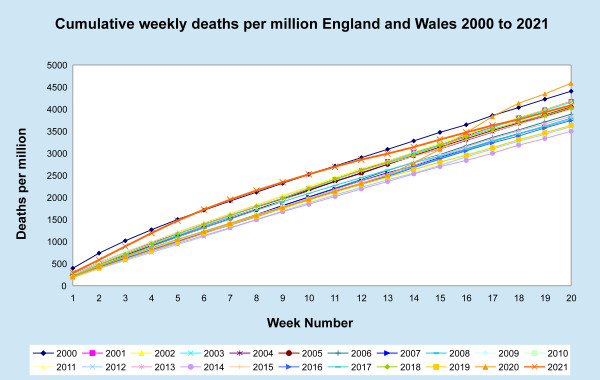 An article published yesterday on off-Guardian, which coincidently makes welcome use of an earlier Dr No post on covid death certification, points out the menace of politicians and the MSM using cumulative covid deaths as a sort of fat crocodile, that only ever gets bigger, leaving so many to wonder who the crocodile will eat next. Like the gift that keeps on giving, it is the crocodile that keeps on growing. As the article says, cumulative covid deaths are about as useful as a cumulative unemployment counts, because neither tell you what is happening now. Yet there is another cumulative death count that paints a rather different picture, and does have some merit in putting the pandemic in perspective. It is the cumulative all cause death count.
Official statisticians, governments and the MSM (the latter is a hideous BBC attempt to keep the crocodile alive: "just because no deaths were announced on 1 June does not mean for certain that no deaths actually occurred" hisses the anonymous author) all make heavy use of daily and weekly counts of deaths, with their Wonderbra twin peaks of covid waves. When a comparator, or baseline, is provided, it is typically based on a brief and short recent time period, which guarantees 2020 and 2021 look bad, because mortality in recent years has been unusually low. Charts without an explicit comparator use an implicit one, for example the visible low levels seen for example during last summer. All these charts rely on the fact that short term day by day or week by week variations and comparisons highlight the variability in the data, and so emphasise the peaks. But what happens if instead of using daily or weekly data, we use cumulative data, over longer time frame?
The chart at the top of this post shows the cumulative all cause mortality, for weeks one to twenty (the latest week available for this year) for England and Wales, for every year since 2000 to date. The raw data comes from ONS, here (2000 to 2009) and here (2010 to date). The plot uses deaths per million, rather than raw counts, to adjust for the growth in population over the last two decades, but hasn't been adjusted for demographic changes (the ageing of the population), as the sums needed are long tedious and boring to do, and crude death per million adjustment is sufficient for today's purposes. The idea is not to be able to follow each and every individual year, but to get an overview of the cumulative mortality for each year since 2000 to week 20 in much the same way a scatter plot gives an overview. Are the data clumped together, or spread out? Are there any outliers, and if so, how exceptional are they?
The first thing to note is the peaks have all but disappeared. This is largely because the Y-axis range is greater, because it is scaled to cumulative mortality, rather than individual daily or weekly mortality. We see from a perspective of year to date, rather than daily or weekly perspective. The second thing to note is that overall, most of the lines are pretty close together, and there are no stand out by a mile outliers. Only three years break free of, and lie above, the general pack.
The first is 2000 (blue line with diamond markers), a bad flu year with exceptionally high numbers of deaths in the eraly weeks. The second is 2021 (orange line with X markers), and although somewhat exceptional at the start of the year, it is still only on a par with 2000, until around week 12, when it starts to return to the pack. This is almost certainly a simple left shift effect: more deaths in early weeks means less deaths in later weeks, with overall cumulative numbers coming out about normal in recent weeks. The third break free year is of course 2020 (orange line with triangle markers), which for weeks 18 to 20 has the highest cumulative mortality of any year in the last two decades, but by not much more than a crocodile's whisker.
What is the take home message? It is that the covid pandemic did affect mortality last year and this, but so far — Dr No has no crystal balls, just as he has no glass eyes —the effect, as seen from a perspective of cumulative mortality, is not that striking. That's the message from the chart, that nothing really really stands out. Yes, pandemic effects are visible, but there is no crocodile.