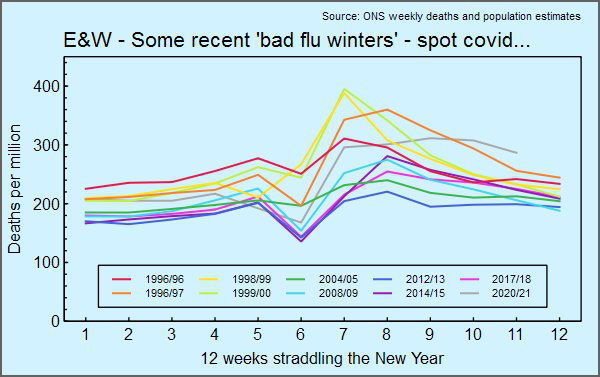 Competent enough when reading out Google finance reports, Radio 4's Simon Jack falls apart when loaded with a ministerial interview. Even with the bar set as low as it is these days on the Today programme, and the minister for jabs having all the appeal of a lump of blu tack stuck on the seat of your pants, Jack approached the interview like a teenager rugby tackling a brick wall, only to crumple through lack of preparation. Attempting to ask why individuals with learning disabilities weren't being prioritised for vaccination, given their high covid mortality rate, it soon became apparent that the interview was to be as illuminating as mountain of Welsh coal slag. Click. The sound of silence filled Dr No's kitchen.
On to other news. Tuesday is ONS weekly deaths day — isn't it charming how covid distorts priorities — and Dr No has added the latest weekly deaths, for the week ending 5th February, to a chart showing winter weekly deaths for recent bad flu years. The idea for the chart isn't a Dr No original, something very similar appeared on twitter, but with little in the way of attribution, except to say the data came from ONS. This was a useful tip off that weekly data was available somewhere that covers a far longer period than that reported in the normal routine data series of data, which only goes back ten years. We know that by and large the last ten years had low mortality, guaranteeing that any comparisons would make covid look bad, so having a longer time series is a potent and useful way of getting a proper perspective on covid. After a lot of googling and digging ever deeper into the ONS website, with its tortuous web-page addresses, Dr No came across this ad hoc page, with some very useful links, including weekly registrations data going back to the mid 1990s. What do we find?
The chart shows all cause weekly mortality for England and Wales, as deaths per million to account for the not inconsiderable change in population over the last twenty five years, over the twelve weeks straddling the New Year for winters that had visually notable winter spikes in charts from previous posts. To manage the occasional week 53, Dr No selected week 1, and counted back six weeks, and then copied the deaths from that week and the subsequent 11 weeks into the new chart, so the numbers on the X axis are not ISO week numbers, but rather just the sequential numbering of the weeks. We now have a much more finely detailed picture of mortality patterns over those bad flu winters, without the smoothing effect caused by using longer intervals.
The chart shows that this winter has not been exceptional, when compared to recent bad flu winters. Three winters had notably higher peaks, and in four years a crude estimate of the 'area under the curve', representing total deaths assuming the same  population size for each winter, was higher than over this winter. Yet again, looking at the data in a different way, we can only conclude that this winter of 2020/2021 has been a bad year, but not exceptionally bad. It appears in the chart 'somewhere in the middle', and the only reasonable conclusion is that it is just another bad flu winter. Only it isn't. It's the winter when we shut down the entire country, to manage just another bad flu winter.
Edit 17:18 23 Feb 2021: updated chart to Week 06-2021 added here.