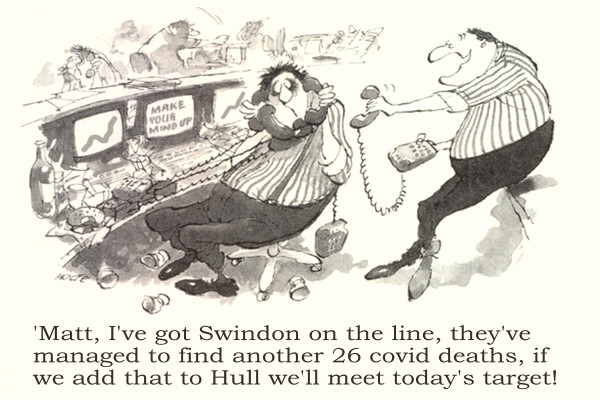 Is the number of covid deaths inflated? Almost certainly, yes. Does this matter? Of course it does. Apart from being an affront to science, it creates and perpetuates a disproportionate sense of fear about covid, and that in turns drives pathological responses to covid, from national lockdowns to individual hysteria. 'The bigger the fear,' observed one of the diarists in the recent compelling BBC history series Berlin 1945, 'the more ridiculous the excuse.' It is the fear that puts the pop in the fuel of the Milk Curdler's blow lamp, it is the fear that powers Dylan's Idiot Wind, blowing through the flowers on your tomb, the curtains in your room, from the Grand Coulee Dam to the Capitol.
How can Dr No be so sure that covid deaths are inflated? There are a number of reasons. Not one of these reasons finally settles the matter, for that would require a long series of covid viral cultures and post mortem studies, but they do, when taken in the round, satisfy at least the civilian test of the balance of probabilities.
The first reason is historical: we have know for decades that the certified cause of death is often incorrect, often widely so. Studies that have compared causes of deaths identified by post mortem with the corresponding causes on the death certificates have revealed a mark lack of correspondence, in as many as around one quarter of all deaths. Bedside death certification is a far from precise business.
This, of itself, could of course lead to under as well as over inflation of deaths attributed to covid, all other things being equal, but all other things are not equal. We are in the grip of a pandemic, with vast numbers — currently just shy of half a million a day — of people being tested for covid. The government's corona dashboard, which defines a covid deaths as one where the patient had a first positive covid test in the 28 days leading up to death, regardless of the actual cause of death, has current numbers of deaths for England and Wales are around 520 per day, or let's say 3,640 per week. It seems, as the old time GPs used to say, that there is a lot of it about.
But these 3,640 or so deaths are not certified deaths, instead they are just counts of hapless individuals who happened to test positive in the four weeks up to their deaths. To get the number of certified covid deaths — deaths where covid is listed as one of the causes of death, though not necessarily the underlying cause of death — we have to go to ONS. For the latest available week, to 18th December, 2986 certificates 'mentioned' covid, but ONS only recorded 2,557 of these deaths as 'true' covid deaths, with covid as the underlying cause of death. Already, the dashboard 3,640 or so deaths begins to look rather inflated, perhaps by as much as 40%, when compared with the ONS number.
Could the ONS 2,557 number also be inflated? Bear in mind we are not in normal times. The pandemic remains front page news, millions are tested for covid every week, and daily death tolls assail us relentlessly. Bear in mind those historical studies showing that death certification is a far from precise business. Could it be that the constant covid pressure creates something called hot stuff bias — or hot stiff bias, as Dr No called it a while back — that nudges doctors to 'err on the side of covid', and so 'mention' it on the death certificate, 'just to be on the safe side'?
To get a handle on this, we need to look at all cause mortality. What we find, for the week ending 18th December, is that there were 1,463 excess deaths above the 20-15 to 2019 average. Yet ONS's own figures record 2,557 covid deaths, which should, given that covid is new, show up as excess deaths — but in fact there are only 1,463 excess deaths. This discrepancy can only be explained on one of two ways. The first is that the 2,557 is inflated, in that within normal range deaths from other causes are being wrongly attributed to covid, through hot stuff bias. The second possibility is that there were 2,557 true covid deaths, but just over 1,000 of those deaths were in people who were expected to die anyway.
This is important. If they were going to die anyway, then whether they died from covid or something else matters not one jot to them — they were going to die, and are now dead. The ones that matter are the 1,463 excess deaths, the ones who had their death hastened, even if only by a short while. These, Dr No suggests are the true covid deaths, the deaths that would not have happened were it not for the arrival of covid. That makes the current corona dashboard figure of 3,640 or so weekly deaths a gross exaggeration, an inflationary mark up by a staggering 248%. Who on earth would want to do such a thing?