Tis the Season To Be Jolly Careful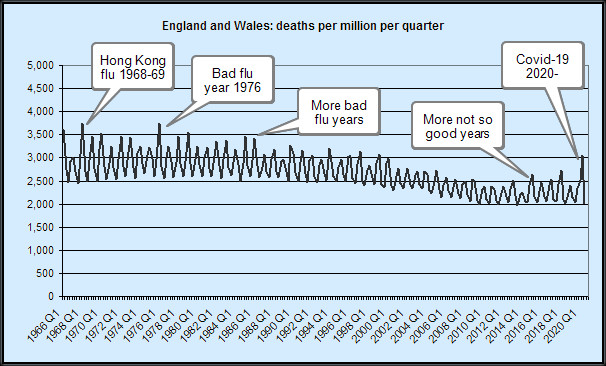 Bad mental picture of the week so far is an image of Boris Johnson in a Santa Claus outfit stuck upside down in a fireplace chimney chortling 'tis the season to be jolly careful. In the recurring nightmare Dr No endured last night, all attempts to light a fire under the bastard ended in failure, and Dr No drifted off into fitful sleep only to wake again with a fresh box of Bryant and May's in his hand, for the whole ghastly cycle to repeat itself. If the nightmare comes back tonight, Dr No will be up on the roof with a vat of boiling oil. Simple, but effective.
Meanwhile, Dr No has been digging around in the statistical archives for some mortality data. Inspired by an annotated Swedish chart that shows monthly deaths per million population going back to 1851 — yes, 1851, the Swedes certainly know how to keep records — he wanted to find similar UK/home nation data that contains seasonal information. Earlier trawls through dusty ONS digital corridors revealed some weekly and monthly mortality data, but only for relatively recent time periods, and rather unsurprisingly 2020, the year of covid–19, does stick out like a tent pole. What we need is a longer time series, to put things properly into perspective.
Finally, with the recurring image of BoJo stuck chortling in the chimney looming nearer and nearer, Dr No came across some ancient digital files stashed away in the online National Archive that contain annual mortality data by quarter, going back to 1966. There is even older data, but this has been grouped into five year periods, making it useless for our purposes, given that we want to tease out what is happening on a seasonal basis, year on year. Nonetheless, quarterly data going back over half a century is quite a find.
Taking this historic data, and adding more recent monthly data grouped into quarters gives us a complete time series of quarterly deaths for England and Wales from 1966 right up to Quarter 3 2020. Plotting this raw data — just the counts of deaths —  strongly suggests 2020, viewed in a historical context, is something of an outlier, but not uniquely so. More importantly the raw data does not take account of the increase in population size over the last half century (more people, more deaths). To get round this, we can plot deaths per million population. More digging around, more data collection and sorting, and in short order we have deaths per million (mid -year population) per quarter from 1966 to date. When plotted — see the image at the top of this post, data sources below, and click here for a larger but less pretty version of the chart where you can see 2020 detail better — it strongly suggests that, while 2020 is slightly worse than recent years, and even that isn't very striking, viewed over a wider time span, covid–19 — seen as the last spike on the right, for Q2 2020) really is no worse than a bad flu season. Well over a dozen flu seasons in the last fifty years have been notably worse, and even when the final quarter for 2020 is added, this situation is likely to remain unchanged.           
So perhaps it really is the season to be jolly careful — jolly careful, that is, not to inflate what is no more than a bad flu season into an over-blown monster of a pandemic myth that once jolted into hideous life does far more widespread and long-lasting damage than ever covid–19 on its own could achieve.
Data Sources (very long urls shortened as necessary)
Deaths 1966 to 1988 (zip file)
Death 1989 to 2005 (zip file)
Deaths 2006 to date (xlsx file plus ad hoc extractions from this xlsx file)
Mid-year populations (xlsx file plus ad hoc extraction for 2019 and estimate for 2020)
Please feel free to add a comment below if any of the links fail/fail to make sense.
Extracted data as used by Dr No for the above plot uploaded as a csv file.
Notes
1. Sometimes the ONS datasets overlap, and the figures don't always agree between the different datasets. These things are sent to try us… After eyeballing the differences, Dr No decided the differences — typically around 0.5% between datasets — were small enough to be ignored.
2. Adjusting for changes in population size is important, which is why we look at deaths per million, so we are comparing like with like. Ideally we would also adjust for age distribution (more or less old people), because even with the same size population, two populations with different age structures will gave different death rates per million (the one with the older population will have more deaths). The data might be there to allow such adjustment but extracting it and applying age adjustment would take a very long time and given the data already shows enough to say 'just another (bad) flu like illness', Dr No is not inclined to do the necessary work. It is nonetheless worth noting that such an adjustment would almost certainly increase the historical spikes and/or (depending on the reference population used) reduce the more recent spikes.