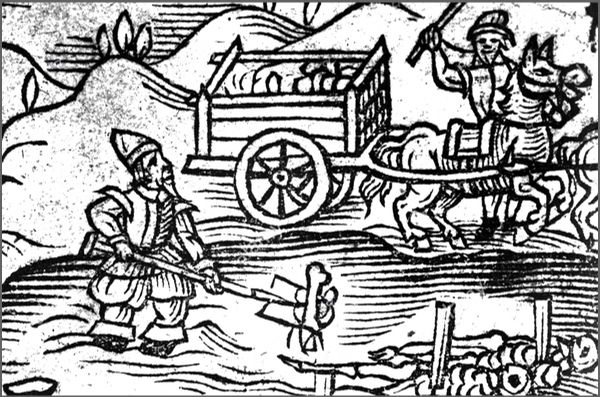 What's the most shocking thing about the chart shown in Figure 1 below, copied from this week's ONS Weekly Deaths report? It shows the number of excess weekly deaths by place of occurrence, which ONS report from time to time, usually buried in the midriff of the report. For some, the most shocking thing might be the peak in hospital excess deaths in Spring 2020, or in the 2020/2021 winter. For others, it might be the exceptional care home peak that occurred in March and April 2020, a peak Dr No has written about before. But in each of these two settings, the peaks have been offset somewhat by other periods when the number of deaths fell below the number of expected deaths, based on the 2015-2019 average. Perhaps the most shocking thing instead is the consistent excess mortality for deaths occurring in the home. These average out at 891 excess deaths every week over the 76 weeks covered by the chart. For hospitals, the same average is 248, and for care homes it is 312 excess deaths.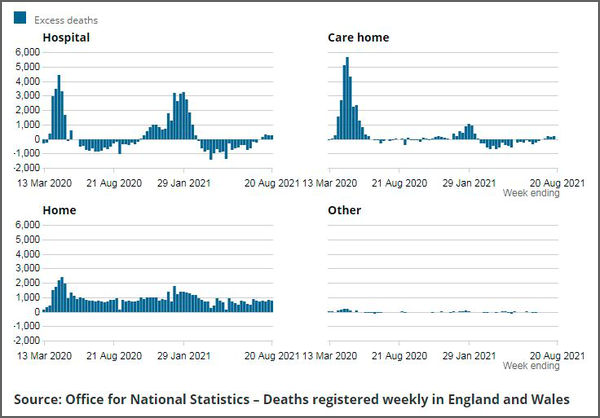 Figure 1: Number of excess deaths by place of occurrence, England and Wales, registered between 7 March 2020 and 20 August 2021. Source: ONS (see text for link)
Since more people live at home than in hospital or a care home, we might expect there to be more home deaths, and so more excess home deaths when there is an excess. So let us instead look at the number of excess deaths for each setting as a percentage of the expected number of deaths for the setting, based on the 2015-2019 five year average number of deaths, using the underlying data, which can be found here. What we find remains shocking. For home deaths, over the period covered by the chart, there were 38% more deaths than expected. For hospitals, on the other hand, it was a paltry 5%, while for care homes it was 14% more than expected. These simple sums confirm what our eyes suggest us when we look at the chart: there was a consistent, and as it turns out disproportionate, rise in the total number of excess deaths occurring at home, compared to the rises in hospital and care home excess deaths.
Getting on for a fairly consistent almost one thousand excess deaths every week since March 2020 is shocking. Apart from the covid wave peaks, and the bank holiday troughs, week in, week out, hundreds more people died at home than expected. In neither last summer nor this one was there any let up. There was no lull in the cull; instead, the excess deaths just kept on rolling in to ONS, who counted them all, week in, week out, and plotted them on this chart. Even more shocking, the great majority of these excess deaths were not covid deaths, because covid's lethal scythe hardly touched the home.
Although not shown on the chart, the weekly data for the chart includes both all cause deaths and 'deaths involving covid' for each setting. If we assume — a rather reckless assumption — that all covid deaths are excess deaths, then, by simply subtracting the total of these home 'deaths involving covid' from the total number of excess home deaths, we can arrive at a figure for the number of non-covid excess deaths. From the total of 67,687 excess home deaths for the period covered by the chart, we subtract a total of 8,197 'deaths involving covid', leaving 59,490 excess deaths not involving covid. To the extent that the reckless assumption is indeed reckless — some of the 'deaths involving covid' were going to happen anyway, and so are part of the expected number of deaths, and so are not excess deaths — then, for each such expected death, we remove them from the subtraction. If, for example, 4,000 of the 'deaths involving covid' were expected, in the sense they were going to happen anyway, then we would only subtract 4,197 covid deaths from the 67,687 total excess deaths, leaving 63,460 excess deaths not involving covid.
Overall, excess deaths at home rose more sharply than in any other setting, and furthermore, the great majority of excess home deaths were not covid deaths. If they, by ONS's own reporting, are not covid deaths, then something else caused those excess deaths. Whatever it is, it has remained pretty constant throughout the period covered by the chart, including during summer months, when, extreme heat waves excepted, excess deaths normally decline. What can possibly have changed around March last year, and remained pretty constant over the last 18 months, that might account for the week in week out relentless toll of excess deaths at home?
Something may emerge when we get full cause of death data, which won't be until well into next year, but Dr No doubts anything obvious will stand out. No single explanation will emerge, instead we are likely to see across the board rises in common causes of mortality, including potentially avoidable causes of mortality, rather than an epidemic of this or that. Nor can we seek clues from those who died, for they are no longer with us, but we might get hints from relatives of those who died. In the absence of any other obvious persistent explanation, Dr No has to conclude that by far the most likely cause of these excess home deaths is the government's reckless ill thought through policies of hard hitting emotional messaging and lockdown. Large swathes of the population were literally scared witless, and in their witless state — which is still widely in evidence even today — they stayed locked down, even when they could and should have sought medical help. Put simply, those who stay at home, die at home.