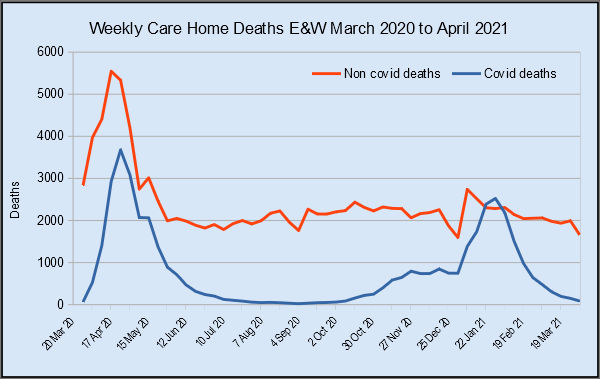 For a while, Dr No has bumbled on about having to wait a while to get data on non-covid–19 deaths caused by the panicdemic, that is, the collateral damage done not by the virus, but by our response to the virus. It now turns out that the data has been hiding in plain sight all along, in one of ONS's cryptically named data files. The trail starts with referencetable10052021114704.xlsx, which was recently uncovered and dissected by the excellent John Dee, and which can still be downloaded from ONS's own website here. But referencetable­10052021114704.xlsx only covers part of the picture, specifically deaths in care homes, and furthermore, it has, as John Dee points out, been deliberately obfuckstrated by ONS, who have chosen to report cumulative totals rather than weekly numbers of deaths, which has the effect of disguising what John Dee rightly calls a "shocker of a hump" for non-covid deaths in the spring of 2020. Dr No's chart for the de-obfuckstrated version of the data is shown above. The "shocker of a hump" is clearly visible in the red line representing non-covid care home deaths in April and May 2020.
But this is only part of the picture. We might suppose that the "shocker of a hump" represents all those unfortunate individuals who were unceremoniously dumped from hospital into care homes at the start of the panicdemic, only to die from neglect, or worse. But what if the hump is just a displacement effect, that is, patients who would have died in hospital were displaced to care homes, and so just died in a different place? To consider this possibility, we need more data, specifically how many non-covid deaths there were in hospital over the same time frame. If in a given week there were 3,000 less non-covid deaths in hospital, and 3,000 more non-covid deaths in care homes, then we might just as well call it quits. Nothing to see here, dear boy.
And so to the data hiding in plain sight. ONS's most recent Deaths registered weekly in England and Wales report does include, in Figure 3, a breakdown of deaths by place of occurrence, but the chart only shows overall excess deaths — so no use for teasing out absolute numbers of non-covid deaths. But by good fortune the associated data file does include columns for all deaths and covid–19 deaths by place of occurrence, meaning by simple subtraction we can calculate the weekly numbers of non-covid deaths by place of occurrence, for home deaths, hospital deaths and care home deaths. What do we find? Note added 2nd Sep 2021: the above two links have now been edited to link to the report and data that were current, and so most recent, at the time this post was written.
Starting with care home deaths, we find much the same pattern as revealed by referencetable10052021114704.xlsx, over a slightly longer time period. The April-May 2020 non-covid deaths hump is again clearly visible.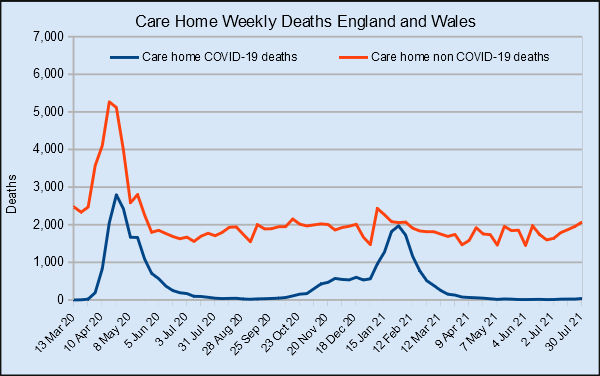 Figure 1: Weekly care home deaths in England and Wales. Source: ONS (see text for link to data)
Next we have the crucial hospital deaths. What we see is interesting: there is a marked decline in hospital non-covid deaths during spring 2020, which is consistent with a displacement effect: patients who would have died in hospital were discharged into care homes, only to die in the care home instead of in hospital, but the numbers don't match. If we iron out the Bank Holiday oscillations, weekly hospital non-covid deaths declined by around 2,000, from about 5,000 per week to 3,000 per week, but the care home non-covid deaths rose by almost 3,000 deaths per week. The care home hump is bigger than the hospital trough, suggesting that there was a displacement effect, but it wasn't the only effect.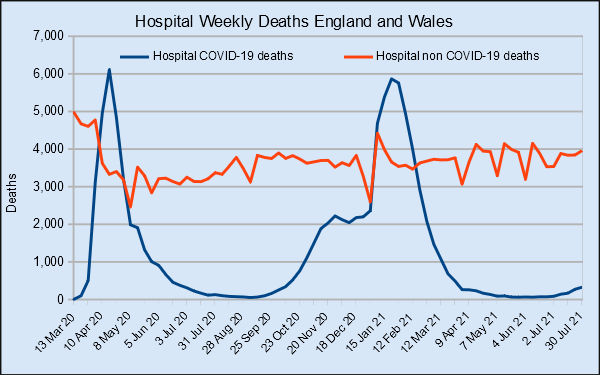 Figure 2: Weekly hospital deaths in England and Wales. Source: ONS (see text for link to data)
The ONS data also includes numbers for weekly home deaths, and again these are interesting. During the first wave, in April-May 2020, we see another "shocker of a hump" in non-covid–19 deaths; maybe not as pronounced as the care home hump, but still clearly visible, rising from just under 3,000 deaths per week to over 4,000 deaths per week. Something caused that hump.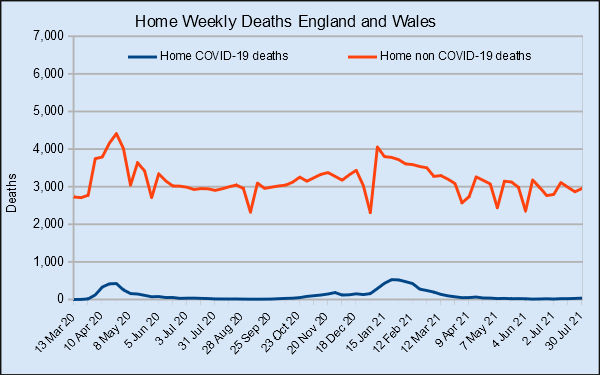 Figure 3: Weekly home deaths in England and Wales. Source: ONS (see text for link to data)
We must be careful not to jump to over hasty or extreme conclusions on such crude data. Nonetheless, what we have here is picture that suggests that during the first wave, in Spring 2020, non-covid–19 deaths rose sharply in both care homes and private homes. If we remove the hospital to care home displacement effect, we are still left with humps that peaked at around 1,000 unexpected non-covid–19 weekly deaths for both settings. In the absence of alternative explanations, the most likely cause of these unexpected deaths is direct harm resulting not from the virus — they are after all non-covid deaths — but from the various measures decreed by government in response to the pandemic; and, to the extent that this is a correct assessment of what happened, the government has blood on its hands.