Yellow Cards, Red Face or Green Light?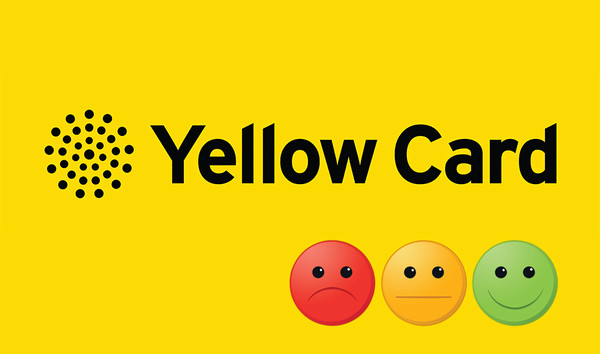 Isn't it curious how describing deaths brought forward by a short interval by covid as dry tinder garners disapproval, while the MHRA's breezy description of Yellow Card deaths associated with covid vaccination as spontaneous combustion — most likely would have died anyway, dear boy — goes quite un-remarked. Be that as it may, Dr No has taken a look at the MHRA's Yellow Card Scheme for reporting adverse drug reactions, after some discussion in a recent post about a BMJ Rapid Response which suggested significant underreporting of covid vaccination side-effects. What can the Yellow Card Scheme tell us about adverse reactions to the covid vaccines? Is there any evidence for or against significant under-reporting of adverse reactions?
The first, and probably most important, thing about the Yellow Card Scheme (YCS) is that it is voluntary. There is no absolute requirement to report suspected side effects, just a sort of obligation. Anyone can make a report (which can list more than one reaction), either by using one of the traditional yellow cards which gave the scheme its name, or more recently online. The reports are not that onerous to complete, but at least three things have to happen for a report to get filed. First, someone has to suspect an adverse reaction to a drug (the definitions of both adverse reaction and drug are broad), second, that someone needs to know that the YCS exists, and third, that someone, or someone on their behalf, has to take the time to file the report.
In the ordinary course of events, making a link between a drug and a suspected adverse reaction is by no means a given. In an otherwise well patient given a new drug who then develops a rare condition, the possibility of causal link might well spring to mind, but in the majority of otherwise unwell patients, on a raft of drugs, who sometime later develops yet another condition, the suspicion of a causal link can all too easily pass unnoticed. Nonetheless, the covid vaccine is a new drug, and many receiving it will be otherwise well, so the odds of meeting the first requirement, that a suspected link between the vaccine and a reaction exists, are probably on balance weighted in favour of spotting a suspected link, should an adverse reaction occur, but this will diminish in patients with complex co-morbidities.
The odds on the second requirement, that someone needs to know the YCS exists, are less favourable. Doctors certainly know about the YCS, but do those receiving the vaccine? Anecdotal reports (the best we have at the moment) suggest many do not, and it goes without saying that if you do not know about the YCS, then you are not going to use it. Many suspected adverse reactions, despite being noticed, will remain unreported. The third requirement, that someone takes the time to make the report, also contributes to under-reporting. Put bluntly, the yellow card is just another form, and a voluntary one at that, that one should fill in — and the road to hell is paved with good intentions.
For these reasons, the YCS in the ordinary course of events is severely handicapped. In November last year, the MHRA crowed about reaching a "Major milestone – 1 million Yellow Card reports since scheme started over 50 years ago". This sounds impressive, but needs some context. Cobbling together some community prescription data for England (hospital data is not available, and the other UK nations have less long term data) over the last 50 years from here, here and here, and doing some interpolation for missing years, there have been some 30,456,890,537 (30 billion) prescription items dispensed over the same period. That works out at around one report for every 30,000 items dispensed, or put another way, only 0.0033% of community items dispensed generate a yellow card. Given that adverse reactions are hardly rare, these are not encouraging figures, and because the number of items dispensed does not include hospital prescriptions, the true rates will be even lower. The cards may be yellow, but faces at the MHRA must surely be red.
Or maybe not, at least for the covid vaccines. In 2020, the MHRA received a total of 40,924 reports of suspected adverse reactions. In contrast, it received a total of 160,071 reports from 34,100,000 vaccine doses administered up to the 28th March 2021. The extra 34,100,00 prescriptions generated by the vaccine are but a drop in the ocean compared to the over 1 billion community items dispensed annually in recent years, and yet the reporting rate is all but four times as many reports from the vaccines alone in just 3-4 months, than all reports for any drug for all of 2020. Put another way, around 0.47% (one in just over 200) of all vaccines doses administered generate a yellow card, compared to around 0.0033% (one in 30,000) for the Yellow Card Scheme over its lifetime. These figures represent orders of magnitude differences, and are not to be sniffed at.
We may not sniff, but we might cough. There may be orders of magnitude more reports, but we still don't know whether they represent over, under or about right reporting. If they are about right, do the numbers mean the covid vaccines have high rates of side effects, or are they just being reported more? Or could the startling rise in Yellow Card use, and the data it provides, somehow amount to a green light, telling us that the vaccines are indeed safe? Unfortunately, the Yellow Card Scheme, which is intended primarily as an alert system, can't itself answer these questions. To get those answers, we need properly conducted Phase IV (post marketing) trials, and those trials are not going to be published for sometime yet. In the meantime, the great ship Vaccinator continues to sail on uncharted waters in a fog of increasing density and complexity.