Covid Passports and Killer Ants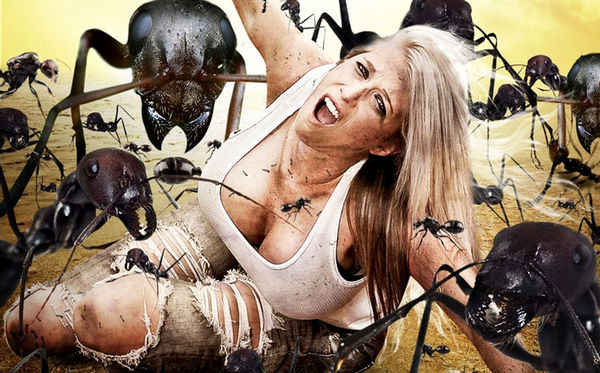 Watching the first spell-binding episode of Adam Curtis's Can't Get You Out of My Head, Dr No was repeatedly struck by the revelation that modern humans are giant biped ants. We live in colonies, ruled over preposterous queens — Jiang Qing, Mao's fourth wife, and key player in the China's Cultural Revolution, got a lot of air time in the first episode — and organise ourselves by the division of labour. We have workers (the likes of Dr No, and most of you), soldiers (our NHS frontline heroes) and drones (politicians and the mainstream media). Colonies readily attack other colonies, be it the maskers attacking the anti-maskers, or the lockdown fanatics attacking the lockdown sceptics. Like ants, we swarm, and frankly, the only discernable difference that Dr No could make out between a swarm of ants and a swarm of humans is that the ants know exactly where they are going, while the humans don't have a clue.
This unfortunate difference arises because, while ants have the unburdened benefit of millennia of unimpaired evolutionary programming, we humans have the added burden of imagination. We imagine enemies and terrors, which is bad enough, were it not that our attempts to imagine ways of fighting our enemies and countering our terrors are even worse. Seen through this prism, the whole history of our attempts to manage pandemic terror could not have been more catastrophic. From the early mesmerising incantation of daily counts of those who have 'sadly died' — with sadly a redundant word if ever there was one, because no death is ever joyful — through the rank despotism of rule by decree, we have become, to use one of Dr No's favourite Dad's Army lines, a nation of automatons lead by a lunatic who looks like a clown.
Until recently, our despots have ruled out imagining domestic covid passports as a way of achieving pandemic control. International ones perhaps, as other nations make proof of covid vaccination a requirement for entry, but never at home. But, as ever, the firmer the announcement, the more likely it is to suffer reverse. Only last week, as the roadmap out of lockdown appeared, with all the clarity of an Escher's Ascending and Descending staircase, we had confirmation, in the official Covid–19 Response Spring 2021 paper, that the Government 'will review whether COVID-status certification could play a role in reopening our economy, reducing restrictions on social contact and improving safety'. To Dr No's covid weary mind, that means the once unthinkable is now a dead certainty. Domestic covid-status certification, as mealy mouthed an Orwellian 'Covid Passports Make You Free' example of Covid Newspeak as can be imagined, is going to happen.
There are two fundamental reasons why domestic covid passports are a very bad idea. The first and most obvious one is that they are discriminatory. Indeed, that is their very purpose, to discriminate, between those deemed — we'll put aside that we don't yet know for certain, because in time we should know — to be immune, whether by natural infection or immunisation, and so deemed to incapable of infecting others, and those who, for whatever reason, remain as walking biohazards. The very existence of a covid passport is discriminatory in effect, and divides us into those who comply, and those who don't, and we know what happens next.
We have already seen how those who comply — masking is the classic example — denigrate and attack those who don't. Most shops, hospitals, or indeed any interior space open to the public, now has a 'No mask, No entry' sign on the door. But a mask is only a mask, really no more than a symbolic mask of compliance, a badge adopted by the controlling colony of ant-humans, while the rest of us reluctantly and under silent protest go along with the goonery so we can get on with our lives, knowing the badge is something external, that can be donned and doffed at will. The mask never becomes a part of you.
Covid passports, based on vaccination or antibody serology — point in time tests for current infection are meaningless for passport purposes — are utterly different, because they represent something internal, your deemed immune status. This isn't something you can don and doff at will, it is a part of you. This gives the passports a degree of potency that even the most bizarre of masks can never hope to achieve: the individual who has deemed covid immunity, and so a passport, is fundamentally different to the individual who does not. On such biological differences are the foundations of violent discrimination laid.
The second fundamental reason why covid passports are a very bad idea overlaps in part with the first, in that it is also about biological status, and more particularly the usual recording of that status digitally with the express intent of allowing others who have nothing whatsoever to do with our health care to access our health records. Of all the pandemic changes burdened with the overworked word unprecedented, such a change is surely one of the most unprecedented. It is a fundamental shift in the way we do things. At a stroke, the near sacred privacy of our medical records becomes violated, and — mark Dr No's words — when such changes come about, they are far harder to reverse than they are to implement. Forget the positive arguments about convenience, portability and work-a-day usefulness. Consider instead the negative argument, that adopting domestic covid passports opens the door to a radically new dystopian world where we are often expected, and sometimes required, to carry a chunk — a chunk which you can be sure will expand over time — of our health record on our person, and display it to any Tom Dick or Harry on demand.
But really, there is no need to go there in the first place. There is a much simpler, better, more equitable and more British way of doing things. Once fifty percent of the population have been vaccinated, we just presume people are immune, with that presumption grower ever stronger as yet more people get vaccinated until we reach herd immunity levels of vaccination. At that point, the covid passport becomes utterly  redundant, because that is the whole point of herd immunity — transmission is halted.  Simple, effective, and all done without a single blasted domestic covid passport in sight.