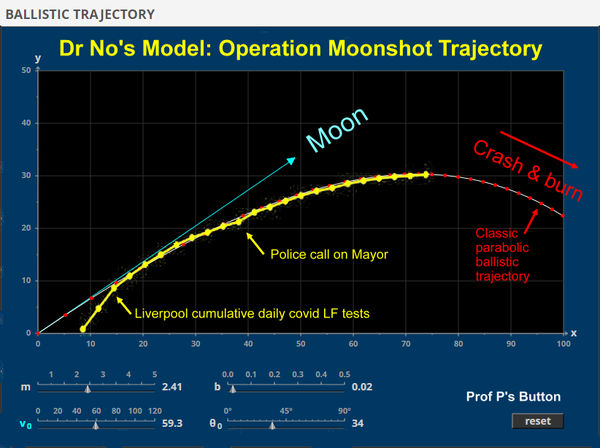 Ballistic is a word lumbered with two somewhat contradictory meanings. When we talk of someone or something 'going ballistic' — the colloquial use — we mean that one or thing has reacted explosively, with the focus on the sudden expenditure of energy, rather than what happened next. The more precise scientific use, however, is to describe the characteristic parabolic flight of a missile or other projectile during and after the explosive release of energy that has sent it on its way. This ballistic flight, or trajectory, has some very firmly defined features. It goes up, reaches its summit, or apogee, and then descends, until it hits something. Hard.
When Dr No plotted the daily cumulative numbers of covid lateral flow tests done over the last month in Liverpool, said to be a Moonshot pilot, but now perhaps rather pilot free, given the Mayor of Liverpool's recent fingering by the Fuzz for dodgy dealing, he was struck by the trajectory. Far from following a rocket on its way to the moon, the path, as Dr No's model (above) shows, is clearly a parabolic ballistic trajectory, about to reach its apogee (and will of course stay there being a cumulative count rather than crash and burn — but what the heck? It's all bonkers anyway…). What does this tell us about Operation Moonshot?
Well, first and foremost, where ever Moonshot is headed, it is not for the moon. Over the three weeks, for which apparently reliable daily data are available from Liverpool City Council's #LetsGetTested twitter feed, the daily number of new tests have steadily declined, from over 5,000 a day in mid November, to less than 500 a day in recent days, a 90% fall. Rather more hashtag LetsNotGetShafted than hashtag LetsGet Tested. If there were such a thing as a T number, analogous to the R number, it is clearly a long way below one. The total cumulative number of tests done, after a month of operation, today stands at 122,032 tests, around 24% (assuming no duplicate tests, which there will be, so the real percentage is even less) of Liverpool's population.
So the first lesson is that appeals to mass, or rather community — a so much softer, less threatening, and more inclusive word — testing are doomed. Once the early adopters, teacher's pets and those tethered to the council's coat-tails have been tested, the well of volunteers dries up. The pilot, if that is what it is, has told us that, operationally, voluntary mass testing is a failure. The leaves both the local council locally and the government nationally in an awkward place, with only a few options available, none of them palatable. They can admit failure, pack up, and go home, and suffer lack of face; not a likely next step. They can #CarryOnRegardless, keep plugging #LetsGetTested, and #BlowBillions on a #DoomedProject; entirely possible, but if it does happen, then it amounts to fraud and embezzlement. Yet the authorities are hardly likely to object, given they are the very perpetrators and beneficiaries.
The third option, and in Dr No's eyes the least palatable of all by a long shot, is that, given even the most strenuous voluntary persuasion only captures — sorry, reaches out to — less than a quarter of the population, then the next step has to be some form of coercion, either directly, by making testing, like masking, mandatory — and once these precedents are set, they become so much easier to multiply — or indirectly, by creating social and practical sanctions for those who exercise their legitimate choice not to be tested. Not only would this pile Pelion on Ossa for local councils already creaking under the strain, more to the point, it would add the insult of social engineering to the injury of pursuing a folly of colossal expense and ineptitude.
So far, we have only really considered the business of getting people through the gate. What else can the testing done so far tell us? Putting aside for a moment the likelihood that those who have volunteered to be tested are not a representative sample of the population, the other interesting number is the cumulative test positivity rate, which has remained pretty constant, at around 0.6 something percent (the daily rate on the other hand varies considerably, as might be expected with low numbers, and is if anything one the rise). This number, at around 6 or 7 in a thousand, is distinctly at odds with the latest ONS covid survey, which has rates in the North West running at round 1.5%, or 15 per thousand. Perhaps that just reflects the fact the Innova test being used in Liverpool is indeed a hopeless, and so futile, test, that only picks up a fraction, something under half, of those carrying the viral signature. A negative test result really is no green light to go and hug granny just yet.
In fact, it is even worse. If we remind ourselves of the false positive rate for the Innova test in the field, it is 0.38%, near enough 4 in a thousand. That means that, of the 6 or 7 in a thousand positive tests, 4 of them, over half, perhaps two thirds, are false positives, leaving at best 2 or 3 true positives in a thousand, or lets say 0.25%. Either ONS has got it horribly wrong, or the mass screening has got it horribly wrong. Or. come to think of it, they are both horribly wrong, which means — sorry to have to say it — we haven't got a freaking clue what's going on.
The latest wheeze has been to rename Liverpool's community screening as SMART testing. Perhaps to those of moderate intelligence, it looks and sounds like a SMART move. But what is Smart? It stands, apparently, for 'Systematic Meaningful Asymptomatic Repeated Testing (Smart) which is the model we are using for community testing in the city'. Somewhere around the second letter, M, Dr No felt a twang in his head, as one of the elastic bands trying to keep his credulity intact snapped. As he started to lose consciousness, an amorphous cloud formed itself into woolly letters that seemed to read Dumb Unethical Moonshot Bullshit. The last thing he remembered was four large letters swirling in the sky…
Truly, never have so many exercised so much folly in the pursuit of so little.