Just Another Seasonal Flu Like Illness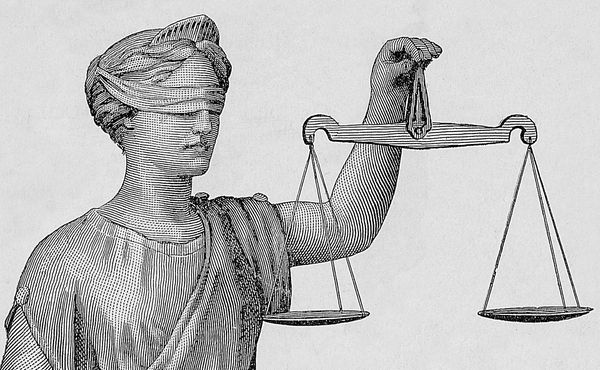 For some time, Dr No has been moving, or perhaps driven, to a determination — he uses the word with at least two of its meanings — that the only sensible considered response to covid–19 is to treat it as just another seasonal flu like illness. He knows full well that some will be of like mind, but that many — they know who they are — will react violently, in some cases with extreme violence, to any such suggestion. Dr No is a heretic! Burning at the stake is too lenient a punishment for heresy! Let him be hung, drawn and quartered, and his eviscerated staked body be displayed as a grim reminder to those who contemplate such heinous heresy! So it behoves Dr No to explain how he came to this determination.
The first question is whether covid–19 a seasonal flu like illness, and the answer is yes. On the basis of what we have seen so far, it is clearly seasonal, though that is subject to a projected — indeed expected — bump in cases over the next few months. It is a respiratory virus, like flu, it is contagious, like flu, and its severity affects people differently, like flu. The details vary — it is a different virus, its transmission has minor differences, and the differential severity varies, but, by and large, it is not at all unreasonable to say it is a seasonal respiratory virus not unlike influenza. There is no particular defining feature that makes it stand out as in some way being notably different.
The second question is whether covid–19 can justifiably be called just another flu like illness, in the sense that it is nothing exceptional. Dr No can already see the airborne bricks heading towards his window. But let us try an look at this sensibly. To do so, we are going to use the practical epidemiologist's favourite number, all cause mortality. Those familiar with medical research will recall that this number is the most robust number of all, and is to be preferred when comparing say treatments effects, because it solves the significant problem of misattribution and misclassification (deaths being counted in the wrong place). We can use all cause mortality in the same way, to look at covid—19's effect on mortality. Note this is nothing fancy. These are just basic counts of deaths, with no fancy adjustments, no conversion to rates, no attempt to determine excess deaths, no numerology, just the bare counts.
Using ONS weekly deaths available in a set of spreadsheets here, Dr No has summed the annual total deaths for the last ten years, with the year running from August to July. There are two reasons for choosing this as the year. The first and obvious one is that we are at the end of August now, and so have reasonable provisional death counts for up to the end of July for 2020. The second one is because this Aug-July year is the year ONS use for their excess winter mortality calculations. While we can't immediately do a like for like assessment of excess covid–19 mortality, because ONS defines winter for these calculations as the period December to March, and the excess covid–19 deaths happened later in the year, it is likely we will in the future be able to do such a calculation, by re-defining the winter period to include the covid–19 season, and it seemed sensible to Dr No to set up the data that will allow it to be readily used for such a calculation.
What do we find? Figure 1 is the total number of deaths for England and Wales for the last decade (the maximum duration of data available on the ONS webpage), for the August to July years. The first thing we notice is a slight upward trend, and this is confirmed by adding a trend line as shown. This slight upwards trend over the last decade has been widely noted and confirmed (actual numbers are slightly different, but not significantly, to Dr No's ONS based counts), and is likely due to a combination of population growth (more people) and a demographic shift (more older people).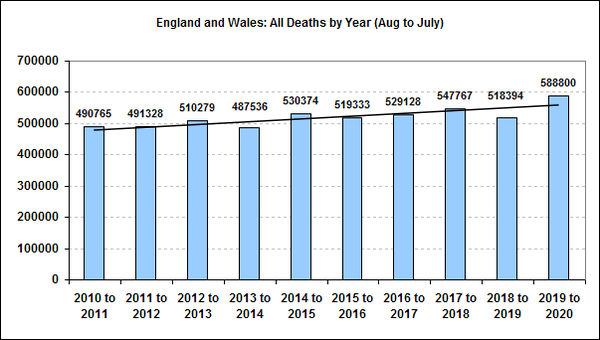 Figure 1: Annual (August to July) death counts for England and Wales for the period 2010-11 to date, with trend line added. Sources detailed and linked to in text.
The second thing we notice is a visible year on year fluctuation. In particular, 2018-19 was below trend, and 2019-20 (the year of covid–19) is above trend, though not strikingly so. In general, see-sawing above and below the trend is to be expected: if more old folk die one year, there are less to die the next; if more survive the year, then there are more to die the next, so some of 2019-20's deaths will be 'carried over' deaths from 2018-2019. Nonetheless, 2019-20 is the year with the largest number of deaths in recent years. The key question is whether the increase is exceptional, or instead it is just another year.
We can get a good enough answer to this crucial question by using the trend line to estimate (yes, Dr No is using low grade numerology here, but it is very transparent, and you can make up your own mind as to how valid it is) how many deaths we would expect in 2019-20, based on recent trends, and compare that to the actual number of deaths. What we find is the trend predicts around 559,000 deaths, and in fact there were 588,800 deaths, an excess of around 29,800 deaths.
This number, around 30,000 excess deaths, is not inconsistent with a downgraded (for over-enthusiastic over-egging) official covid–19 death count, but with one key difference. Recall that we deliberately used all cause mortality, to avoid misattribution and misclassification biases (calling a non-covid–19 deaths a covid–19 death when it isn't), and so that 30,000 or so figure will also include all the excess non-covid–19 deaths caused by lockdown, not seeking medical help, and delayed treatments. Nonetheless, we have traded what folk these days call granularity for simplicity and robustness, which means we do not know how many of the 30,000 were true covid–19 deaths, and how many were potentially avoidable lockdown deaths — you guess is as good as Dr No's at this stage (in due course we will get a better idea, once mortality by cause data become available), but he suggests, as a starting point, maybe as many as half of the excess deaths were not due to covid–19, but were instead caused directly or indirectly by lockdown.
Is between 15,000 and 30,000 true excess covid–19 deaths exceptional? Dr no suggests not, in the wider scheme of things. Any untimely death is a tragedy, and Dr No's heart goes out to those who have lost loved ones, but we have to be sensible, and accept that some of those excess deaths were so called dry tinder deaths (the slightest spark — tiny clinical insult — sets the tinder on fire — patient dies), a possibility made more likely by the lower number of deaths in 2018-19. Furthermore, 15,000 to 30,000 deaths is not a huge proportion of all deaths (2.5-5%), and such year on year fluctuations happen, especially in bad flu years. In recent years, excess winter deaths associated — albeit by numerological methods, because flu deaths, like covid–19, are not reliably recorded in death certificates — to flu have ranged rather wildly to say the least, even when using the same methodology (see here, here and here, but that's PHE for you, and note these are England only estimates, not England and Wales), with the number ranging from 7,371 to a 34,300 depending on both season being estimated, and the year the estimate was made. Cobbling together some crude averages from these sources — it's the best we can do with what we've got — we get counts ranging between 11,201 and 31,315 (2014/15: 31,315; 2015/16: 11,201;
2016/17: 16,883; 2017/18: 24,248). These figures are nonetheless broadly in line with another earlier estimate, of between 7,000 and 25,000 annual flu deaths between 1999 and 2009. Figure 2 shows the PHE numbers visually, along with a mid-estimate for covid–19 deaths based on Dr No's analysis presented here. Dr No's covid–19 estimate is in the middle, with flu seasons having lower flu deaths, and two seasons having more flu deaths.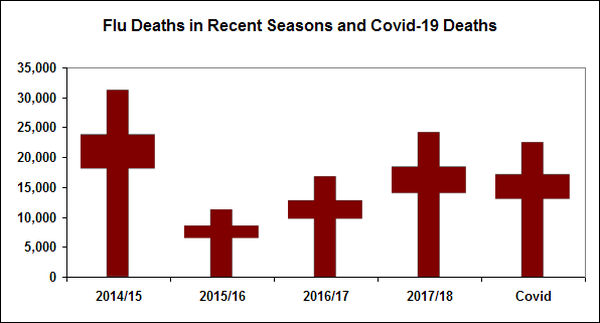 Figure 2: Recent seasonal flu deaths (England only) and estimated (22,500, half way between 15,000 and 30,000) covid–19 deaths (England and Wales) to end July 2020. Source of flu numbers linked to in text.
So is covid–19 really just another seasonal flu like illness? On the basis of the numbers — deliberately simple, deliberately robust (with the exception of the PHE flu death estimates, which are decidedly flakey, but are the best we have for recent years), deliberately transparent, no fumbling around with confused shambolic undenominated test results, no trying to guess the real cause of death, just all cause mortality one a year, because sometimes less is more — presented here, it seems hard if not impossible to argue that covid–19 is exceptional. It seems entirely reasonable to call it just another seasonal flu like illness. That is not of course to say for a moment that for every patient covid–19 is trivial, but instead to put it in its rightful place in the wider picture. For some patients, either flu or covid–19 can be anything but trivial, and both can be fatal. But — the key point — covid–19 is not wildly exceptional. Its mortality is, by and large, and give or take, of the same order of magnitude as flu, low to middling tens of thousands per season.
In which case, why on earth did we lockdown? The answer is panic — Fergie farted, the cabinet panicked. On a charitable view, one might see, if not necessarily agree with, the reason for the government's early panic in March. But we have now moved on, a long way on, and have a far better understanding of what actually happened, in contrast to a numerological guess at what might happen. Now is the time, Dr No suggests, to get back to normal, and treat covid–19 as just another seasonal flu like illness, managed just as we manage any other seasonal flu like illness. We can — and should — do for covid–19 as we do for flu, up to and including deploy a vaccine if and when one becomes available. Indeed, we should do nothing less, and just as importantly, nothing more.