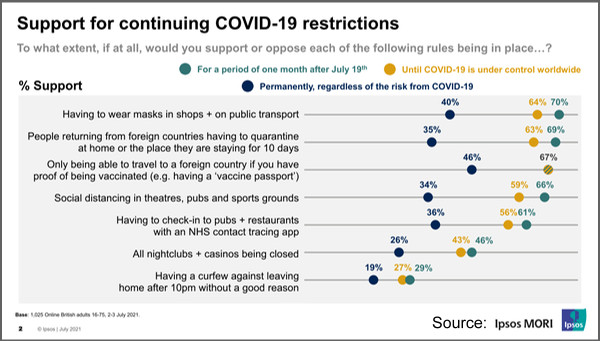 Bad News Item of the Week was an Economist/Ipsos Mori poll revealing that around two thirds of Britons want a number of covid restrictions to remain in place until covid is 'under control worldwide', an uncertain end game with an elastic definition. Over a third want the restrictions, including masks in shops and on public transport, travel controls, compulsory check-ins for pubs and restaurants, and social distancing in theatres, pubs and sports grounds to remain in place for ever. Assuming the polling is accurate and representative, that means two thirds of fun loving Britons want Freedom Day postponed indefinitely, and a shocking one third want it postponed for ever. What on earth persuaded a once proud people, who stood ready only seventy years ago to fight on the beaches, on the landing grounds, in the fields and in the streets and hills, against the odious menace of tyranny, to become a nation of curtain twitching traffic wardens who want the suffocating embrace of authoritarianism?
It is a rude, startling and apparently inexplicable change to come about, that has baffled Dr No for many a long night. How could a nation that has spent the best part of a thousand years carving in stone the principles of freedom and liberty, only to shatter that stone into a thousand shards at the drop of a hat? A good many others too have struggled with this painful question, and come to a variety of conclusions and non-conclusions, often at the expense of a good many words. No common threads have yet emerged to explain the inexplicable, until very recently, when it occurred to Dr No that possibly, possibly very possibly, there is in fact a very simple set of circumstances that will cause a majority of a nation's people to turn coat overnight, from John Bull to authoritarian apparatchik. We can even go further. If we can accept two givens, then there is just one lever that needs to be pulled, one circumstance to be brought about, that will bring into being an authoritarian state.
The two givens are about human nature. The first is that it is a truth universally acknowledged that a government in power must be in want of more power. No government willingly relinquishes power. Some may tinker at the margins and release themselves on occasion from trivial obligations, but the urge and impulse of most governments, most of the time, is to increase their power. How else can a government function, if it doesn't have power? No government plans a bonfire of its statutes, instead, as we have seen so clearly over the last 18 months, it does quite the opposite, it adds ever more statutes to the stinking pile. Nor is it just about covid, loathsome as those regulations are. We have regulations to allow the health secretary powers to hoover up your medical records, a likely preliminary to a Chinese style social credit system, a Police Act, to among other things give the state more powers to shut down lawful protest, and only last week the NHS Bill, to give the health secretary powers to take a chain saw to the National Health Service. Even Freedom Day, if it should happen, isn't about new freedoms, it merely restores some of the freedoms so rudely snatched from us in recent times.
If the first given is about the urge by governments to grab more power, the second given is about the urge by many people, perhaps even a majority of people if the Economist/Ipsos Mori poll is to be believed, to relinquish power, to be subjugated. Subjugation is a state of many shades. At the noble end, we have the shinning loyal subject defending his island home, whatever the cost, but at the other we have the dimmed and cowered subject, who has made a Faustian pact with the state, trading in essential freedoms for imaginary safety. It is part of the tragic comedy of human nature that the latter all too often see themselves as the former, as the bringers of light, when in truth they draw a curtain of darkness across the land. This willing subjugation has always been a baleful stain on human nature, but its import has been heightened greatly in recent years by the relentless rise in safetyism, which has the identical Faustian pact at its heart, the trading in of essential freedom for imaginary safety. These are the people who want the suffocating embrace of authoritarianism, because it makes them feel safe.
With these two givens acknowledged, we can now turn to the circumstance needed, the lever to be pulled, to turn a nation into an authoritarian state. It is remarkably simple: all the government has to do is define an enemy within. It is crucial that it is an enemy within. If it is without, the loyal subjects will rise up as one to fight the external threat, but if it is within, the subjects will cower, and fight amongst themselves, and the authoritarian state becomes self-perpetuating. It is what happened in Russia, where the Bolsheviks cast the bourgeoisie as the enemy within. It is what happened in Nazi Germany, which cast the Jews as the enemy within. Mao had his Five Black Categories, the landlords, rich farmers, counter-revolutionaries, bad influencers and rightists deemed to be enemies of the revolution. It is and always has been the same: authoritarian states, and worse, rely on an enemy within as the
These examples are of course extreme examples, of totalitarian rather that mere authoritarian states, but their extremeness makes it easier to see the lever that has been pulled. Defining an enemy within is an inherently evil and dangerous thing to do. It plays, as we can see in the results from the Economist/Ipsos Mori poll, directly into the hands of those who will willingly make a Faustian pact with the state, trading is essential freedom for imagined safety. The results are always ugly, or worse. And who are the enemy within in Britain today? Not the virus, which is a merely mindless jumble of chemicals, oh no; instead, it is the anti-mask/anti-lockdown protesters, the vaccine refuseniks, all those derided as dangerous covidiots by the self-appointed authoritarian apparatchiks. One cannot help but wonder how the much touted and soon to be upon us 'personal responsibility' over covid–19 will be interpreted Britain. July 19th: Freedom Day — or Kristallnacht?