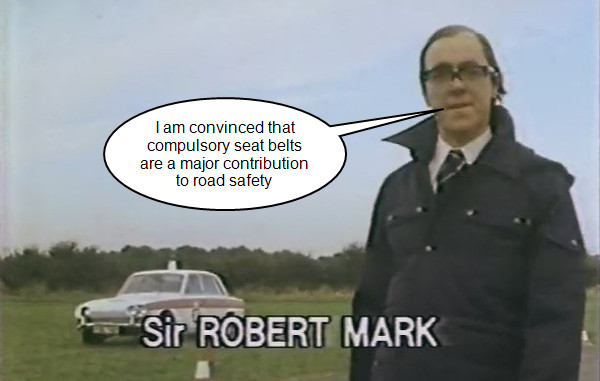 If you asked a group of people whether making wearing front seat belts in cars compulsory helped save lives, many would answer in the affirmative. Ask how they know the answer, and many will say some variant of obvs innit: it's obvious, it stands to reason, it's common sense. The law, when it came in, in January 1983, was hugely controversial, but the controversy wasn't about effectiveness, it was about liberty. It was the first time the government had passed a law that sooner or later would affect just about everyone, requiring them to do something not to protect others, but to protect themselves. Since we were at the time, and still are for matter, free to drink ourselves to death, or smoke ourselves to death, it was argued we should also be free to smash ourselves to death. The state had no business interfering in personal decisions; doing so marked the beginning of the nanny state, from which there would be no turning back. Promoters of the law claimed that up to a thousand lives be saved every year, and there would be important secondary benefits, including reduced demand on the NHS.
These and similar arguments are of course familiar today, in the debates of lockdown regulations and mask mandates. Back in 1983, the slogan could easily have been Belt Up, Save Lives, Protect the NHS. Today's covid version we all know only too well. And again if we were to ask a group of people today whether stay at home should be made compulsory, or masks mandatory, many would reply yes, obvs innit. A similar debate is brewing over compulsory vaccination: first it will come for the health and social care workers, then it will come for other front line workers, until all are vaccinated. Get Jabbed, Save Lives, Protect the NHS.
The key point here is compulsion. This post is not about whether seat belts, lockdowns, masks and vaccinations work in and of themselves, it is about whether making such measures compulsory adds anything. Here, the introduction of compulsory front seat belt wearing provides a unique opportunity for a before and after study: a single law altering a single behaviour coming into force in a single day. If compulsion works, we should see an almost overnight benefit, and annually up to a thousand lives saved. We will stick with just lives saved, for familiar reasons: death counts tend to be reliable, even over decades, whereas injury data, especially hospital episode data from the past, tend to be notoriously unreliable.
Compliance with the new law was excellent. Seat belt use by drivers and front passengers rose quickly from around forty percent to well over ninety percent. Behaviour certainly changed, but what about road traffic deaths? Here we are lucky in that a long running Department for Transport data set got tucked away on the Wayback Machine. It covers the half century from 1950 to 2002 (with a methodology change in 1993 that need not bother us) and annual road traffic deaths for all road users and for each of the major classes of road user. It also very usefully includes estimates of annual traffic, allowing calculation of deaths per billion vehicle km travelled, to allow for changes in road use over the period. Figure 1 shows the results.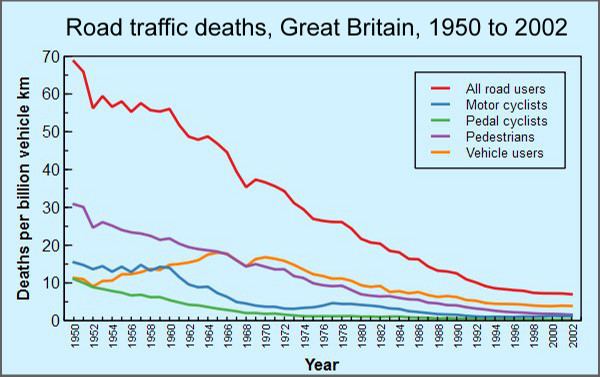 Figure 1: Road traffic mortality per billion vehicle Km, Great Britain, 1950 to 2002
Is there a readily visible drop in mortality caused by the introduction of compulsory seat belts for drivers and front passengers? According to the Road Safety Observatory, we should see 'an immediate 25% reduction in driver fatalities and a 29% reduction in fatal injuries among front seat passengers' in 1983. But we don't. There is a very minor kink in the orange line (vehicle users) in 1983, but this disappears in the red line (all users). There is certainly no immediate 25-29% reduction in deaths, nor is there the 'up to a thousand' front driver and passenger lives saved — which would amount to a 40% or so reduction in deaths — promised by the Secretary of State.
The only and unavoidable conclusion is that compulsion had no discernable long term effect on deaths. There was a wobble in 1983, a small reduction in car user deaths, but with a year of two, deaths had reverted to their long term trend. All road user deaths didn't even wobble, because 1983 saw an increase in pedestrian and pedal cyclist deaths. This isn't very obvious in Figure 1, so here are the raw numbers (not rates) for the period 1981 to 1985:
Table 1: Road traffic deaths, 1981 to 1985
This unwelcome temporary increase may even have been caused by compulsion, by way of risk compensation, the process whereby individuals adjust their behaviour on the basis of perceived risk to remain at the same overall level of risk. Car drivers, believing themselves safer because they were protected by seat belts, drove a little more recklessly, and as a result killed more pedestrians and pedal cyclists.
The bottom line, or rather the top line in Figure 1, shows that compulsion to wear seat belt had no discernable effect on road traffic deaths. That does not for a moment mean seat belts don't work. They clearly do — obvs innit — and will, along with many other measures, have contributed over the years to the welcome decline in road traffic deaths seen over time. The lesson here is that compulsion doesn't add anything.
Since 1983 until very recently, there have been no mass effect public health laws that have required individuals to change their individual behaviour. With the arrival of covid–19 last year, that changed very rapidly, and we were all very soon up to our necks in just such public health laws, requiring extraordinary changes in behaviour. Yet the lesson from 1983 is that compulsion may not add anything at all to the mix. Add the very distinct possibility that neither lockdowns not masks work, and the already flimsy case for compulsion collapses entirely. Obvs, innit.