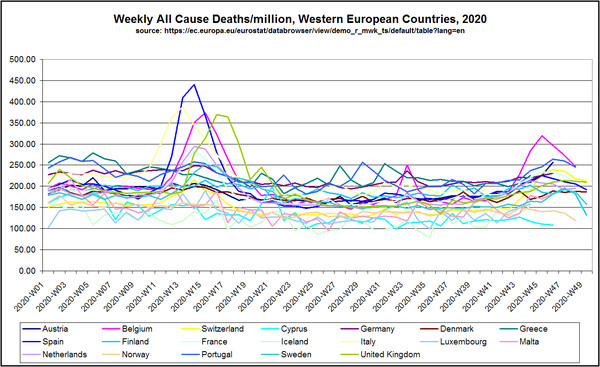 "There is no delusional idea held by the mentally ill which cannot be exceeded in its absurdity by the conviction of fanatics, either individually or en masse"
— Alfred Hoche, psychiatrist
The rather garish chart for this post, larger version
here
, and data from
here
, shows weekly all cause mortality rates for 2020 for Western European countries where weekly data is available. The first and most obvious thing is the covid spring spike for half a dozen or so countries. Indeed, one country, Belgium, has had not one but three spikes, and as Lady Bracknell remarked to Dr No the other day, to have one spike is a misfortune, to have three looks like carelessness. But if these countries suffered misfortune, then it is also clear that the majority of countries did
not
have a spring spike, or if they did, it is lost in the background noise. It is also clear that after around Week 21, towards the end of May, all countries have hovered around normal levels of weekly all cause mortality, with, as expected, most showing a modest seasonal increase as the winter months arrive. All cause mortality in late November, the latest data available, is about where it was in early January.
Bear in mind this is deliberately all cause mortality, deliberately so because it removes all the fuss about the fit man run over by the Clapham omnibus who gets counted as a covid death because of a positive PCR test done twenty seven days before his accident. Not only does all cause mortality remove diagnostic fuss, it is also inherently robust — a death is a death and it gets recorded. Dr No's logic is simple: if there is a covid epidemic that causes deaths, then these will appear as excess deaths, as a visible spike in the weekly series of all cause deaths. By the token, if there is no visible spike in the weekly series of all cause deaths, then there has been no epidemic of covid deaths. And yet, the majority of Western European governments, the main stream media and certain factions in the medical profession continue to scream blue murder over covid deaths, despite the all cause mortality figures clearly telling us that for most Western European countries, for most of 2020, it has been 'situation normal'.
These observations do not make Dr No a covid denier. He can see that something happened in the Spring for a small number of countries, about one third of those charted, and covid is clearly the most likely explanation. Nor does he suggest that after the spring, covid entirely disappeared. Instead, it remained endemic, and no doubt caused some deaths, but these deaths were in people who were going to die anyway. They died, as they were always going to die, from their serious underlying conditions, only in 2020 the cause of deaths was underlying conditions plus covid, rather than underlying conditions plus, for instance, pneumonia. Recall the chart: there have been no excess deaths since the spring. Despite the media hysteria, Germany's announcement yesterday of its highest ever daily count of covid deaths is of no consequence. Not only is it a daily count for one disease, and daily counts fluctuate wildly — which is why Dr No's chart uses weekly all cause deaths — but more to the point, Germany did not have a Spring spike, meaning that the bar to reaching a highest ever daily count of covid deaths is set low. That the bar should have been reached yesterday is unremarkable. Having said all that, Dr No is aware that things may change, and that come the New year he may find he has to eat an unpalatable diet of his own words, but he remains firmly of the persuasion that, rather than prophesizing darkly about an unknown future, it is far better to rely on hard facts, even if they are lagged in time, because they are facts.
So why all the media hysteria and government interference? Just as when the only tool you have at hand is a hammer, everything looks like a nail, so when the only stats you have at hand are covid stats, then everything starts to look like covid. Today, nine days before Christmas, there is much being made of rising cases, mutant viruses and the need to move yet more local authority areas into Tier 3. Yesterday, the British Medical and Health Service Journals have ganged up to publish a joint Cromwellian editorial, calling for Christmas be cancelled. The BMJ's editor, Fiona Godlee, even turned up on WATO: you ho ho if you want to, the lady's all for no ho ho. And yet, if we look at the UK line in the chart above, which includes deaths up to the 27th November, which is two weeks or so after the mid November peak in deaths reported on the governments corona dashboard, we see nothing remarkable. Yes, there is a slight recent rise in all cause deaths, but the line appears to have levelled off. The pattern is that of a normal seasonal rise in all cause mortality, not the beginnings of a surge in covid deaths that pushes all cause mortality to rise sharply.
Even at the best of times, delusions are tricky and slippery things. The current somewhat laconic DSM-5 definition is that delusions are "fixed beliefs that are not amenable to change in light of conflicting evidence". But that misses out two other common if not essential features: the belief is usually false (but not always: you can correctly believe your partner is having an affair, but if you believe that not because an investigator showed you compelling evidence, but because the Martians told you by beaming radio waves into your head, then you are delusional) and the belief is not explained by social norms (this is to prevent for example bizarre but widely accepted religious beliefs from being classified as delusions). The essential features of a delusion are that it is rigidly held, even in the face evidence to the contrary, is not explained by social norms, and that the belief has come about through some abnormality of thought.
Psychiatry still has no idea what causes most delusions, and as a result there are many theories about their origin, some plausible, some improbable, and some that are frankly downright delusional. One of the more plausible theories involves both perceptual filtering (filtering what you see and hear) and cognitive filtering (filtering what you think), with the processes becoming self-reinforcing as the delusion beds in. Could it be that, after months of constant not just daily but hourly bombardment with all things covid, amounting to external perceptual and cognitive filtering, that not just individuals, but whole blocks of society have lost reason, and become deluded?
When all you ever hear about is covid, everything starts to look like covid. But tucked inside the usual definition of a delusion is that hesitant exclusion: 'not explained by social norms'. If whole blocks of society now rigidly believe the Establishment covid narrative, even in the face of evidence to the contrary, then that means the beliefs, courtesy of the hesitant exclusion, are no longer delusional. The abnormal has become normal, and that can only mean one thing: the world has gone mad.