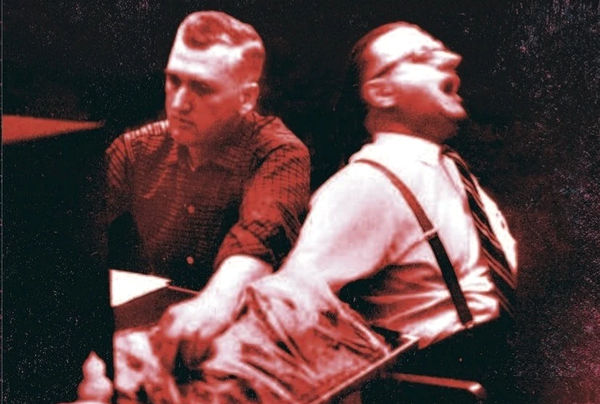 Dr No first came across Stanley Milgram's now infamous but fascinating obedience to authority experiments as a disobedient undergraduate keen to understand why so many of his fellow students seemed willing to toe the line to authority, even when authority had got things wrong. The Great Secret, it turned out, was for authority to dress things up as being for the greater good, add some cuckoo science, and ideally put the public facing authoritarians in uniform. Faced with this diabolic trident, 'normal' — Dr No uses quotes because one of the criticism's of Milgram's work was that his sample was small and in no way representative — Americans would, despite most showing evident anguish, and even great distress, and occasionally infantile giggling, administer what they believed to be dangerous electric shocks to fellow citizens, because they wanted to do the right thing.
A few days ago, re-reading, as one does, Clive James' superb television criticism, Dr No came across a review of Women of Courage, from 1980 about Sigrid Lund, a Norwegian pacifist, who saved Jewish children from the Nazis and got them billeted with Norwegian families. When Norway got invaded by the Germans, one of the host families turned out to be Nazi. With great regret — they had grown to love the child — the family turned their child over to the Gestapo, because they wanted to do the right thing. The child died in Auschwitz.
The unavoidable conclusion is that many humans are programmed to obey authority, even when obeying causes harm, and all the more so if the orders to be obeyed are dressed up as being for the greater good, backed by science of a sort, and preferably delivered by strong men in uniform. At last weekend's press conference, when Boris Johnson announced the second lockdown, two of the dressing up tactics were very much in evidence — the greater good (protect the NHS/save lives) and science of a sort — even if the dressing up itself (men in suits) was lamentably dull. It would just have been so much more complete if Johnson had come on in a Field Marshal's attire, but presumably the short notice and weekend timing put paid to popping round to Shaftesbury Avenue. Even without the costumes, the public by and large lapped it up. A snap YouGov poll found that 43% of those polled strongly supported, and 30% somewhat supported the new lockdown, meaning almost three out of four of those polled welcomed the lockdown, while another poll found 42% of respondents believed the new rules were about right, with another 30% saying they didn't go far enough.
Now, let us be in no doubt about things. The 'science' behind the so called scenarios — a highly questionable use of semantics to provide an escape hatch when the mountainous sombreros turn out to be flat cap molehills — has now been shown to be both out of date and exaggerated. We still have no evidence that hard lockdowns work to reduce spread better than soft lockdowns, apart from 'it's obvious, innit', and some evidence they don't work (see posts passim). But we do have clear evidence that hard lockdowns do harm. Each and every individual who obeys the lockdown is directly causing harm, through reduced social intercourse, and reduced economic activity. Behind those academic abstractions, there are individuals whose mental health will suffer, individuals whose livelihoods will be destroyed. Let us be in no doubt: each and every individual who obeys the lockdown is akin to the subjects in Milgram's experiments, and Lund's Nazi family who handed their child over to the Gestapo. The process is identical: obedience to authority, to do the right thing by authority, even when so doing clearly causes harm.
The hard question is what causes people to abandon their moral and critical faculties, to do the 'right thing' when it is clearly the wrong thing? There are no easy answers to this, and those that suggest themselves are unpalatable, because they suggest 'doing the right thing' is self-serving, rather than altruistic. There is self advancement: the naturally subservient craves the pat on the back from his superior for doing the right thing. There is herd mentality, safety in numbers, even when the herd then tramples underfoot the weak and the vulnerable, and the even more unpalatable sense of moral superiority over others gained by belonging to the right group, the in-crowd, the we are better than you party.
When we look closely at these possible explanations, we can see two threads running through them. Both are abandonments. The first is the abandonment of personal responsibility. The second is if possible even more troubling: the abandonment of truth, to become what Scott peck called the People of the Lie. The abandonments are related, both because when we abandon truth, we abandon a personal responsibility, to truth, and because personal responsibility is a universal truth, and when we abandon it, we abandon truth.
Scott Peck's not exactly satisfactory solution to dealing with the People of the Lie is part psychotherapy, part religion, and a very self-sacrificial Christian form of religion at that. Dr No is much more sanguine, accepting that he alone is not going to crack a problem that dogged bedevilled and destroyed humanity throughout its history. Instead, he regularly reminds himself of, and acts on, the dictum attributed to Edmund Burke that forms part of the masthead to the first incarnation of Bad Medicine by Dr No: All that is necessary for the triumph of evil is that good men do nothing.